Kochi: Art teachers from over 50 institutions across the country participated in the fifth annual meeting of the Indian Art and Design Educators Association (IADEA) here, hosted by the Kochi Muziris Biennale.
Visits to Biennale venues, speeches, workshops and seminars were held as part of the two-day meet hosted by the Art By Children programme of the Kochi-Muziris Biennale. Special studies were made on 40 works of art on display at the Biennale.
The meeting was held with support from The Foundation for Contemporary Art; Learning Through Arts, Narrative and Discourse; Rainbow Fish Studio; Chennai Photo Biennale and Piramal Foundation.
The conference included curated tours of Biennale venues with artists Asim Waqif, Devi Seetharam and M Thamshangpha. Waqif spoke of the artist giving agency to the fabricators and blurring boundaries between the traditional and the modern. He also talked about how parametric architecture is trending and he is exploring that in his work by using basket weaving techniques.
Devi explained her paintings, which delved into the patriarchal nature of her culture and talked about how she used selective cropping and framing in her paintings to make a statement.
Guided by art mediators in smaller groups, the conference participants explored around 40 carefully selected works at Aspinwall House, the Student Biennale, Anand warehouse and Dutch warehouse.
Blaise Joseph – programme manager of the Art by Children initiative of the Biennale, led an interactive art workshop focusing on building community through art. His message was to create learning environments that are playful and non-hierarchical – giving children and adults agency and space to explore.
An engaging panel discussion between Biennale artists Asim Waqif (artist and architect), Devi Seetharam (painter) and M Thamshangpha (multidisciplinary artist) on the theme 'What is Art?' was moderated by Sara Vetteth, founder of IADEA.
The day ended with a special visit to TKM warehouse.
The second day of the conference started with a talk by Kriti Sood, Delhi-based artist and educator and the founder of LAND on the importance of using art as a learning tool for all subjects in schools. She also touched on her work with the Delhi government to develop two schools with Visual Arts as the core curriculum and other subjects taught in relation to it.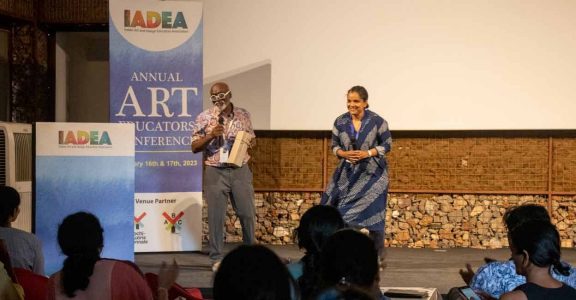 The educators continued with a curated tour of the Biennale venues with several artists who had flown in from various cities to speak at the event. Guided by art mediators and the artists themselves, the conference participants explored 40 carefully selected works at various Biennale venues.
The post-lunch workshop was conducted by Sandhya Gopinath, an art educator from the American International School Chennai and curator of the IADEA conference. She encouraged the groups of teachers to work through a process and discuss to reflect on their most memorable teaching moments and arrive at their own mission statements as art educators. This was followed by a panel discussion moderated by Gopinath between prominent art educators including Monal Jayaram of the Piramal Foundation who joined on video from Pune, Kriti Sood from LAND and Gayatri Nair, Founding Trustee of Chennai Photo Biennale and head of CPB Prism.
Bose Krishnamachari, founder and president of the Kochi Biennale Foundation addressed the participants and shared that the purpose of the Biennale is to encourage curiosity and democratise art – taking it out of a white cube environment and making it accessible to all.
A 15-minute video note made especially for the educators by internationally acclaimed Mumbai-based artist Shilpa Gupta was another highlight. She shared her views on the conference theme 'What is Art?' and went on to introduce the 'Artivities' workbook she designed which encourages students through carefully designed prompts to engage actively with her works. She generously shared copies of this workbook with each of the educators present to take back and use in their classrooms.
The conference wrapped up with a vote of thanks from Sara Vetteth. She talked about the ongoing workshops and learning opportunities from the organisation.