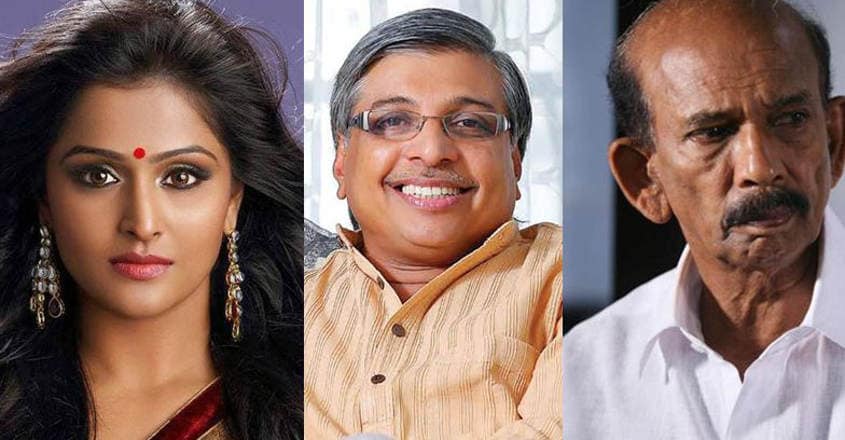 Actress Ramya Nambeesan, who exited form the Association of Malayalam Movie Artistes (AMMA) in protest against its move to take back actor Dileep's into the organisation, vehemently criticised the film organisation saying that those who were supposed to provide justice has been found to be denying it. She aired her resentment at a programme 'Avalkoppam' (with her), organised in Thrissur.
Nambeesan said that she left AMMA as it adopted double standards towards its members. She was speaking at the event where Film Societies Federation was announcing solidarity with Women in Cinema Collective (WCC) in the light of latest developments.
"I was deeply saddened while resigning from AMMA. But I'm happy to know prominent personalities noted our work was commendable. Let the person who has been charged with the offence prove his innocence. At times protest is inevitable. We are also happy to receive the public support," Nambeesan said.
Meanwhile, director Kamal opined that the February 2017 actress attack was an example of creeping criminalisation in cinema. Kamal criticised the stand taken by the mothers in the organisation who spoke volumes about motherhood within and outside cinema. It was shocking to know that a majority of those who attended the meeting that decided to freeze Dileep's ouster was women.
Others who spoke at the event reminded the WCC members that all the persuasive talks would be traps. Writer Sarah Joseph, filmmakers Priyanandanan, PT Kunjumuhammed, among others took part in the event.
Meanwhile, actor Mamukkoya said that Dileep should not be taken back in AMMA until the court verdict comes. Speaking from Kuwait, the actor said that a different stand, be it any person or any organisation, would be unacceptable. If the court finds him guilty, won't he be expelled again? Mamukkoya asked.
The rift in AMMA over the induction of ousted actor Dileep, an accused in the 2017 actress attack case, had taken an ugly turn recently with a new breed of actors and the WCC coming out openly against his re-induction. They had criticised AMMA's 'double standards' and said the organisation was going soft on someone who was accused of harassing a woman.
In protest, four actresses, including Nambeesan, had resigned from AMMA, saying there was no point in continuing with the body.