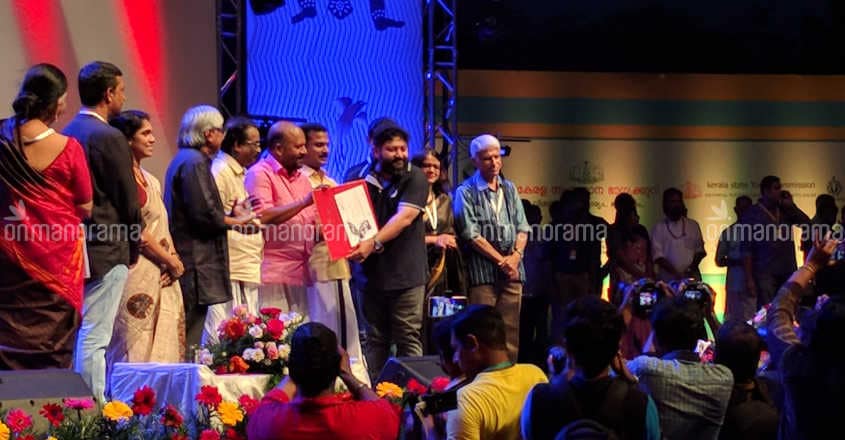 Thiruvananthapuram: Iranian film 'The Dark Room' (Otagh-e-Tarik), directed by Rouhollah Hejazi, won the Suvarna Chakoram (Golden Crow Pheasant) award at the 23rd International Film Festival of Kerala (IFFK) that concluded here on Thursday.
The film deals with the exploration of relationships in a family. The award carries a memento and a cash prize of Rs 15 lakh to be shared between its director and producer.
Malayalam filmmaker Lijo Jose Pellissery was adjudged the best director of the film festival. His film 'Ee.Ma. Yau' won him the coveted Rajata Chakoram (Silver Crow Pheasant) Award with a cash prize of Rs 4 lakh. The film is a tale of ordinary folk and their less than ordinary lives. It's a paean to death, the undertones of which unfolds in a coastal village. The movie also won the coveted Rajata Chakoram for audience poll and the NETPAC Award for Best Asian film in competition category. Lijo said that he was proud to collect the award from the state which overcame the worst flood ever seen.
'Sudani from Nigeria' directed by Zakariya won the FIPRESCI Award for best Malayalam film.
The Rajata Chakoram for best debut director was won by Anamika Haksar for 'Taking the horse to eat Jalebis/ Ghode ko Jalebi khilane le ja riya hoon.'
A new award was introduced this year -FFSI K R Mohanan Award for best director from India. Amitabha Chatterjee who directed 'Manohar and I' (Ami O Manohar) won this award. Vinu Kolichal who directed Malayalam movie 'Bilathikuzhal' also won a special jury mention in this category.
Chief Minister Pinarayi Vijayan who inaugurated the ceremony congratulated the younger generation who came forward as volunteers and to those who brought free food for the delegates during the day of hartal. "While some forces try to take the state's situation to that of in the early 19th century, such festivals remain a future hope for the coming generation. Kerala's future and hope lies on the younger generation," he said.
Director Majid Majidi, Agriculture Minister V S Sunil Kumar and others distributed the prizes at the closing ceremony held at a packed Nishagandhi Open Air auditorium.
IFFK also observed a minute's silence to condole the demise of 'Perumthachan' director Ajayan.
Around 163 films from 72 countries were screened in the festival that began on December 7. Various categories such as 'Open Forum' and 'In Conversation' provided the stage for extensive interaction on cinema from across the world.
The five-member international jury was headed by director Majid Majidi.
IFFK's next edition will be held from December 6 to 13.
Winners' list
• Suvarana Chakoram for the best film goes to The Dark Room directed by Rouhollah Hejazi
• Rajata Chakoram for best director – Lijo Jose Pellissery (Ee. Ma. Yau)
• Rajata Chakoram for audience poll- Ee.Ma. Yau directed by Lijo Jose Pellissery
• Rajata Chakoram for best debut director – Anamika Haksar ( Taking the horse to eat Jalebis)
• Special Jury Mention for a Film- The Silence directed by Beatriz Seigner
• Special Jury Mention for a Cinematographer- Saumyanand Sahi for Taking the horse to eat Jalebis
• FIPRESCI Award for best Malayalam film – Sudani from Nigeri directed by Zakariya
• NETPAC Award for best Asian film – Ee. Ma.Yau directed by Lijo Jose Pellissery
• FFSI KR Mohanan Award for Best Film- Manohar and I by Amitabha Chatterjee
• Special Jury Mention- Bilathikuzhal by Vinu Kolichal