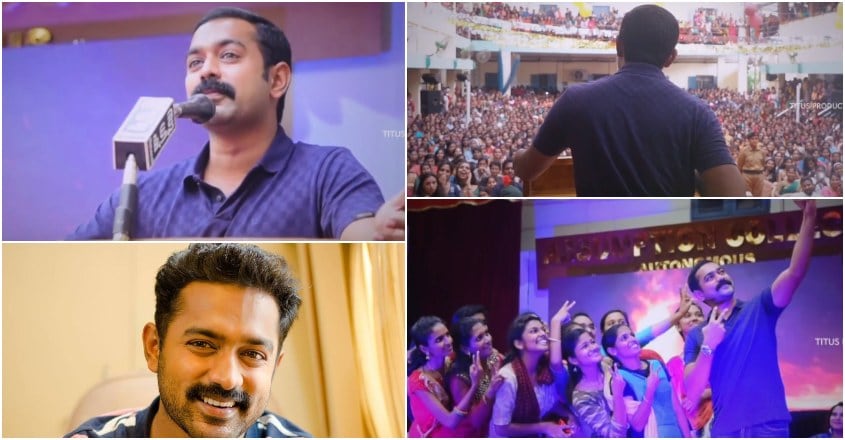 It has been a wonderful year for actor Asif Ali and his remarkable performances in recent releases 'Uyare' and 'Kakshi Ammini Pillai' have been fetching him rave reviews from critics and audience alike. No matter whichever role Asif does, there's a certain fineness that he brings into his characters and he ensures that we can't replace him with another actor doing the role.
Recently, Asif, along with the team of his latest movie 'Kakshi Ammini Pillai', was spotted at Assumption College, Changanacherry, inaugurating the Fresher's Day.
A literally cheering enthusiastic crowd of young girls welcomed him and Asif said that he could feel so much of positive energy radiating. While the formal function concluded with lighting of the lamp, what won hearts was the simple yet powerful speech that he delivered.
Asif made sure that the girls drove a point home. He said that women were no less than men and that there is literally no space in the world where women haven't left their signature. There is nothing the world that a woman can't do.
Even more remarkable was Asif's mention of his co-star Parvathy. He said how his 'Uyare' co-star Parvathy carved a unique niche for herself and how her effort and dreams helped her conquer heights. Asif also said that today there are movies releasing in her banner and how happy he is witnessing the transition from marketing a film with a male actor's banner to that under a woman's banner.
Asif's mention of Parvathy delighted the audience.
He also took time to appreciate how beautifully Shibila acted in 'Kakshi Ammini Pillai' and also on how bold a woman she was, and which makes her more qualified as the chief guest for the day.
Well Asif, this was truly inspirational.