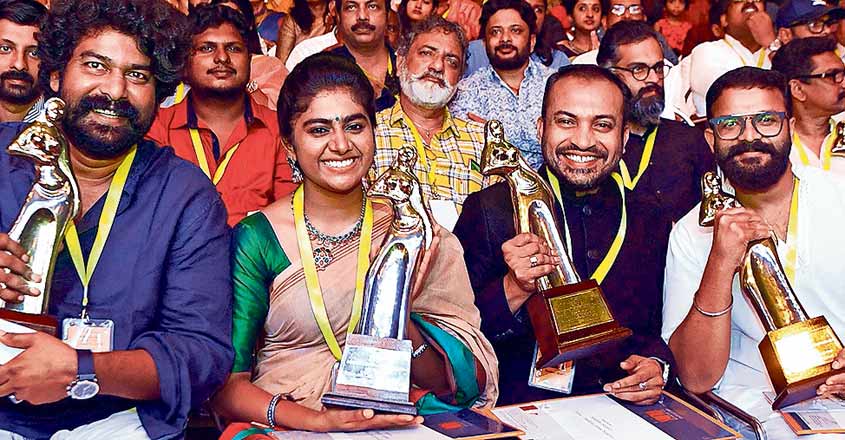 Thiruvananthapuram: It was literally a starry night at the Nishagandhi auditorium here as the 49th Kerala State Film Awards were presented by Chief Minister Pinarayi Vijayan.
The award for the best actor was received by Jayasurya for his unmatched performance in 'Njan Marykutty' and 'Captain and' also by Soubin Shahir for his performance in 'Sudani From Nigeria'.
The best actress award was received by Nimisha Sajayan for her performance in 'Chola' and 'Oru Kuprasidha Payyan'.
Actor Jayasurya thanked his family and said that it was the support from them and the audience that helped him achieve this feat.
In his acceptance speech, Jayasurya recalled that he missed out on award nomination once earlier even though there was a rumour that he might make it to the final list.
"Then, my son Adwaith had told me that it was okay and getting the main award would mean waiting for it until the function got over which may be boring. However this time he was elated and congratulated me," Jayasurya said.
When Jaysurya asked him on the sudden change in his stand he replied that he had said so earlier to console him.
He also fondly shared how his wife Saritha, who is also a fashion-designer, gifted him a dress some months back asking him to wear it while he received the best actor award. Jayasurya said that he had asked her how she could do so even before the awards were announced to which she replied that she was sure that he would get an award for 'Njan Marykutty'.
The audience applauded Jayasurya when he said he was wearing the same kurta that she had gifted.
Actor Soubin Shahir too dedicated the award to his family and also to his newborn son Orhan. Overwhelmed, Soubin said he did not really know what to say.
Actor Joju George enthralled the audience as he sang a song in the begining of his acceptance speech.
The JC Daniel Award was received by veteran actress Sheela.
The prestigious state awards are given by the Kerala State Chalachitra Academy since 1998. Established in 1969 it was given by the Department of Cultural Affairs, Government of Kerala until 1977.