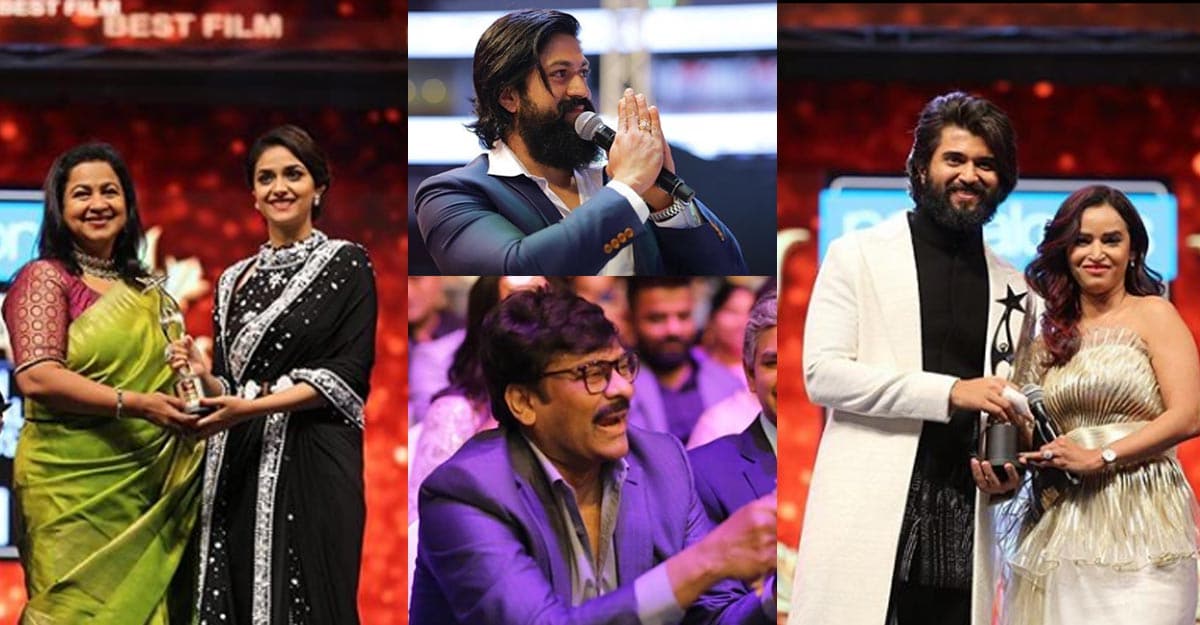 The SIIMA Awards 2019 is hosting its eighth edition at Lusail Indoor Arena in Doha.
Team SIIMA 2019 had put up the nomination list for Telugu, Kannada, Tamil and Malayalam movies of 2018 a month ago.
On the first day of the event, awards were given to the people from Telugu and Kannada film industries. The next day is allotted for Tamil and Malayalam films.
Stars had already decended and their pics from the ceremony had already landed online.
Keerthy Suresh, who is basking in the glory of winnning the National award for the best actress has also managed to win best actress award at SIIMA as well.
Here we give out a list of the winners from Telugu and Kannada.
Telugu:
Best actress: Keerthy Suresh for Mahanati
Best actor: Ramcharan for Rangasthalam
Best director: Allu Aravind
Best supporting actress: Anasuya Bharadwaj for Rangasthalam
Best supporting actor: Rajendra Prasad for Rangasthalam
Best debutant director: Ajay Bhupathi for RX100
Best debut actor: Paayal Rajput for RX 100
Best actor critics: Vijay Devarakonda
Best comedian: Satya for Chalo
Best cinematographer: Rathnavelu for Rangasthalam
Best music director: Devi Sri Prasad for Rangasthalam
Best playback singer female: MM Manasi for 'Rangamma Mangamma' in Rangasthalam
Best play back singer male: Anurag Kulkarni for 'Pilla Ra' in RX 100.
Best lyricist: Chandra Bose for 'Yentha Sakkagunave' in Rangasthalam.
Kannada:
Best actor: Yash for KGF
Best director: Prashanth Neel
Best supporting actress: Archana Jois for KGF
Best debutant director: Mahesh Kumar for Ayogya
Best debut actor: Anupama Gowda for Aa Karaala Ratri
Best comedian: Prakash Thuminad for Sarkar.Hi.Pra.Shaale.Kasaragodu
Best actor in negative role: Dhananjaya for Tagaru
Best cinematographer: Bhuvan Gowda for KGF
Best playback singer female: Ananya Bhat for 'Hold on' from Tagaru
Best lyricist: Chetan Kumar for Yennammi Yennammi from Ayogya
While Chiranjeevi and Mohanlal are the special guest of honour at the event, many celebs will be performing on stage as well. South Indian International Movie Awards, also known as the SIIMA Awards, rewards the artistic and technical achievements of the South Indian film industry.