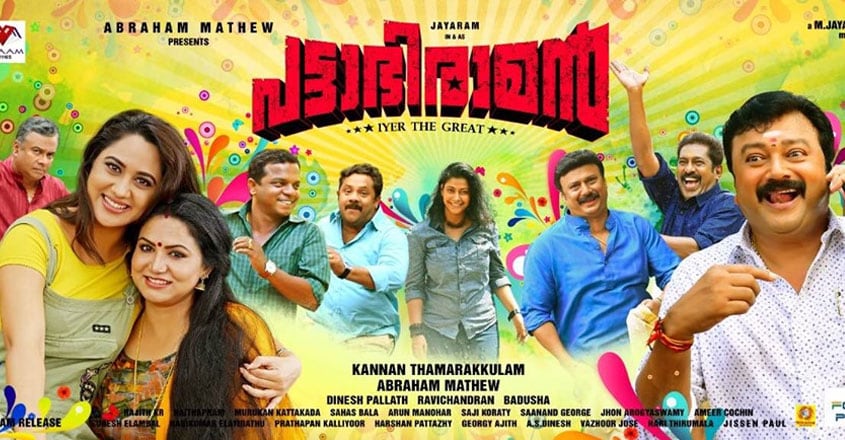 Recently released movie Pattabiraman starring Jayaram in the lead role has found an admirer in P Thilothaman, the minister for food and civil supplies. The minister, after watching the movie said that the film conveys a valuable message for the society and that he enjoyed it very much.
"This movie gives an excellent message for the society. I really liked it. I appreciate the makers for presenting such a movie. It deals with a unique theme. Besides, this movie points out how important it is for us to be vigilant in our daily lives," said the minister.
"This movie sheds light on a lot of things that could be jointly done by the civil supplies and the food safety department. We too will give special attention to what has been mentioned in it," added Thilothaman. Meanwhile, the director of Pattabiraman Kannan Thamarakulam said that the minister's words of praise have indeed made them incredibly proud. He told Manorama Online that Thilothaman's appreciation indicated the movie's amazing success.
Jayaram plays the eponymous lead of the movie, Pattabiraman, a food inspector who hails from a family which deems food tantamount to God. The movie deals with a relevant theme with ample doses of humor and drama. It exposes the murky connection between the increasing rate of life style diseases among Keralites and the visually appetizing food that are served at the hotels here. The movie is grabbing appreciation from all corners for its relevant message.
This movie is the fourth collaboration of the winning team of Jayaram and Kannan Thamarakulam. Pattabiraman, which stands out for its unique theme and treatment, is probably the best among all the movies that came out from this actor – director duo. The screen play of Pattabiraman is penned by Dinesh Pallath. The movie is bankrolled by Abraham Mathew for the banner of Abam Movies.
Many see this movie as the smashing comeback of Jayaram who enjoys a special place in the hearts of the family audience. He has done an amazing job as the strict food inspector who reveres food as sacred. The excellent performance of actor Baiju too deserves special mention. He charms the audience with his mesmerizing acting skills, especially in the emotional scenes. Sheelu, the female lead in the movie, does justice to her role.
From the small hotels which serve stale food to the swanky eateries which adulterates food to make illegal profits, Pattabiraman reveals the dubious secrets of the hotel industry in Kerala. The movie reminds how Keralites have stooped to a helpless society which is forced to buy food loaded with toxins by spending our hard earned money. Many families who watch this movie would definitely think twice before buying fast food or hotel food for their kids and are likely to rethink about their food habits.