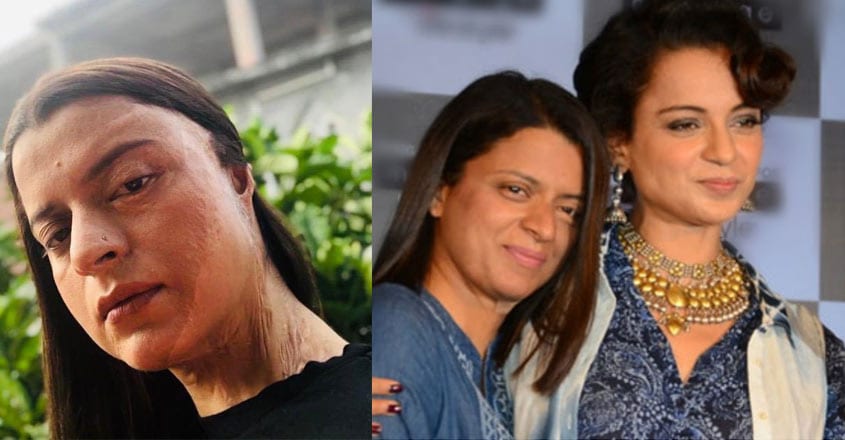 Kangana Ranaut's elder sister Rangoli Chandel is known for her strong views. She is in news for her regular digs she takes at Bollywood and various celebrities.
But her latest tweets tells her story and how she faced the gruesome acid attack she suffered during college. Rangoli revealed that her left part of the face got burnt during acid attack damaging her ear.
Rangoli had first shared a throwback picture of her's and Kangana's from 1998. Rangoli and her little sister Kangana were seen posing with their mother in the picture and she captioned it- "Look what I found a picture of Chotu and me with mom can anyone spot the calendar behind with year written on it ?".
Soon after, she posted another picture after fans dedmand to see her college days pic. "OMG !! Such an overwhelming response to our childhood pics, lot of friends asking for my pics from college, ha ha we were science students, we had no time for all this, still found one from annual day".
Later, in the tweets that followed, she shared how shortly after that college picture was clicked, a man threw acid on her face.
She wrote- "Shortly after this image was clicked, the guy whose proposal I refused threw one litre acid on my face, I had to go through 54 surgeries strangely and simultaneously my little sister was physically assaulted and almost beaten to death for what ? Cause our parents gave birth to beautiful, intelligent and confident daughters, world is not kind to girl child ,time to fight all kind of social evil ... so it's safer for our children".
When asked by a user as how can she be so brave and for tips for the youngsters, she shared that it was her husband and sister Kangana who stood by her side throughout.
"I don't know wat to say honestly..I had given up on my life, my now husband bt back den jst a normal friend washd my wounds &waited outside operation theatres fr years vry supportive sister & parents collectively breathed life in to me.. can't take credit fr wat my life is today", she wrote.
She also revealed that around the same time Kangana was physically assaulted and 'almost beaten to death'.
Finally, Rangoli also chose to come out with her scars in public and shared a picture of her's revealing the acid-affected left side of her face. Usually, Rangoli keeps her one side covered under her hair at all public appearances.
Sharing a pic, Rangoli wrote, "Lot of people feeling sorry about the fact that I lost my beauty, honestly when your organs melt before your eyes beauty is the last thing you care about, even after 54 surgeries over a span of 5 years doctors couldn't reconstruct my ear. I had lost one eye had a retina transplant, doctors took skin patches from all over my body and grafted my one breast which was severely damaged, during breast feeding Prithu I felt many complications. Even now I can't stretch my neck sometime itching in grafted skin is so bad that I wish I was dead... shockingly acid victims numbers are very high in India, the culprit was out on bail within few weeks, it was too painful to see him roam around freely. I stopped following the case, why not death sentence for these people? Beauty was the last thing I cared about I was university topper but best years of my youth went in operation theatres, even though I had 90 percent burn still no reservation for acid survivors. Why ?? These are some of the questions we need to ask ourselves and our system." (sic.)
She also mentioned that she forgot the culprit and now her husband and son are her priority.
Rangoli is married to Ajay and the duo have a son Prithvi Raj Chandel.