Los Angeles: 'Everything Everywhere All at Once', which revolves around a Chinese-American family working out their problems across multiple dimensions, won big at this year's Academy Awards held on Monday (IST). The film took home seven awards, including The Best Picture and Best Lead Actress.
While Brendan Fraser, who played a severely obese man trying to reconnect with his daughter in 'The Whale', won the Best Lead Actor award, Michelle Yeoh took home the Best Actress award for playing Evelyn Quan Wang in the film 'Everything Everywhere All at Once'. Yeoh played a stressed-out laundromat owner who finds she has superpowers in alternate universes.
"For all the little boys and girls who look like me watching tonight, this is a beacon of hope and possibilities," the 60-year-old Malaysian actress said on stage. "And ladies, don't let anybody ever tell you you are ever past your prime."
Quan's co-star Curtis, who built a career in horror films such as "Halloween," won best supporting actress for playing a frumpy tax auditor named Deirdre Beaubeirdre.

Curtis, 64, looked upward and addressed her late parents, Academy award nominees Tony Curtis and Janet Leigh. "I just won an Oscar," she said through tears.
Meanwhile, 'Naatu Naatu' from the hit Indian movie 'RRR' has won the Oscars in the Best Original Score category. Music composer M M Keeravani and lyricist Chandrabose received the award on the stage. Keeravani presented his acceptance speech as a song, which went on to receive wide applause from the audience.
Daniel Kwan and Daniel Scheinert, collectively known as the Daniels, won the award for Best Direction for their work in 'Everything Everywhere All at Once'.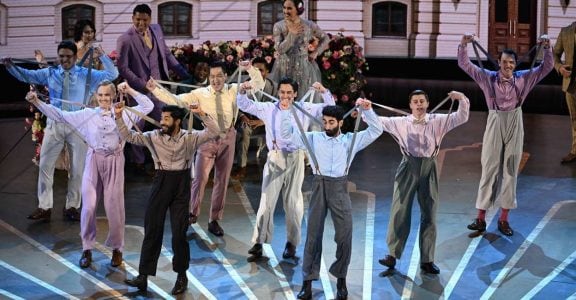 Meanwhile, Avatar: The Way of Water,' directed by James Cameron bagged the Oscars in the Best Visual Effects category at the 95th Academy Awards ceremony being held in the US since Monday morning (IST). Joe Letteri, Richard Baneham, Eric Saindon and Daniel Barrett were the people behind the amazing visual effects in the film, which released in December last year.
'The Elephant Whisperers' by Kartiki Gonsalves and Guneet Monga won the Oscars in the Best Short Documentary award during the 95th Academy Awards ceremony in the US on Monday morning (IST). India's presence was also felt at the Oscars as 'Naatu Naatu' singers Rahul Sipligunj, Kaala Bhairava performed the Telugu song live during the awards ceremony. Deepika Padukone, who was all smiles, presented the song at the ceremony. 'Naatu Naatu' has been nominated for the Oscars in the 'Best Original Song' category.
Meanwhile, the film 'Navalny' won the Oscar for best feature documentary on Sunday. The film revolves around the poisoning that nearly killed Alexei Navalny, Russia's most prominent opposition leader, and his detention upon his 2021 return to Moscow,
Accepting the award, Navalny's wife Yulia Navalnaya said: "My husband is in prison just for telling the truth. My husband is in prison just for defending democracy. Alexei, I am dreaming of the day when you will be free and our country will be free.
"Stay strong my love. Thank you."
The documentary follows Navalny as he recovers in Germany from his poisoning in Siberia with a Soviet-era nerve toxin which Western nations said was a Russian state assassination attempt to silence the outspoken critic of President Vladimir Putin. The Kremlin denied involvement.
In the CNN Films/HBO Max documentary directed by Daniel Roher, Navalny works with investigative news outlet Bellingcat and they unmask FSB agents sent to poison Navalny in 2020. Navalny, pretending to be a Russian official, calls one of the agents who describes the poisoning plot.
He decides to return to Russia in January 2021 with Yulia and throngs of supporters await his arrival. He is arrested at the airport and later sentenced to a combined 11-1/2 years in jail in two separate fraud cases, which he says were trumped up to silence him.
His anti-corruption organization was banned as extremist. His daughter, Daria Navalnaya, attended the Oscars ceremony as well and said she was "very happy that the movie is getting the attention that it deserves."
"Don't stop fighting for democracy and freedom around the world and we're going to get my dad out and we're going to keep fighting," she said in an interview on arrival for the Oscars.
Navalny, 46, is the highest profile of the few remaining opposition voices in Russia and is serving his sentence in a maximum security penal colony in Russia. Supporters say his health has deteriorated after around a dozen spells in solitary confinement.
Appealing unsuccessfully in May against one of his sentences, Navalny cast Putin as a doomed madman who started a "stupid war" against Ukraine that was butchering innocent people of both Ukraine and Russia.
At the end of the film, Navalny is asked what his message would be to the Russian people if he were killed. "You're not allowed to give up," he said.
Meanwhile, James Friend won the Best Cinematography Award for 'All Quiet on the Western Front' at the 95th Academy Awards Ceremony, which went underway in the US on Monday morning (IST). Jamie Lee Curtis won the Best Supporting Actress award for her role in 'Everything Everywhere All at Once'. She played the role of an imperious IRS auditor bearing down on a Chinese American laundromat owner struggling to finish her taxes.
It was the first Academy Award for the 64-year-old Curtis, in her first-ever Oscar nomination over a 45-year career in film that kicked off with horror movie 'Halloween'. She prevailed over other front-runners Angela Bassett and Kerry Condon.

Two weeks earlier, Curtis had won the same award from the Screen Actors Guild and said in her acceptance speech that when she got the call for a "weird" movie and heard she would be working with lead actress Michelle Yeoh, she was all in.
"I know it looks like I am standing here by myself, but I am not. I am hundreds of people," Curtis said in her acceptance speech, thanking everyone who worked on the film.
Ke Huy Quan, the Vietnamese-born actor who as a child appeared in "Indiana Jones and the Temple of Doom," received the Academy Award for best supporting actor for his role as Waymond in "Everything Everywhere All at Once.

Quan, 51, made his big-screen debut as Harrison Ford's sidekick, Short Round, in the 1984 film, and later appeared in the film 'The Goonies' and the situation comedy 'Head of the Class.'
He has spoken publicly about stepping away from acting as an adult, working as a stunt coordinator and assistant director, because there weren't enough opportunities for Asian actors.
Quan's portrayal of Waymond Wang was his first major role since the '90s.
Quan in his acceptance speech at the Golden Globes acknowledged 'Indiana Jones' director Steven Spielberg for giving him his big break.
"I was raised to never forget where I came from, to always remember who gave me my first opportunity," Quan said. "I am so happy to see Steven Spielberg here tonight. Steven, thank you."
Quan said he felt "so very lucky to have been chosen" for the 'Indiana Jones' role, though he began to wonder "if that was it."
"For so many years, I was afraid I had nothing more to offer, that no matter what I did, I would never surpass what I achieved as a kid," Quan said. "Thankfully, more than 30 years later, two guys thought of me. They remembered that kid. And they gave me an opportunity to try again," he said.
'All Quiet on the Western Front', a German remake of 'World War One' epic won best international feature. The movie, which streamed on Netflix, depicts the horrors of trench warfare through the eyes of a young man initially keen to join the fight.
Director Edward Berger thanked the film's young star, Felix Kammerer, who joined him on stage.
"This was your first movie, and you carried us on your shoulders as if it was nothing," Berger said.
Earlier in the day, Jamie Lee Curtis, Brendan Fraser and other Oscar nominees walked a champagne-colored carpet on Sunday as "Everything Everywhere All at Once," "Top Gun: Maverick" and other blockbusters were competing for the coveted best picture prize.
Oscar host and comedian Jimmy Kimmel wraps up the 95th Academy Awards in style, and so do we, with our live updates!

'Everything Everywhere All at Once' wins Best Picture, takes home 7 Oscars

Michelle Yeoh wins Best Lead Actress for her role in 'Everything Everywhere All at Once'

Brendan Fraser bags Best Lead Actor for his work in 'The Whale'

Daniel Kwan, Daniel Scheinert, collectively known as the Daniels, win Best Director award for 'Everything Everywhere All at Once'.

Paul Rogers wins Best Film Editing award for his work in 'Everything Everywhere All at Once'.

'Naatu Naatu' from 'RRR' wins Oscars for Best Original Song.

'Top Gun: Maverick,' receives the Oscars for Best Sound. Mark Weingarten, James H Mather, Al Nelson, Chris Burdon and Mark Taylor share the award.

'Women Talking' by Sarah Polley wins Best Adapted Screenplay.
Crisis Response Team at the Oscars
A crisis response team was on hand in case of an unexpected twist. The group was formed after Will Smith smacked Chris Rock on stage last year, tarnishing the film industry's most prestigious ceremony.
At the start of the show, two U.S. military aircraft flew over the Oscars theater, and host Jimmy Kimmel landed on the stage by parachute, in a tribute to best picture nominee "Top Gun: Maverick."
Comedian Kimmel joked in his opening monologue about the audience reaction to Smith's attack last year.
"If anything unpredictable or violent happens at the ceremony, just do what you did last year - nothing," he told the crowd of A-list celebrities. "Maybe give the assailant a hug."
Kimmel also brought a surprise guest: Jenny, the scene-stealing donkey from best picture nominee 'The Banshees of Inisherin.'
Guillermo del Toro's 'Pinocchio' was named best animated feature.
The 95th Academy Awards ceremony was broadcast live on Walt Disney Co's ABC network. The Academy of Motion Picture Arts and Sciences hoped to move past the slap and stage a glitzy show and boost sagging TV ratings.
Ahead of the awards, nominees dressed in designer gowns and tuxedos touted their movies on a champagne carpet in place of the traditional red.
Winners are voted on by the roughly 10,000 actors, producers, directors and film craftspeople who make up the film academy.
(With Reuters inputs)