Actor Jayaram has been entertaining us for the last 30 years and has played some of the most memorable roles in Malayalam cinema. A veteran of family entertainers, Jayaram admits that he indeed has made mistakes, in his career, while choosing some movies. In a candid chat with Manorama Online, Jayaram opens up about his experiences as an actor and also about his movies.
Are family entertainers Jayaram's forte?
I think I indeed am the one who has done the most number of family movies, in the last 30 years. If you ask me why, then I must say that it wasn't intentional at all. It happened because such scripts mostly came my way. In fact, it is something which I consider incredibly fortunate about. The end of the 1980's or the early 1990's, when I started out in the movies, could absolutely be called the best time of Malayalam cinema.
Lots of movies which highlighted the beauty of human relationships were made during that time. When I look back, it makes me extremely happy to have become part of many such movies. I am very comfortable while doing films like that. A movie turns out good only when you enjoy essaying your character. It is not up to us to predict whether the movie would become successful or not. It is decided by the Lord Almighty and the audience as well. But, what is significant is the happiness and satisfaction that we get when we become part of good cinema.
Didn't you digress for a short while?
It is true that I made some faulty choices at some point in my career. It happened not because cinema has changed, but because I made mistakes in choosing the right ones. I have done a handful of movies which I felt that I shouldn't have done. However, good movies kept coming my way. Panchavarnathatha and Lonappante Mamodeesa are all examples of those good ones.
Did cinema change technically or in many other ways?
Lots of new faces enter the filmdom every day. It would take only seconds for the social media to make a video viral all over the world. These are all incredible changes and all of us have been watching it curiously. Cinema too is developing amazingly in the technological area. I feel lucky that I too am part of those changes. We are moving forward along with the time and era.
The changes that are happening in the movies are good. In spite of all these changes, it gives me immense happiness when I am able to do movies depicting the relationships that highlight our culture. It is such movies that I prefer to do the most.
What is Jayaram's role in Kalidasan's growth as an actor?
For every parent, their children are precious. As a father, I too feel the same. However, Kannan never had to ask around for a chance in any movie, as the son of Jayaram and Parvathy. Even in his first movie as a child artist, Sathyan Anthikad had made him act when another kid couldn't do it well. The next movie was chosen by him after listening to the story and he had won the national award for it.
Later, Poomaram too was chosen by him. Kannan is born and brought up in Madras. So, it took around six months for Abrid Shine to teach him the right Malayalam pronunciation, body language and the attitude of an SFI leader at the Maharajas College. Abrid took him around the Maharaja's College to make him accustomed with the vibe of it. That is the reason why he was able to do a movie like Poomaram which is as beautiful as a poem. I haven't given him any extra advices or training. It is him who chooses his paths. But he often comes to me to ask about minute details and I would talk about it.
Why aren't you venturing into production?
It is us who seek our own happiness. During the intervals between movies, I try to find things that give me joy. I don't have any business ventures and neither do I think that I can manage that. My interests still lies in listening to a chenda performance or watching an elephant. I have always loved visiting temple festivals, to enjoy the chenda performances, before coming into the movies and even after that.
Actor Sidhique has once told that Jayaram explains things with a bit of exaggeration?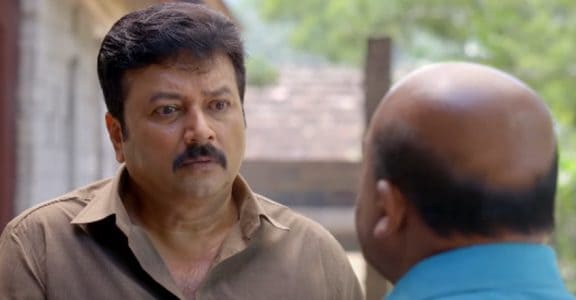 Sidhique is one of my close friends in the cinema industry. We have lots of fun whenever we are together. I usually add a bit of exaggeration when I narrate something. When my school in Perumbavoor reopens after the holidays, my teacher would call me and ask whether I have visited somewhere during the vacation. When I begin to talk about the places I had been to with my parents, the teacher would ask me to explain it to my classmates. I might have seen an elephant or two. But I would tell them that I have seen at least 10 elephants and add vivid details to it. I used to do the same with my kids as well. The listeners would feel a curiosity only if we add a bit of exaggeration while narrating it. Sidhique too might have meant that when he said it.
Your character KRP is a star of the trolls and memes these days. How do you recall essaying that role?
Sreenivasan is a unique talent which has transcended time and era. It indeed is a big thing that such a movie and its characters are celebrated even 25 years after its release. Only an incredibly talented writer like him can achieve it. If you ask me whether I have met such characters in real life, then I will have to answer in the affirmative. KRP is exactly like someone I have seen at Perumbavoor. Please don't ask me who it is. I will not say. I used to see him every morning. Dressed in crisp khaddar, he carried some one and two rupees notes and a few sheets of paper in his torn pocket. Every morning he would go somewhere with hurried paces and would return in the same way after a while. He seemed to be doing this without any purposes. I had this person in my mind while essaying the role of KRP.
Do you think that you have achieved everything in cinema?
I used to go for the concerts of Yesudas and watched him intently from faraway. I often wondered from where he gets such a beautiful voice. I have been fortunate to act in hundreds of songs sung in that divine voice. I admired the films of Mammotty and Mohanlal. Later I joined them in the industry and have been in this journey with them for the last 30 years. Even now, I feel surprised when I see Mammootty and Mohanlal. It is still unbelievable for me.
When I was in college, I had a poster of Kamal Haasan pasted on my hostel room wall. I got the chance to act alongside Kamal Haasan, right? Malayalam cinema, in the last 30 years or so, has seen some of the finest actors. I have had the incredible opportunity to perform with a bunch of extraordinarily talented artists like Kuthiravattom Pappu, Mamukkoya, Innocent chettan, Jagthy chettan and even Oduvil Unnikrishnan and Nedumudi Venu. What more should I ask for?
What do you have to say about Kamal Haasan as an actor? He is someone who lives only for the cinema. Don't ask me about anything else. I don't know anything about the political matters. He truly is an encyclopedia of cinema. Almost like a university of it. There is hardly anything that he doesn't know about the movies. He began acting when he was just two and half years old. He has acted at the AVM studio as an infant. There is still a tree in AVM which was planted when he acted there for the first time. That tree, named after Kamal Haasan, is now more than 50 years old.
It isn't a small thing to complete 50 years as an actor. There aren't many roles that he hasn't done. If an actor does a character, it would already have done by Kamal Haasan at least 15 years ago. He has great knowledge about everything. He is an amazing makeup artist, incredible fight master, photographer and a talented writer as well. Do you have any idea how many languages he can speak? He isn't greatly educated but he reads a lot and has gained vast knowledge.
Which movies of yours are your children's favorites?
My kids have seen almost all the movies that I have acted in. Kannan actually loves such movies. Though the movies have changed, Kannan still enjoys the old films and also the ones in which Mammootty and Mohanlal had acted. He often says that there are lots to be learned from some of the older films of Mammootty and Mohanlal.
Do you believe that it indeed is acting that God has decided for Jayaram?
The sense of what one has to become in life, is instilled, in everyone, by the God. However, it is up to oneself to find it out. I was once a medical representative. After that I worked as a marketing executive of a chemical company. During those days, I would remove my tie and keep it in the bag before going for the mimicry rehearsals at Kalabhavan in the evening. I did announcements for radio plays and mike announcements for politicians as well. Besides, I used to record the announcement that would be played by lottery ticket sellers. I have dubbed for many plays. I did a lot of odd jobs. But even then I felt in my heart that those weren't my real jobs and yearned for my true calling. However, I never realized then that cinema was my real passion.
Movies of father and son are released almost at the same time. Do you have a friendly competition at home? At home, four of us are the best of friends. I might be Kannan's dearest friend. Aswathy is my best friend while Chakki is hers. We have so much fun together and share interesting things with each other. It was during the same time that the songs from my movie and Kannan's movie got released. So I told him to see whose songs become super hit. These are all funny things that happen between us. I wish all the movies do incredibly well and that is my genuine prayer.