Editor Noufal Abdullah's journey into films has a dramatic beginning. "I had a silly fight with my father and ran away from my home when I was young. I boarded a bus from my hometown in Palakkad and reached Ernakulam. I was clueless on what to do later in life then."
Noufal did odd jobs in the city to sustain himself before he met editor Don Max through a friend. "That meeting changed my life. Over the next 12 years I assisted him in around 30 films," he recollects.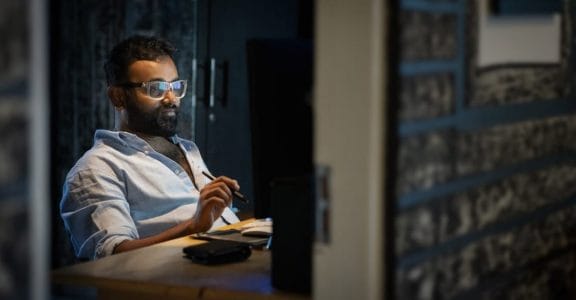 Now, an award-winning editor, this 33-year-old says that editing is not just about joining the scenes together. "It is an art that requires a lot of patience. An editor is responsible for cleaning out any mistake that comes during the shoot and making the story tight without losing out on the plot. We make the movie as it is envisioned by the director to the audience," Noufal explains his task.
In 2017, Noufal started to work independently with Khalid Rahman, the Director of 'Anuraga Karikkin Vellam.' "Khalid Rahman is a friend. I agreed when he enquired if I would be interested in taking up its editing job." he recalls.
Since then Noufal has edited several films, including 'The Great Father', 'Sudani from Nigeria', 'Kettyolaanu Ente Malakha' and 'Kappela'. "Editing is not a skill that can be completely learnt from a film school. To be good at it, you need to go beyond software and understand the art that it is. I suggest watching movies and observing different modes of editing to keep oneself updated," he advises.
It was the 2018 film 'Sudani from Nigeria' that gave Noufal a break in the Malayalam film industry. "It was after that people started noticing me. I won the Best Editor award at the CPC Cine Awards for the film. Later, in 2019, I won the Kerala Film Critics Association Awards for the film, 'Sameer' directed by Rasheed Parakkal. "
Noufal now has several films to be released. "First is 'Peace' directed by debutant director Sanfeer K. Joju George plays the main role. Next, is 'Adi' directed by Prashob Vijayan. Shine Tom Chacko and Ahana Krishna play the central characters in it." He is also working on 'Anaparambile Worldcup' by Nikhil Premraj, 'Khali Purse of the Billionaires' by Maxwell Jose, and 'Adithattu' by Jijo Antony. He will soon start work on a film called 'Shafeekinte Santhosham' by Anoop Pandalam in which Unni Mukundan plays the lead role.
It is not just editing that excites Noufal. He is now getting ready to try his hands on direction. "I started on a project and it is now in its pre-production stage. Asif Ali and Suraj Venjaramoodu are the lead actors. I cannot reveal too much but I promise that it will be something that everyone can enjoy," he concludes.