Kannil Pettolle from 'Thallumaala' is probably one of the most colourful songs to have released in Malayalam in recent times. The swag and style of the song reflect in the visuals – it's not everyday you get to see Tovino Thomas dance with this much infectious energy, nor Kalyani Priyardashan change multiple costumes and swagger in style for just one song.
While the Malayalam lyrics of 'Kannil Pettolle', composed by Vishnu Vijay is definitely catchy, the English rap verses in the song is what makes the track more appealing. Onmanorama catches up with Irfana Hameed, emcee, singer, trumpet player and popular hip hop musician from Kodaikanal, who penned and rapped the English verses of the hit number.
1.How are people reacting to the song Kannil Pettole?
From what I can tell people love the song, at any given point of time there are hundreds listening to it even just on Spotify! Especially in Kerala, I think the song took off quite well.
2.How did 'Thallumaala' happen?
Khalid Rahman's team got in touch with me after my performance at Para Kochi Festival, organised by Kochi Music Foundation, which was streamed on YouTube. It received a lot of views. So their team reached out and I said yes! This was my first film project so it's very special.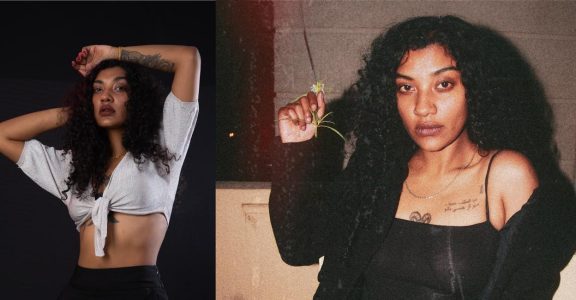 3.About working with Vishnu Vijay in the song?
It was great! Mr. Vishnu is amazing in the studio, he gave me complete creative liberty while writing the verse and when we recorded - he brought out the best in me. Watching him work and working with him were both dreamy!
4. Have you been involved in Mollywood in the past? Where are your roots?
My roots are Tamil and no I haven't been involved with Mollywood before this. But I love it, and hope to doing lots more with the industry!
5. What drew you to hip hop music?
I remember hearing hip hop for the first time and falling in love with the bars and bangers. It resonated like nothing before with my innermost energy and constantly stimulates me, comforts me, and picks me up when I'm down.
6. Can you elaborate in detail about the projects you have been involved in the past?
I have one EP out, it's called Ko-Lab which is a collaborative project between me and my childhood friend and favorite producer Taslina. We created that in our hometown, Kodaikanal. That was a lot of fun and our first step into releasing independent music, we taught ourselves everything from production to marketing from scratch. Other than 'Thallumaala' I also have a song out with Netflix's 'Masaba Masaba Season 2' which is also a big milestone. I have one single with FoundOut Official called Southside Menace, and we have more singles, collabs and commercial projects coming soon!
7. How popular is hip hop music in Mollywood and other South Indian industries?
It's becoming very popular which is great for hiphop artists like me! There are a lot more hip hop scores in films and more recognition for the vastvariety of incredible hip hop artists from Tamil Nadu and Kerala. I definitely want to enter the Tamil movie industry and make more music for Mollywood too! These are my roots and nothing would make me happier than creating for them.