Anumol, who won the hearts of Malayali cinephiles with her intense performances in films like 'Ivan Megharoopan' and 'Akam', is on cloud nine. Her character in the super hit Tamil web-series 'Ayali', which revolves around a teenage girl defying repressive age-old customs to become a doctor, has been receiving rave reviews. Anumol plays Kuruvammal, the mother of Tamizhselvi (Abi Nakshathra) in the series directed by Muthukumar.
In a free-wheeling chat with Onmanorama, the actress, who has also worked in quite a few Tamil films, speaks about her foray into the digital medium and emphasises why stories like 'Ayali' needs to be told continually.
'Ayali' has a powerful message. How has the response from the public been?
The response has been amazing. People, especially women, are celebrating the story because they can connect with it. 'Ayali', in one way or the other, addresses the suppression these women have been facing for years. Men, surprisingly, have also been very welcoming and accepting.
Your role as Tamizh Selvi's mother has received a lot of praise...
Yes. I have done 50 projects (in Tamil and Malayalam) to date, but I think the response that I received for 'Ayali' is unparalleled. Every day, my inbox is filled with nearly 25 to 30 messages. I am in a very happy space now.
How did it feel playing the mother of a teenage girl in the series?
I used to imagine my mother in many of the scenes. The costumes and hairstyles also played an integral role. Most importantly, it was my director's vision and patience that made everything possible. He would have this way of explaining things and making us understand what needed to be done. The cameraman too was helpful. I just followed their inputs.
In'Ayali', the girls are imprisoned by customs after puberty...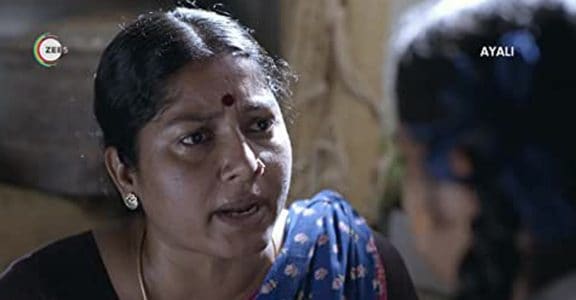 The rules imposed on the girl characters in 'Ayali' is existent some way or the other in many women's lives, even in Kerala. For example, in my village Naduvattom, at Pattambi in Malappuram, families of prospective grooms would start visiting houses to 'see' the girls who have attained puberty. I remember people of prospective grooms arriving at our house to see me when I was just in Class VII. This was mainly because my sister and I were growing up without our dad. Our weekends or holidays would be occupied with such visits. Though such customs may not be prevalent in other parts of Kerala, different norms still exist, making the girls feel stifled. Most of these customs exist in the name of women's safety and protection. 'Ayali' speaks about moral policing and also the importance of women's education.
How did this role come to you?
I heard the director wanted me to be part of the project. He must have seen my earlier works. I have a strong political opinion and that is reflected in the kind of work I do. I am not someone who chooses films thinking about whether they would be beneficial for my career. I do films that I am completely convinced about.
You need to have the guts to be choosy about the films you do...
More than guts, I think one should be willing to struggle. When you decide you will do only certain kinds of films, you may feel a little unaccepted or you may lose some opportunities. But you must be ready to wait. I have survived for over a decade in the industry (since 2009) without any familial connections.
To whom do you relate more in the web series? The mother or the daughter?
I tell everyone that I am the grown-up version of Tamizh (the daughter). I could relate to Tamizh and understand almost every emotion she was going through. Hence, it required a lot of effort for me to play the woman opposite her. In real life, I am someone who questions traditions or age-old customs. My mother would not have answers to my questions about these traditions and that would anger me a lot. She should have tried to find out why such things are followed or why such customs exist. I believe not trying to know something is just a lame excuse. However, now my mother and I have reached a point in our lives where we don't impose each other's beliefs on the other person. In a way, this is also what 'Ayali' addresses.
Do you think women themselves are suppressing their gender?
Ayali showcases different types of mothers, who exist in our world. There is a mother who claims that she is being rough on her daughter so that things would be easier for her once she is married off. She trains her daughter to take the role of a servant in her husband's house. In many places, it is these women who, unknowingly, are suppressing other women. This is because they live in a very small world without exposure.
Tell us about dubbing for the series.
This is the first time I am dubbing for a Tamil project. The director and two sound engineers worked patiently with me to make it perfect work. I only speak a limited Tamil and hence it took a lot of time and effort. I remember I had to retake one dialogue 500 times before I perfected it. Every day, I would repeat this dialogue till I got it right. I was persistent that I would dub for this character because I liked the character a lot and felt that she would feel complete only if I dubbed it.
Do you think the Malayalam industry is ready to do a web series like 'Ayali'?
Yes, the Malayalam industry is equipped for that. People are evolving and such good discussions are taking place. So, web series like 'Ayali' will come out of our industry too.
(Ayali is streaming on Zee 5)