Kartiki Gonsalves' tryst with nature began very early in life. She was just 18 months old when her parents took her out camping in the wilderness. Her close association with nature over the years prompted her to make 'The Elephant Whisperers', the only short documentary from India to be nominated for the Oscars, this year. Onmanorama caught up with the photojournalist-turned-director who spoke about this rare honour and how she stumbled upon the story of Bomman and Raghu, the human and elephant characters, in the short documentary. (The interview was taken before 'The Elephant Whisperers' received the Oscars for Best Documentary Short Film)
Tell us a little about your growing years?
I have always been going out into nature since I was a child. My mother was interested in animals and my father was a photographer, while my grandmother was an amateur naturalist who took children to the wilderness to teach them. So, I was loaded with information about nature and animal behaviour and how to photograph it. This made me aspire to be a wildlife photographer, following which I did a post-graduation in professional photography. Though I took a digression – becoming a sales girl, working at the gym etc – I jumped back into wildlife photography, which prompted me to become a cinematographer and then a director. The entire process was organic. On the whole, my focus has always been the environment, nature and wildlife and the need to raise awareness on the diversity of nature and indigenous people.
How did you come across this story of the couple - Bomman and Bellie - and Raghu, the elephant?
I was driving one day and on my way I saw Bomman and Raghu walking. Growing up near the forest in Ooty, I have always experienced large elephants, but had never seen a three-month old calf till then. I fell in love with Raghu the moment I laid my eyes on him. He was adorably cute. Bomman understood this and beckoned me. I didn't hesitate and joined them at the river for a bath. It was beautiful to spend those special moments with Raghu. Over the days, I would sit and observe them and realised they had a very special bond between them. Raghu really depended on Bomman for a lot of things. Bomman, in turn, was like a father. He also had a maternal thing for the elephant, like both of them were inseparable. This time together made me also think about Raghu and how he was a young calf who was not with his kind. That hit me on a very different level and that is where the bittersweet beginning comes to this story. The Asian elephant is losing its habitat and Raghu and Ammu (the other elephant in the documentary) are perfect examples of a climate change crisis. I also learnt a lot from Bomman, the way he looks at life and their communities respected animals at a whole different level. I wanted to give these people a voice through my documentary.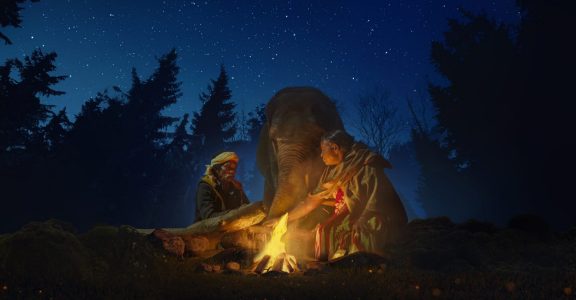 The documentary comes at a time when human-animal conflict is a hot topic...
There are several films that have depicted elephants as dangerous. Through 'Elephant Whisperers', I wanted people to relate to Raghu, to show how much they are capable of love and care, how they have a sense of humour. I also wanted to show people that they have share a lot of similarities with elephants. My documentary also lets the viewers focus extremely closely on the human carers and the elephants without an outside interference, which is why we did not even include any narration from an outside source. The shots in the documentary are so aesthetic. How did you manage to capture them?
The documentary was filmed over five years. We began shooting for the film since 2017. We were lucky to get the footage of Raghu's earlier months from the forest department. Some of the shots were captured by me candidly, even before I decided to make their story a documentary. Those were all captured in DSLRs and GoPros and my personal cameras. The rest of the shots were captured by three other professional cameramen and myself and drone operators. We had to be careful most of the time because we needed to capture all of these moments in natural light. So there were days we would get up at 3.30 am so that we would reach the forest by 6 am. It was a beautiful experience overall.