Malayalam actor Santhy Balachandran, who made her Bollywood debut through Rahul V Chittella's 'Gulmohar', which boasts a stunning cast like Sharmila Tagore, Simran, Amol Palekar, Manoj Bajpayee and Suraj Sharma, is awestruck by the professionalism of the studio production and senior co-actors. Santhy, who plays the role of a coy and loyal domestic help Reshma Saeed in the movie, in a candid chat with Onmanorama added that apart from the space provided for her character, it was the opportunity to share the screen space with the likes of Sharmila and Simran that wooed her to 'Gulmohar'.
'Gulmohar', the family drama that is streaming on Disney+Hotstar, marks veteran actress Sharmila Tagore's comeback to the silver screen after a 13-year break. Excerpts from the interview.
How did this project materialise?
The cinematographer of 'Gulmohar' (Eeshit Narain) knew me as I had worked on a music video along with him. He had mentioned me to the team, following which I received a call for an audition. Since this was planned during Covid, I had to send videos enacting scenes from the movie from Kerala. I am glad I got my part because I wanted to do the film since it boasted such a stellar cast. Also, I felt that there was enough space for all the characters in the movie to their story.
How was it working with legendary actresses like Sharmila Tagore and Simran?
It was a great learning opportunity. Sharmila ma'am was very warm and sweet. So was Simran. In the film, my character has a special equation with Simran's character. Both play characters with South Indian heritage. Though she is a superstar, she would go out of her way to make me feel comfortable. Everyone on the set, including the young actors, were friendly. Manoj Bajpayee conducted an acting workshop before the shoot and it worked as an icebreaker for all of us. The director also played an instrumental part in making us feel comfortable on the sets.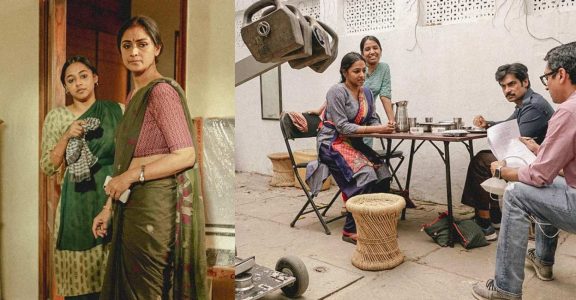 Reshma's chemistry with the house security Jeetendra was endearing to watch...
If you notice, I hardly have any conversations with Jeethu (Jatin Goswami), except once when I get angry with him. Our conversations were usually the unsaid things and I guess that silence spoke more. There's a scene in the movie, where two other house staff have a loud conversation with each other and we sat there, looking at each other and having our moment. Jatin is a really strong actor so he could communicate without saying much. It was also equally interesting working with the other bunch of exciting actors. Chandan Roy (who plays Param) has great comic timing. I had the longest conversations with Irfan (played by Gandharv Devan), which was also nice. We would do a lot of scenes beforehand to make our scenes perfect. We all supported each other to do our best.
What was it that drew you to Reshma's character in the movie?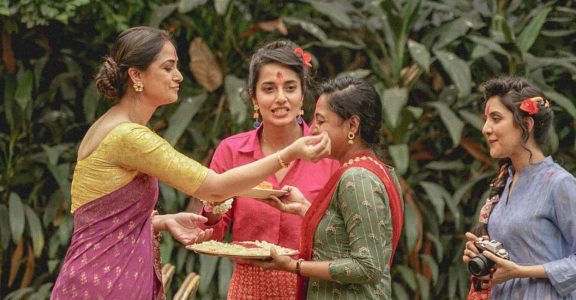 I generally take up a character based on my conviction about the film. Factors like whether I want to be part of the story influence my decision a lot. In 'Gulmohar', I liked how the director and editor treated every character and how each of them had their arc. Also, Reshma's character was quite different from many of the roles I have played in Malayalam films. In Mollywood, most of my characters had grey shades or an ulterior motive. For example, Sofie in 'Jallikattu' and Maalu of 'Tharangam' who has kleptomania. Even Linda in 'Paapam Cheyyathavar Kalleriyatte' is a person with a psychological disorder. Reshma, however, was different. I like that Reshma is a spunky woman, who is both feisty and sensitive at the same time. She is confident in her interactions with others, but when it comes to matters of the heart, she is still waiting for people to make the first move. It was interesting to balance her sassy side, including those conversations with Param and her coy side (romance) with Jeetu.
What is the major difference between working in Bollywood and Mollywood?
I can't generalise since 'Gulmohar' is not a typical Bollywood film. However, since it was a studio production, the communication and structure felt more organised and corporate. At the same time, the people on set were warm and friendly. I was impressed by how things were planned out well.
Do you have any other projects lined up?
I have not signed up for any new projects but have a few more upcoming releases. I am awaiting the release of the Amazon web series 'Sweet Kaaram Coffee', which revolves around three generations of women from the same family. I play the lead alongside veteran actors Lakshmi and Madhoo in it. It belongs to the feel-good, family drama genre and will be a refreshing change from the dark content that dominates OTT these days. I find working on a web series quite rewarding because as an actor you get more time and space to develop your character's arc.
Sidharth Bharathan's Chathuram has been released on OTT and is generating a lot of discussions. What did you like the most about your character?
Jijimol is a character many can relate to. She has simple dreams and is working her way towards achieving them. What I found most gripping about her was that she is also wise enough to know when it is time to let go and does so with great dignity. I loved her sense of self-respect.