Is there anyone who hasn't been mocked for their looks, at least once in their lives? Well the answer would definitely be 'no'. Tamasha directed by debutant Ashraf Hamza is a beautiful journey through the life of Sreenivasan, a college professor, who is worried about his receding hair line. He is a simpleton who loves to live his uneventful life happily. Sreeni is constantly rejected at the wedding market for his baldness. Though he may appear as a comical character for those around him and for the audience as well, Sreeni becomes one of us as the movie progresses.
The title Tamasha may seem simple and straightforward. However, this small movie holds its fort with a unique theme and its excellent execution. The director didn't give the title Tamasha to the movie, in the sense that it is a throughout comedy entertainer. Tamasha effortlessly breaks the stereotypes about looks and physical appearances and even humorously take a dig at them.
Vinay Forrt has done an impeccable job as the good hearted Sreeni maash. It would be right to say that his portrayal of Sreeni maash is the actor's most amazing performance so far. It is Vinay who seamlessly carries the movie on his shoulders. The actor has lived, on screen, as the soft spoken Malayalam professor. The director too has been able to portray the wonderful theme in the most honest way.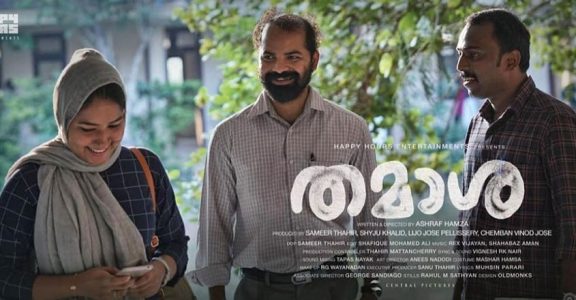 Leading ladies Divya Prabha, Grace Antony and the newcomer Chinnu deserve credit for essaying their well written roles with perfect charm.
The incredible coordination and comic timing between Vinay Forrt and Navas is just spot on. Navas who received appreciation for his role as an auto driver in the critically acclaimed movie Sudani From Nigeria shines as Raheem in Tamasha.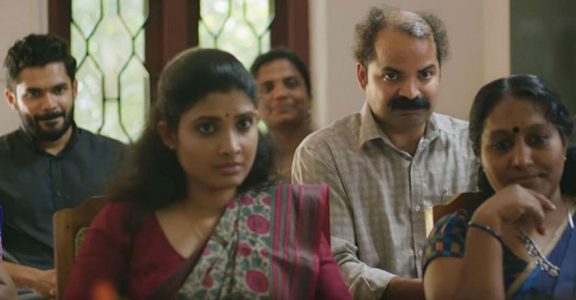 Tamasha also features an array of actors who stun the audience with their commendable performances. Arun Kurian, the actors who play Sreeni's parents and the actress who essayed the role of Ameera deserve special mention.
The beautiful music created by the magical duo singer Shahbaz Aman and composer Rex Vijayan is the soul of the movie. All the songs amazingly suit the plot and do justice to the theme. The scintillating frames of Samir Thahir masterfully capture the real beauty of the meandering lanes of Ponnani and are truly a visual treat.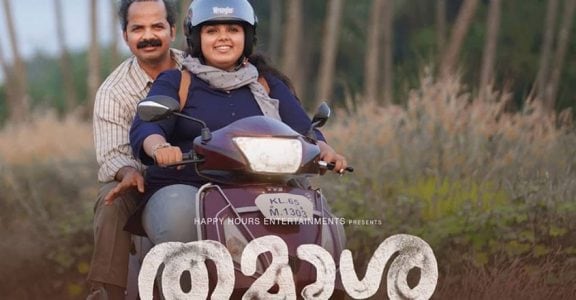 The two hour long movie, which introduces us to familiar characters and situations, in a light hearted mood, does not lag at any point.
It seems the director must have deliberately named his protagonist as Sreenivasan. There is a scene in Tamasaha when the heroine asks, "Is this still a joke for you?" to a youngster when he posts a picture from the movie Vadakku Nokki Yantram, below one of her photos in Facebook.
Tamasha loudly proclaims that such jokes are no longer valid in this age of modernity and reasoning where people deserve to be appreciated for their values rather than their looks.