If you loved the Suresh Gopi hits written by Renji Panicker, like Lelam, Pathram and Ekalavyan, then Kaaval directed by Nithin Renji Panicker will be a delight for you.
The plot revolves around two friends, Antony (Renji Panicker) and Thampan (Suresh Gopi), who once held sway over a small town like feudal lords, in the process antagonising many including cops.
Later, they part ways diminishing their stature in the town.
The reason given for thick friends to stay away from each other for such a long period without making even a phone call is poorly scripted. However, it was a necessity for the plot to continue.
The first half moves on predictable lines and shows the contrast between what happens when you have money and power versus when you don't. The second half gets more exciting with Thampan returning to the village to protect his friend's family.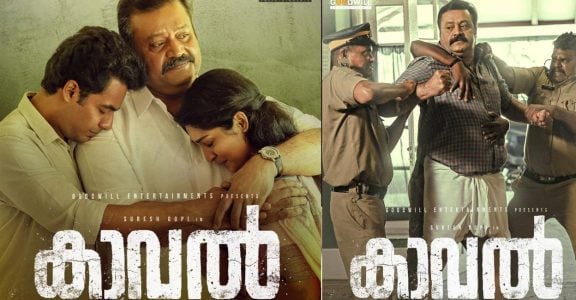 In the 90s, Suresh Gopi had delivered many hits and almost got the stature of Mohanlal and Mammootty, before he appeared in flops like Lanka and Aswaroodhan.
Kaaval is a comeback of the old Suresh Gopi in a dignified way. The characters have aged, but like Thampan says "the fire might have burned out, the ember is still hot."
You cannot miss the reference to Commissioner and the background music just before he says the dialogue.
Kaaval is a tribute from Nithin to his father Renji Panickar in many ways. He has admitted in many interviews that he was greatly inspired by his dad's movies. The very first shot in the film will take you back to the beginning of the Lelam. There are many such shots and scenes in which Nithin craftily connects us back to Suresh Gopi's glorious days from the 90s.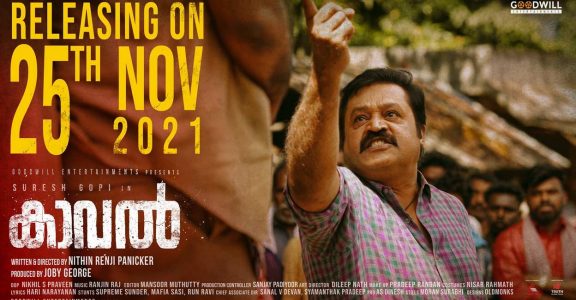 Considering his previous directorial Kasaba was a disaster, Kaaval is a major improvement by Nithin, though he could have made it weaving in elements to attract the new generation, who did not grow up watching Suresh Gopi as a star.
If a major criticism for Kasaba was its poor portrayal of women, Nithin has slightly improved on that front too with Rachel David (Antony's daughter) and Muthumani (Antony's wife) playing two strong woman characters. They do justice to their roles bringing out grief, anger and a 'dash of action' within the brief screen time they get.
Nikhil S Praveen's camera offers a lot of shots exploring the beauty of the hilly terrain covered with mist and greenery. Ranjin Raj's music adds an emotional punch to the action film.