Before a tinge of light could hit the screen, Mahesh Narayanan makes the most important declaration about Ariyippu. He throws at us the numerous festivals this movie has run through, thereby almost warning the audience to not expect an edge-of-the-seat-thriller like his 'C U Soon' or 'Take-Off'. Yet, in more ways than one, Mahesh delivers his most satisfying film with Ariyippu. 
Reshmi (Divya Prabha) and Hareesh (Kunchacko Boban) are a couple from Kerala who works in a medical glove manufacturing factory in the National Capital Region (NCR). For them, the job is a stepping stone towards a life outside India. The movie opens with Hareesh shooting a 'skill video' of Reshmi, a prerequisite for acquiring a job visa. 
However, COVID decides to put a dampener on things, forcing the couple to hang on to their 'transit' job indefinitely. With almost all their money tied up with the visa agency, the couple begins to list their options. But, Hareesh gets into a scuffle with an employee at the factory, which leads to an edited version of Reshmi's skill video, spliced together with that of a woman engaging in a sexual act in the factory, being circulated in the organisation's WhatsApp group. How Reshmi and Hareesh navigate the challenges that follow this episode forms the crux of Ariyippu.
The director's move to set the story in an industrial town, where life, much like the constantly running assembly line of latex gloves, is mechanical and pale, evokes a sense of monotony and the need to escape this circle as soon as possible.
Ariyippu holds a mirror to the morality and conscience of the human mind. It is a battle between doing what is right and the innate need to lead a better life, which often exposes the flawed morality of the most perfect race on this planet. 
Trust is another element Mahesh Narayanan toys with in Ariyippu. The video drives a wedge between the couple's relationship, with Hareesh being conflicted internally while wanting to believe it's not his wife in it. However, his patriarchial conditioning and society's general notion about such incidents pushes him to the dark side. Hareesh embarks on a silent mission to find out the culprits behind the video. However, he is often like a dog chasing a car. He has little to no clarity regarding what to do if he gets his hands on them. While the movie may seem like an attempt to salvage one's image in society from the outside, Ariyippu, under all those layers, is a 'note-to-self'.
The sub-plot in Ariyippu does a decent job of complimenting and finally merging with the main theme.
Through his carefully-planned frames, Mahesh shines a light on the living conditions of migrants, especially from the south and the northeast, in states like Delhi. 
Ariyippu is equally a scathing indictment of the evils of the class system prevalent in this country, as it is an in-depth study of the human psyche.
The symbolism of Reshmi's ring to portray her shackles seemed a little too on the nose. Certain frames overstayed their welcome. But, for a festival movie, Ariyippu's editing is crisp. Then again, Mahesh Narayanan's technical prowess has never been in question.
Sanu Varghese's cinematography infuses realism into Mahesh's seemingly simple narrative. He has beautifully captured the rawness of the outskirts of Delhi.
It must have been just another day at the office for Sushin Shyam, who has neatly delivered what was asked of him.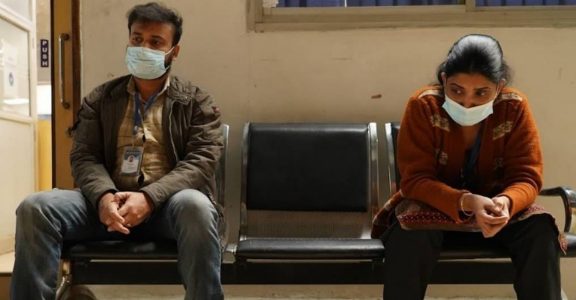 Performances – The highlight by a mile
The intensity of Hareesh and Reshmi is what truly sells this movie. Kunchacko Boban as Hareesh is pure class. The ease with which he portrays the character's internal conflict, prejudices and guilt was a joy to witness. While Mollywood is busy celebrating 2022 as Mammootty's year, Kunchacko has been the sleeper hit with his brilliant outings in Nna Thaan Case Kodu and Pada. His choice of scripts has been on point for some time now and this performance has only added to his sheen.
Divya Prabha is a wonder in Ariyippu. It's about time she got full-length roles like Reshmi. Despite being in the centre of all that chaos, you never once see Reshmi being overwhelmed by her emotions. Thirty minutes into the movie and Reshmi convinces you that she's made way too many sacrifices for her to be jilted by an edited video. Divya's performance is measured from start to end. 
The scene where Hareesh and Reshmi get into a quarrel over his suspicion is one of the best scenes in the movie, despite the element of domestic violence, due to the sheer originality of their performances.
Kannan Arunachalam as Suresh has rendered his role quite well. With perfect Hindi diction, he is pleasantly believable as the Tamilian who has lived the majority of his life among northerners.
Once again, do not wait for something big to happen in Ariyippu. Sit back and walk with the characters to the declaration.
Ariyippu is streaming on Netflix.