It felt strange and a bit out of place watching a Shah Rukh Khan film the first-day first-show (#PathaanFDFS) after Santosh Sivan's 'Asoka' in 2001. But five minutes into the movie came hiding behind his messy and dropped locks SRK reassuring, 'Main Hoon Na…'. The one friendly face among the youngsters who, now and then, threw questioning looks at me wondering who is this misfit.
Siddharth Anand's 'Pathaan' lays out a perfect red-carpet entry for Shah Rukh Khan into the YRF Spy Universe with its right formula of high-octane death- and logic-defying action sequences seasoned with desh bhakti (patriotism) and qurbani (sacrifice). Siddharth has paced the movie well, and time simply floats as Pathaan fights one of his own while the threat of a biological weapon exploding over Delhi looms. A lot of that credit goes to Aarif Sheikh (editing) and Shridhar Raghavan (Screenplay).
Shridhar has tried to do something commendable by giving the key figures in the film a backstory that would justify their actions, may that be John Abraham's rogue RAW agent Jim or Deepika Padukone's ISI agent Rubina, or mother-like JOCR (Joint Operation and Covert Research) boss Dimple Kapadia. Even the Pakistani Army General, who discovers he has cancer decides to fight India rather than cancer, has a character arc.
However, he kept the key character, SRK's 'Pathaan', as an ace RAW agent who is simply a perfect fighting machine without much of a brain to force the narration forward. The jokes, sprinkled here and there, felt a bit forced especially the heart-to-heart between Pathaan and Tiger (Salman Khan). But one wouldn't mind the insipidness of at least one as it is the two Khans of Bollywood discussing quitting what they are good at and who could replace them and ultimately decide that it is not time yet.
The women are shown as powerful and have a purpose in life -- to sacrifice life or limelight when needed. The male gaze when Deepika is on screen is glaring and can't be missed. And it's not just 'Besharam Rang' or in the credit album 'Jhoome Jo Pathaan'!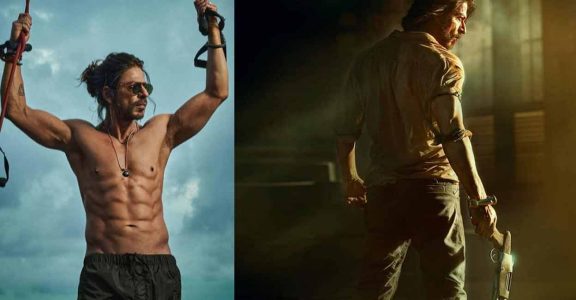 Sadly, other than in some close-range shots, Satchith Paulose's cinematography looked drowned in the special effects. No complaints as the visual effects are captivating and gel well with the narrative. However, the orb containing the biological weapon could have been less glittering.
'Pathaan' is a great catch for lovers of SRK, YRF Spy Universe and action films.