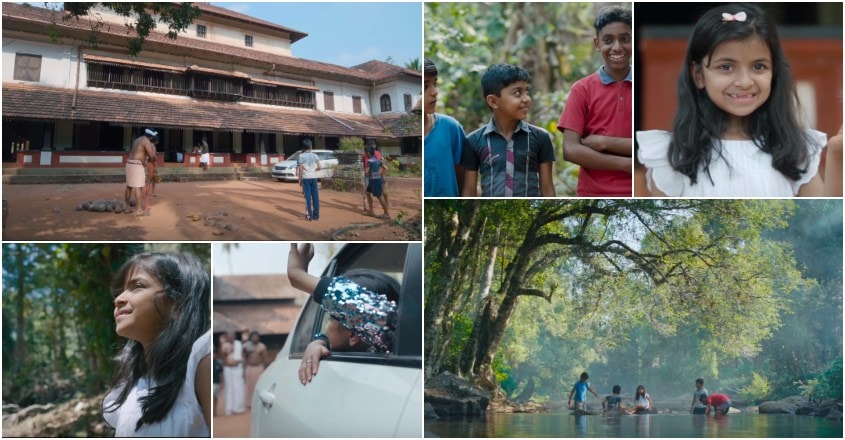 Since time immemorial music connected us to Mother Nature. Well, it is more apt to say that music in itself was birthed by nature and is nurtured by it. 'Elelo' musical video, released on YouTube, is a testimony to this very fact and it wholeheartedly shows us the beauty of a rustic folk song that is set in the nature's lap.
The six-minute video opens with a little girl mesmerised on see a flying 'apooppanthadi' (floating filament of sow thistle), while in the backdrop her mother and grandfather discuss on their return to Dubai after the vacation. The little girl follows the 'apooppanthadi' and is welcomed by a lush green world of nature where hills, friends and manjadikkuru (Red Lucky Seed) and other sights fascinate her!
In the larger sense, her experience resembles the feelings as one realises one's inner self and starts a new refreshing life journey.
The makers' take
Elelo, a folklore that has been sung throughout North Malabar is an attempt to recreate the emotions hidden within the song. Going by the lyrics, the song describes how humans are connected to Nature. According to the makers of the musical, 'Elelo 'marks a journey, a journey that humans must endeavour to know their existence and the value of its coexistence with our Mother Nature.
The team
The direction is helmed by Thejas K Das and Rohit Ramakrishnan, while the cinematography is done by Sham Roy. The editing is by Rohit Ramakrishnan and the creative director Ajay Sekhar.
The music is conceived and arranged by C Major 7. The band includes Ajay Sekhar, Sreerag Radhakrishnan, Harikrishnan PV, Anand Sekhar, Krishnakumar PV, Ashish Babu, Shiju Nostalgia, Mena Melath, Joji S Babu and Abin Thej.
Elelo, as short and simple as it can be is but very catchy. The seemingly subtle visuals have larger meanings hidden inside it to sit back and enjoy.