Agali: In the age of social media and internet, a song and its singer becoming overnight sensations, even before the movie getting released is no big news. However, when the singer is a tribal woman who hails from Attapadi, it indeed is a big thing.
Nanjiyamma of the Nakkupathy Pirivu ooru (tribal settlement) has become a star after she has acted and sung a few songs in the forthcoming movie Ayyapanum Koshiyum. The movie which stars Prithviraj and Biju Menon in the lead roles would hit the theaters on Friday.
Meanwhile, Nanjiyamma's song has been watched by millions on Youtube. She has sung more than one song, including the title track, in the movie that is entirely shot in Attapadi. Nanjiyamma is a member of the Asad Kalasangham, an art and cultural group led by actor and tribal artist Pazhani Swami.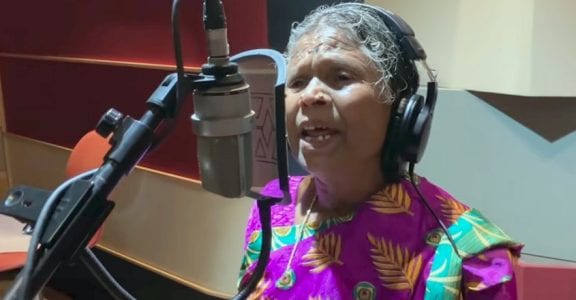 For Nanjiyamma, who earns her living by grazing goats or working in the fields, art is in her blood. 'Agged Nayaga', a short film directed by Sindhu Rajan, a teacher at the Agali government higher secondary school, is Nanjiyamma's first movie. This short film, produced by the school, won the state television award in 2015. In 2016, Nanjiyamma sang 5 songs in the award winning movie Velutha Rathrikal directed by Razi Muhammed.
The tribal songs of Attapadi have been traditionally passed on to generations orally. As the tribal dialects do not have a script, it is important to preserve it in the memories of the people, without losing its authenticity and unique beauty. Nanjiyamma too sings such songs which she has learned from her ancestors. She knows by heart hundreds of tribal songs including many lullabies and agriculture songs. Now, these songs, in Nanjiyamma's voice have become a rage all over the state.