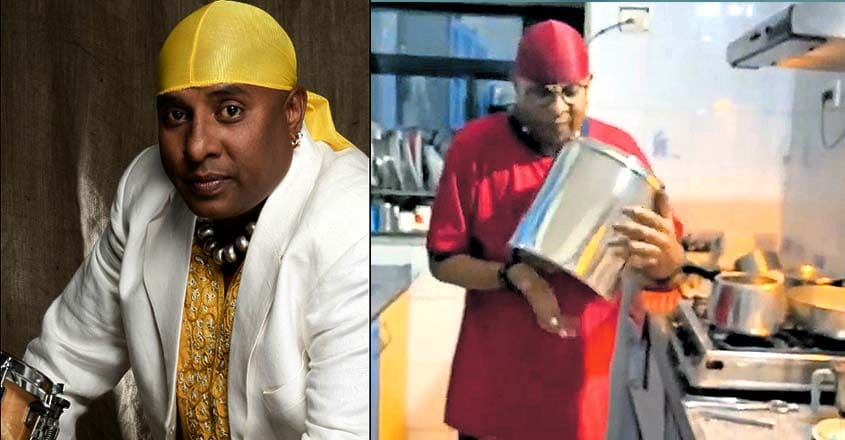 Noted musician and drummer Siva Mani shares how he spends his lockdown days with his extended family. He says he had a packed schedule with music shows at Singapore, London and the United States. However, his plans got toppled due to the corona virus outbreak and the subsequent lockdown. Siva Mani had cancelled all his plans and reached his home in Mumbai to spend the lockdown days with his family. However, they had to travel to his wife's sister's house when the lockdown was announced.
Siva Mani's wife Roona Rizvi is the daughter of well known Hindustani musician Rajkumar Rizvi. The drummer says it was after meeting Roona and her father that he had decided to learn music. "Rizvi was trained by his father. According to their family's tradition, the daughter's husband should be treated remarkably whenever he is in the house, especially if the person is a musician. They wouldn't allow their guests to wash the plates after serving food. But I insist that I wash the plate in which I have had food. I would do it even if I am at my friends' houses. I do that from childhood onwards. It is a little difficult that I am not allowed to wash my own plate here," says Siva Mani.
Siva Mani is disappointed that he couldn't take his percussion instruments when he traveled to his sister in law's house. But he plays music on the vessels and other objects that he finds in the house.
"On some days I cook or play with the kids. I cook while playing music on random household objects. I haven't spent this long without any shows or playing music. I was always traveling as part of my job. But I am not sad staying inside the house as I can spend time with my family. It is a world where there is only you and them. I am able to play music happily here as well. I dance with the kids and enjoy with them. However, the news that come from outside makes me sad," notes Siva Mani.