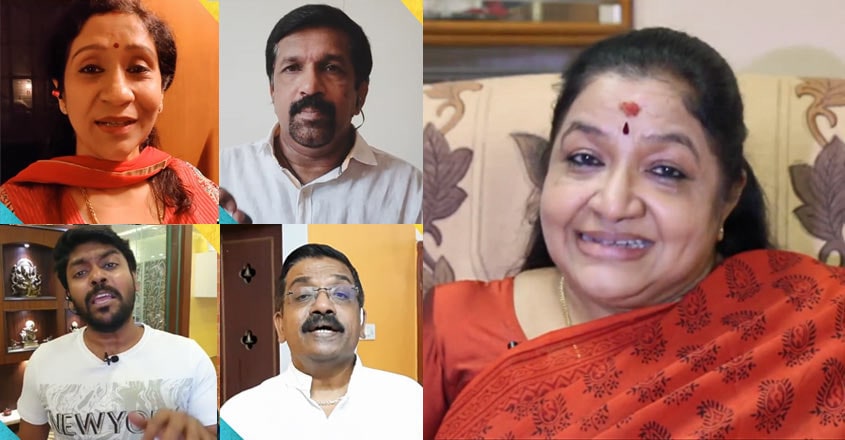 Lokam Muzhuvan Sukham pakaranay

Snehadeepame mizhi thurakkoo
(Rough translation: The lamp of love, kindly open your eyes, To spread comfort for the entire world)

The song penned by P Bhaskaran, composed by Pukazhenthi and rendered by S Janaki for the 1972-Malayalam film Snehadeepame Mizhi Thurakku, for some, is a prayer and for some others, an anthem. 

A call for world peace was all K S Chithra, the legendary playback singer, had in mind when she thought of a song to lift the spirits of the people who have been affected by the COVID-19 pandemic.
She put out a message on the WhatsApp group of her musician friends and seeing their enthusiastic response, she chose the song and send them the musical note for the perfect pitch. In no time, 23 playback singers from Malayalam film industry, sitting at their homes, brought out a song, which, in less than 48 hours, earned 4,40,000 views on Chithra's Facebook page alone.
In the introduction to the song, Chithra says, "At this time when the whole world is worried and scared, we, a few singers, present this song recorded at our own homes, as a prayer to Almighty to wipe out COVID -19 and to bring about peace worldwide." 

Along with her, singers Sujatha, Kavalam Sreekumar, Sharreth, Sreeram, Preetha, Swetha Mohan, Sangeetha, Vidhu Prathap, Rimi Tomy, Afsal, Jyotsna Radhakrishnan, Nishad, Rakesh Brahmanandan, Teenu, Ravishankar, Devanand, Renjini Jose, Rajalakshmi, Ramesh Babu, Akhila Anand, Divya Menon and Sachin Warrier has crooned the song that lasts four minutes and 45 seconds. 
Ranjini Jose says, "It's a difficult time, but it's the time to show our unity too. We know that the future is bleak, but at the time of panic, the duty of musicians is to do their bit to restore peace. That's what we did; thanks to Chitra chechi."
Rajalakshmi agrees, "Everywhere in the world, it's music that heals at the moment. So, when Chithra chechi put forth the idea, we didn't have to think twice. I am glad that it came out despite the difficulties in providing quality video and recording. But what matters is the output. From the responses, we gather that everyone loved it. The purpose is served." 
The song of hope and devotion has gone viral, spreading love and soothing the souls of anxious people who stay indoors.