Kochi: Psychologist and author, Tissy Mariam Thomas, composed a song about a woman describing her lover, a man. But her friend, Jijo Kuriakose, to whom she sent a raw recording, found a whole new world in its lyrics.
For Jijo, a Keralite who came out as gay a decade ago, the song reminded him of his 'chekkan', a colloquial and affectionate Malayalam term for a man.
Jijo wanted to make a video featuring a gay couple, and Tissy, being an LGBTIQA+ ally, loved the idea. And that was how 'Amor, the tune of love' was born.
The video was released on YouTube on June 5. Its makers call it, "a Malayalam music video which carries the emotional elements of gay romance, the enticing feel of belongingness and missing". They have dedicated it to members of the LGBTIQA+ community who ended their lives due to homophobia/queerphobia/transphobia.
The song, featuring Younas Mariam and Ratheesh Sundar, is appealing for its simple lyrics and soothing visuals. The sequences are arranged in such a way that they portray the simple and realistic moments in the lives of two men in love.
"Tissy teacher used to send her songs to her friends. Mostly she sings those songs. This time it was in a male voice. A friend of hers had sung it. When I heard it, I felt like, oh my god, who did this gay song," Jijo, who produced and directed 'Amor', told Onmanorama.
Jijo has directed documentaries on LGBTIQA+ members and was planning to make a gay-themed short film. It did not work out due to fund constraints.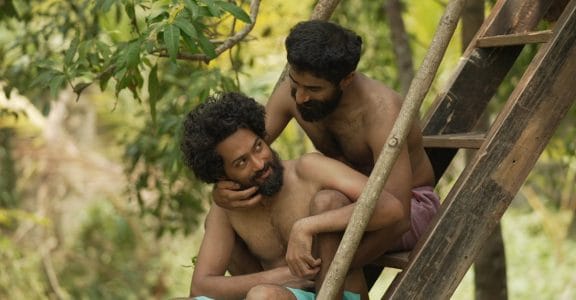 On Amor, Jijo said he decided to shoot the visuals that came to his mind when he heard the song the first time. "I have attempted to reproduce some of the pictures I painted and the photographs I captured in the moving format. The shoot was completed in three days. I wanted to wrap it up before the rainy season started and release it in Pride Month itself," he said.
He said he avoided highly intimate scenes keeping in mind the simplicity of the lyrics.
Tissy said she had suggested that the visuals be soothing. In her lyrics, she tried to express the openness and reassurance that the experience of love gives one. "I wanted to express the psychological pleasure and happiness that the experience of being in love offers. It's a song about the kind of love that understands what we are. It's something the queer community longs for," Tissy, an assistant professor of psychology at Kerala University, said.
Jijo said he has been receiving both appreciation and a lot of homophobic responses. "I tend to respond to homophobic comments. Then if at all I make a response, then there's an organised attack on my profiles. People send abusive voice notes and all, listening to which makes me sad," he said. He called the work a cultural reply to homophobia.
Echoing his concerns, Tissy said it was important to normalise the visuals of homosexual relationships, and artistic expressions like "Amor" have a role to play in it.
Duttu Stanley has sung the song. Programming, mixing and mastering were done by Adarsh S Nath. Thaai Prasaath is the director of photography while Sarun Surendran handled editing and colouring.