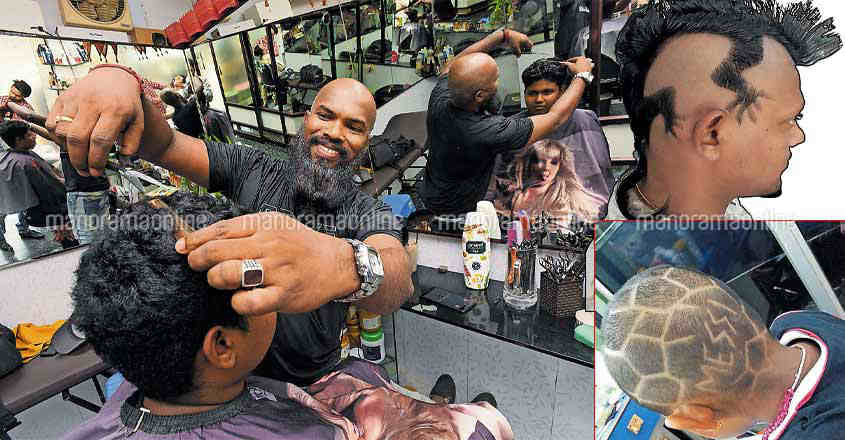 Thrissur: As a kid, Ajeesh Kumar, a native of Olari, had dreamed to express himself on canvasses, in a million hues. He would do pencil sketches of the characters that appeared on weeklies. However, by the time he passed class ten, his interests had changed. Ajeesh wanted to become a hair dresser and had enrolled himself under the expert training of Chiyyarathu Shaji Asan. After that, he went to get trained under Chandran Asan, a veteran barber and hairstylist, who had been in the business for over 45 years.
Ajeesh had discovered his passion in artistic hair styling when a youngster asked him to write 'Argentina' on his head, during a football world cup, around two seasons ago. He gave it a shot and was thrilled when the result turned out amazing. Soon after that, Brazil fans came in to get their hair dressed accordingly. Soon followed the fans of Messi, Neymar and Christiano Ronaldo.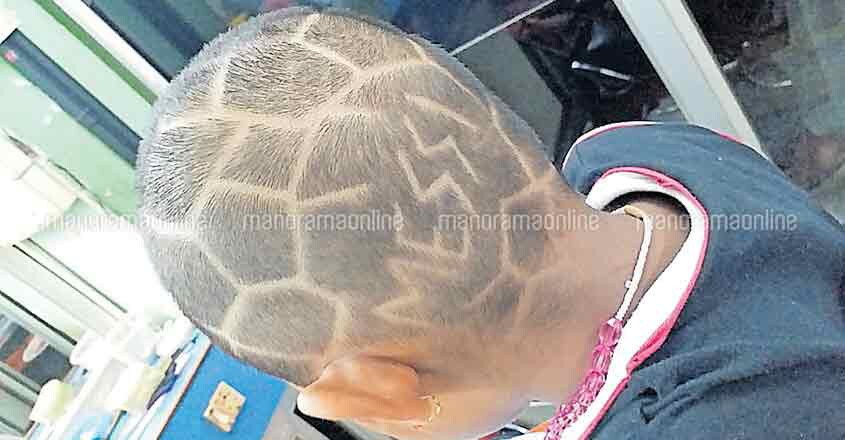 News of Ajeesh's skill to create beautiful art on hair spread rapidly and people flocked in from faraway places like Nattika, Chettuva and Kanjani to get their favorite patterns on their head. The talented hair stylist at the Aranattukara Lovely gent's beauty parlor has even styled the hair of celebrities like Dileesh Pothen and Nivin Pauly.
Ajeesh, who creates unique 'designs' on others' heads, however, prefers to keep his head shaven. He doesn't like to have hair on his head and it is often his assistants at the parlour who shave his head. Ajeesh says that he loves giving hair-cuts to kids as it is challenging to keep young kids calm. The monitor lizard style that he has created on a youngster's head was quite popular and the pictures of it had gone viral too. For Ajeesh, ten minutes is all he needs to create a monitor lizard of hair on the head.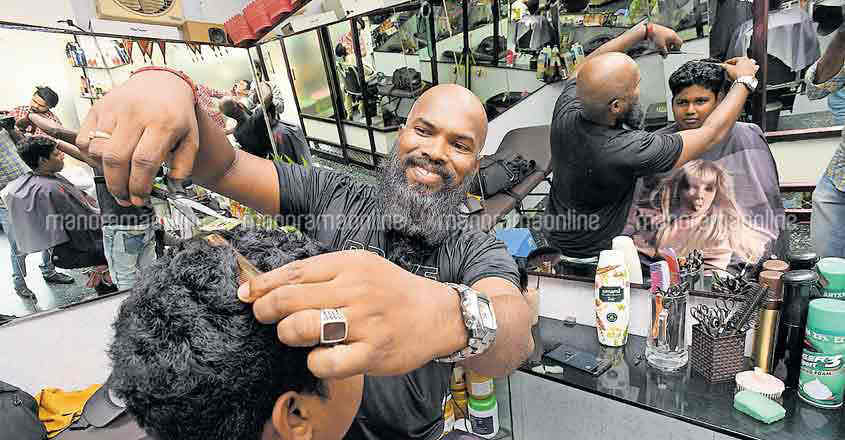 Ajeesh admits that there is risk involved while doing intricate designs using sharp blades. He calls it almost similar to a surgery. However, he is happy that no one has ever got hurt until now. After creating many interesting styles and designs with hair, Ajeesh says his dream is to try doing faces of people and celebrities like Sachin Tendulkar or Dr APJ Abdul Kalam on the head. The young artist says he is eagerly waiting for a suitable 'head' with lavish hair, which could become his next canvas.