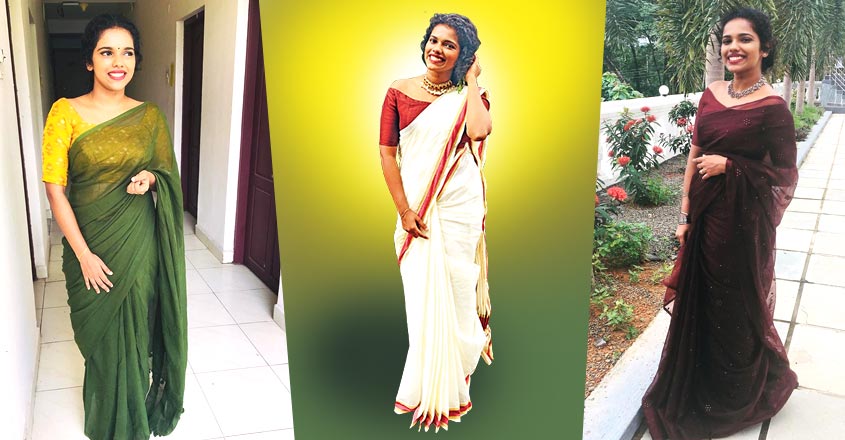 If sari draping is an art, then Karthika Raghunath is a talented artist who has an undying love for the traditional six yards. Though many women love wearing sari, they choose not to wear it regularly, as they find draping a sari, quite a strenuous task. However, for Karthika, who is a software engineer by profession, draping someone a sari elegantly, that too within a few minutes, is just a child's play. She has turned her passion into a weekend part-time job that gives her happiness and extra income as well. Karthika Raghunath, a native of Koorkancherry in Thrissur is the daughter of Raghunath and Sreedevi. She has a sister, Kavita.
The drape stories
Karthika says that her love for saris had begun from childhood. She used to try wearing the saris that her mother left on the bed after returning from outside. She confesses that no one has actually taught her how to drape a sari perfectly, but has learned it all on her own.
During her college days, Karthika never missed an opportunity to shine in a beautiful sari. She began her career in the popular multinational company and later moved to another one. Now, Karthika works at a company at Smart City in Kakkanad. She often used to worry about her busy work schedules, pressures and the insecurities of a job in the private sector that doesn't offer even a pension in the future. It was during one of her late night conversations with a close friend of hers that Karthika confessed her love for saris. Her friend, who instantly realized Karthika's penchant for sari draping, suggested that she should turn her passion into a career option. Karthika soon started an Instagram page called 'drapestories by Karthi' and there has been no looking back for her since then. Karthika has, till now, draped saris for more than 100 brides on their wedding days.
Weekend draping
Karthika's parents were stunned when they learned that their daughter who is a BTech graduate and an IT professional was looking for a part time job. Karthika understood their concern and she patiently explained everything to them. Now, her parents are very supportive and encourage Karthika to pursue her interests. She undertakes the 'draping' jobs only on Saturdays, Sundays or on other holidays as she often has to reach the venue as early as 4 am. However, she could return within just two or three hours, after completing her job perfectly. She takes a leave of absence from her regular job only if it is a high profile event. She loves saris and absolutely enjoys wearing one and draping it on others as well.
Ready in 5 minutes
For Karthika, 5 minutes is all it takes to drape a sari in the most stunning way. She explains that a beautiful Kancheepuram sari could be amazingly draped by taking multiple pleats and pinning it neatly. Meanwhile, it is even easier to drape a soft material like the georgette. Karthika says that though she finishes draping a bride in just 5 minutes, she would stay on and 'touch up' a bit for the sake of other guests and relatives.