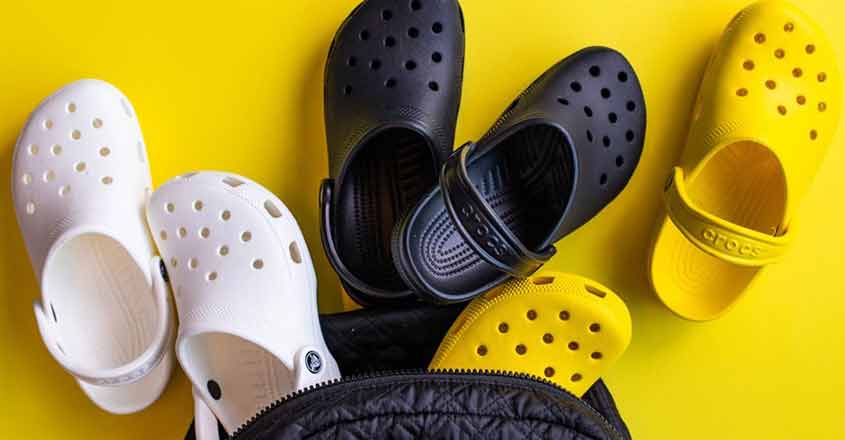 Crocs, the foam clogged shoes that were labelled ugly till recently has had a massive come back this year. Consumers moved away from the conventional ideas of style and beauty and chose a footwear that was comfortable and at the same time carried a a popular footwear brand name.
The clunky, holey hybrid footwear used to be looked down upon as unfashionable. However, the brand took advantage of its queer form and reversed the general opinion to its favour. Crocs with their rubber soles and sling back straps are now considered as the most comfortable footwear brand in the world.
Crocs come in a wide range of vibrant colours like green, yellow, purple and orange and in classic colours such as black, white and blue. Crocs also come in neon colours. There are also multi- colour or single coloured version. Crocs also come with heels. Crocs, a Colorado based American brand launched in 2002 later collaborated with Balenciaga, a Spanish brand to design a collection of brightly coloured clogs with a 3 inch high platforms.
We can also customize our crocs. Jibbitz or charms are decorations that sticks in the holes of your crocs. These come in various designs such as of flowers, food, cartoon characters, superheroes, fruits and emojis. Hundreds of varieties of jibbitz can be bought online. These fun and colourful jibbitz can be used to personalize your clogs.
Crocs has collaborated with various trendsetting brands such as Kiks, Pizzaslime, Barney's New York and Chinatown Market. Even celebrities such as Zooey Deschanel, Ruby Rose, Drew Barrymore and Christopher Kane have collaborated with Crocs. Recently, the rapper Post Malone released his newest piece of merchandise, a collaboration with crocs.
Crocs is fast- becoming a fashion powerhouse. Elite fashion brands and celebrities are now collaborating with the brand and also using it. Crocs are comfortable and eye-catching all at once.