The English singer Sam Smith turned heads as he walked the red carpet at this year's Brit awards which were held at the O2 Entertainment Complex in London. He stepped out in a latex outfit that featured a high neck, sleeves and legs which appeared to be overinflated. The outfit seemed to mock the traditional concepts of couture that flaunt the perfect shape of the body. On the next day, the fashion world was busy looking for the creator of this iconic look that was hailed as revolutionary by the British media. Harikrishnan aka Harri KS, the 28-year-old London-based Keralite designer had already grabbed eyeballs as he had introduced his latex balloon pants at the London Fashion Week in September last year. Sam Smith, who was impressed by Harri's artistic vision roped in the young designer to style him for the Brit awards. In a candid chat, Harikrishnan opens up about his journey from a quaint countryside in Kollam to London's bustling fashion scene.
Life: Before and after Brit
Harri says that he was swarmed with attention after the grammy award winner's red carpet appearance. However, no one knows that the latex dress was completed in just a few days and hardly got any time for fittings. "I have spent sleepless hours to complete the outfit. So, I am really happy that the outfit got noticed. The person who wears your designs too has value. My designs aren't safe; instead they are risqué and complex. Interestingly, Sam's personality too is like that. My design got noticed because Sam Smith had worn it," notes Harri.
Sam Smith and the balloon pants
Some time ago, Harri had supplied outfits for Sam Smith for a photoshoot done by the 'Perfect' magazine. But, his clothes weren't used for the actual shoot. Harri believes that the singer may have been impressed by his unique designs and patterns. Later, Sam's team had approached him to design an outfit for the Brit awards. Harris confesses that he was stressed in the beginning. Usually, it would take up to a few weeks to get an outfit done. However, all he had was five or six days to make this perfect silhouette outfit from scratch. Moreover, latex would take up to a few days to dry completely. Harri and his team worked 24 x 7 for four days to complete this mesmerizing outfit.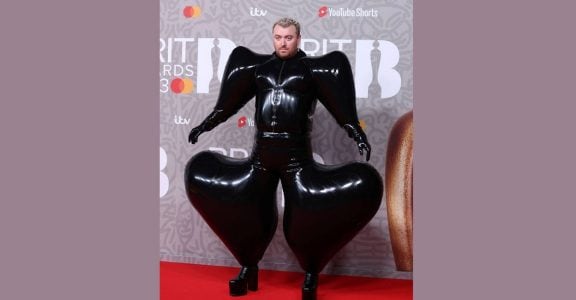 Red carpet entry
"I was really worried as there would at least be three or four fittings for celebrities. They would try out the outfits few times, in order to make the necessary alterations so that they would look perfect on the red carpet. But, this outfit was ready only on the day of the event. He wore it and directly went to the red carpet. Everything was so unexpected. He had walked for a few minutes on the red carpet. Besides, he passed through the front of the rooms where other celebrities got ready. All of them came out to see Sam as he walked. Some of them were even clicking pictures on their mobile phones," says Harri.
The latex outfit
Harri owns a pug, Kai, at his home in Kerala. When he plays with the dog, Harri often wonders about the dog's perception of the world. That is what gave him the spark to create latex outfits in exaggerated sizes. In Kerala, Harri is a rubber farmer and in London, he is an upcoming fashion designer who likes to experiment with sizes and patterns.
"I did Sam's outfit just like crafting a statue. The latex sheets were cut into small panels to make this outfit. Around 80 – 90 pieces were used for Sam's outfit. The smaller panels are more precise and easier to work with. The outfit which is completely handmade was then dried. After preparing the outfit, it would be inflated by passing air into it," explains Harri.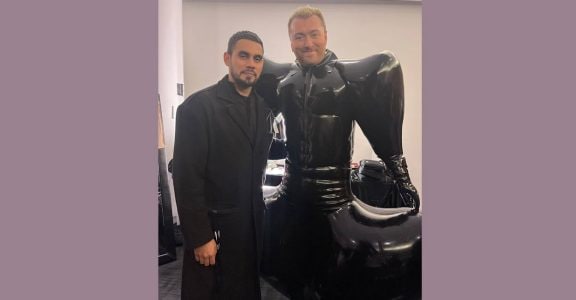 Kollam to London
Harri says that his journey to the world of fashion wasn't an easy one. He grew up in the countryside of Nedumon where you wouldn't even hear of Haute Couture. A simpleton, Harri wears a simple mundu and shirt in his hometown. His parents wanted him to study Science and land a government job. However, one day, he noticed an issue of the GQ magazine at a wayside shop. Harri says that he was instantly drawn to it. He then kept purchasing the magazine to check out the fashion pages. Soon, he got obsessed with fashion design. He learnt that he needed to study at the National Institute of Fashion Technology. He got through the entrance exam on the second attempt. Harri soon enrolled at NIFT's Bengaluru campus. In the initial days, he was confused. He wasn't interested in trending clothing; instead, he focused on creative making. After successfully completing the course, he worked in Delhi for a few years. He was pleasantly surprised when he got admission for post-graduation in men's wear fashion at the London College of Fashion. Being chosen for the 'Newgen Recipient' scholarship of the British Fashion Council became a milestone in his career. The scholarship was intended to promote young talents in the world of fashion. Soon, he debuted at the London Fashion Week.
Family
Harri is the son of Surendran Pillai and Beena of Kollam nedumankavu Puthenveedu. He completed his schooling at Kollam St. Jude High School. "Last year I had come home. My father asked me to write bank tests. For a normal family, having a job that ensured permanent income was important. To be honest, I was able to make a mark in the global fashion arena as I preferred living without any plans. My paths were indeed risky. Now, I have bigger plans. I will be presenting my latest collections at the second edition of the London Fashion Week on 20 February," says Harri.
As latex has been grabbing attention as a vegan and sustainable fabric, the fashion world is eagerly watching the brand 'HARRI' which has impressed with its amazing fashion statement.