New Delhi: Returning to the runway in Mumbai after a decade, Ranna Gill, a pioneering member of the Indian fashion industry, is looking forward to an evening of celebrating the modern Indian woman through her collection Casa dei Fiori.
Casa dei Fiori will be presented at FDCI x Lakme Fashion Week on March 12, 2023 at 5 p.m. at Jio World Garden, Bandra Kurla Complex, Mumbai.
Inspired by her travels through Italy and her love for flowers, the fashion designer brings Casa dei Fiori, where effervescent hues and textures are transformed into classic and modern silhouettes. Known and loved signature prints, Casa dei Fiori blooms with vibrant and dazzling florals to create a feminine and playful sensibility.
"Flowers never fail to bring a smile to my face. They are full of life, love and femininity. Each flower is unique in its colour, shape and characteristics; much like every woman. Casa dei Fiori celebrates the gentle power of flowers through vibrant prints, embroideries and elegant silhouettes. The name comes from my travels through Italy, where I cherished my time amidst sprawling estates with cobblestone roads, manicured lawns and dazzling gardens," says, Ranna Gill.
From dark botanicals that reflect the serene splendour of a lush garden, lit under moonlight; to cheerful coral bouquets that capture the joy and glory of crisp summer day, this season.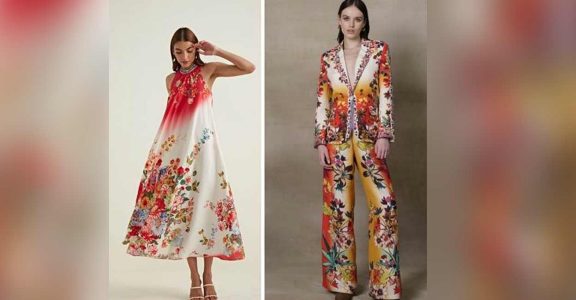 Swoon-worthy prints, inspired by the blissful beauty of the blooming landscapes, beautifully transform onto breezy maxi dresses, chic matching sets, extravagant ball gown skirts and sequin gowns enhanced with intricate 3D floral embroidery.