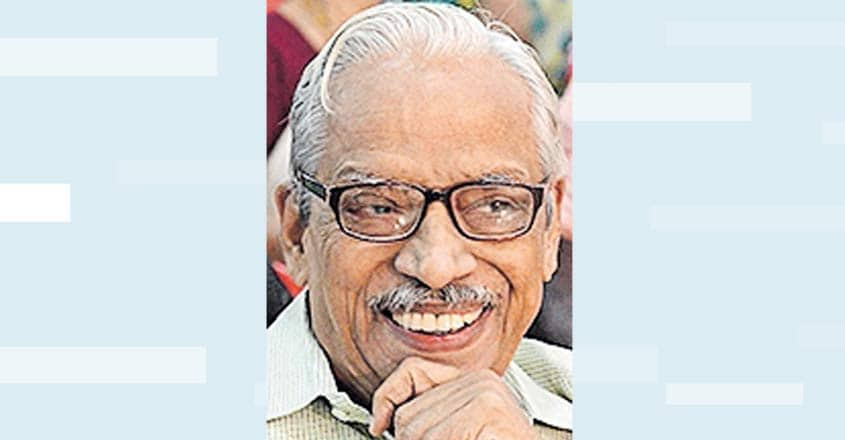 Kochi: Popular Malayalam novelist K L Mohana Varma has decided not to write any more novels and instead will focus on the audio-visual media to communicate his ideas.
"I will not be writing any novels from now on. 'Shiva Ramnjiyude Diary Kurippukkal', which was published in 2019, is my last novel," said the writer.
A former Shaitya Akademi secretary, Mohana Varma turns 84 on Wednesday. The octogenarian is still actively involved in literary works.
A tech-friendly author, Mohana Varma has been using the computer for his writing for 25 years. Apart from several published works, he has worked in documentaries, ad films and one children's movie.
After he decided to try his hand in the audio-visual media, Mohana Varma even dropped the idea of writing a novel on the vegetarian cuisine in Kerala.
"That idea was then made into a documentary film 'Cycle mayan' with the help of Madhupal," said Mohana Varma.
The future of books?
"Communication systems have undergone a sea change. But books will continue to exist, though we have reduced the time allotted for reading," the writer pointed out.
As Sahitya Akademi secretary
Mohana Varma said that he was able to bring in a digital transformation to the library at the Sahitya Akademi when he was the secretary.
"I also organised a three-day meet of prominent writers from all Indian languages," he added.
"It was also decided to invite only literary greats to hand over the Sahitya Akademi awards instead of political leaders. But this could not be continued," Mohana Varma said.
Mohana Varma has 66 published works in Malayalam, including novels and stories, and two English novels. He is a recipient of over 25 awards.
He has also translated several works into English and other Indian languages, and was the editor of several publications.