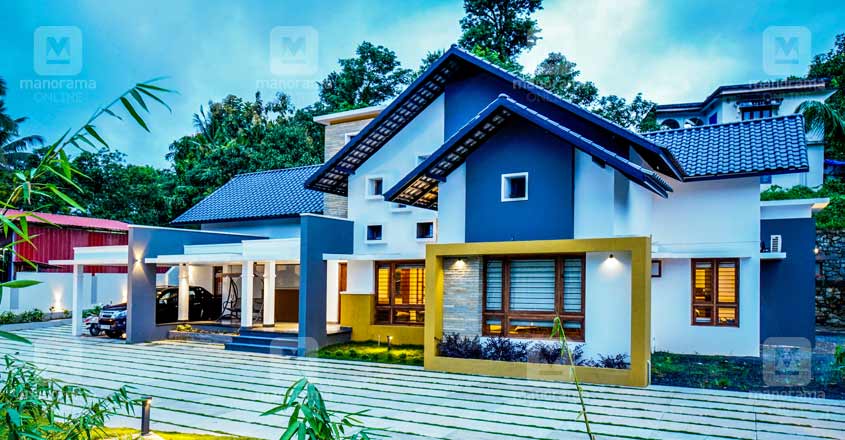 It was the magical mist, verdant hills and the lush greenery that prompted Razak to build his brand new house in a 22 cents plot at Muttil in the Wayanad district of Kerala. The family wanted a cozy and comfortable single-storied house that opens to the enchantingly beautiful nature. Truss work is done over flat roof and is paved with stylish imported roofing tiles.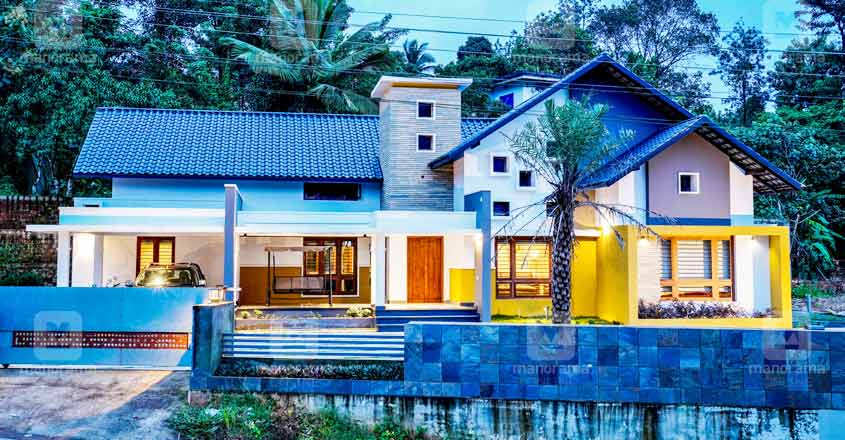 The space between the roof and the truss work helps reduce the heat inside the house and keeps the atmosphere pleasant. The show walls in the exteriors are highlighted using yellow and blue colours. The landscaping done by paving natural stones and Mexican grass projects the elegant look of the exteriors.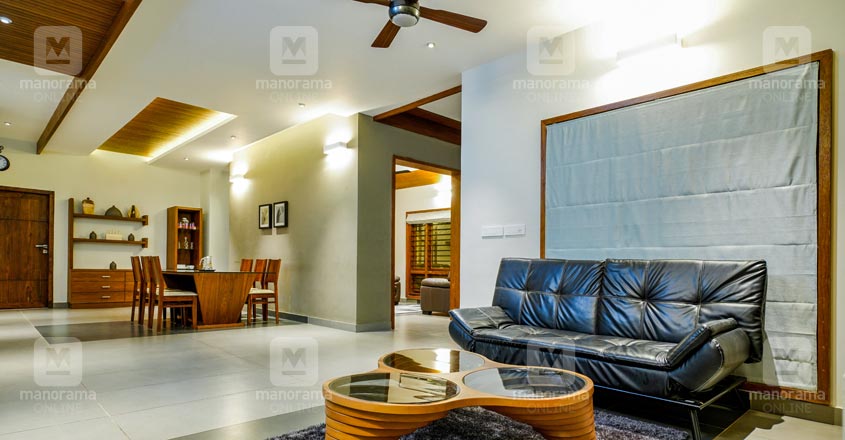 This beautiful single-storied house, designed in 2500 sq ft, has a car porch, formal and family living areas, dining space, kitchen with an adjacent work area and three bedrooms. A gym space too has been arranged in the mezzanine floor. One could enter this area using a stairway built outside the house.
The quaint sit-out leads to the formal living area, arranged just beside it. The family living area, dining space and the prayer area are arranged as part of the vast and spacious hall. The furnishing is done in marine ply and veneer finish. Gypsum false ceiling in minimal style and the warm tone lights add a pleasant look to the interiors.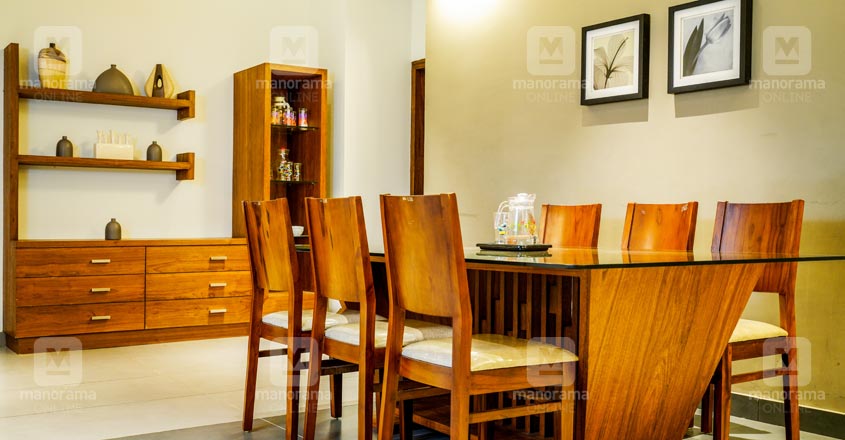 The dining table can accommodate up to 6 persons. The crockery shelf here features an eye catching design.
The bedrooms open to the splendid views outside. Beautiful paneling is done on the head boards as well. The bath attached bedrooms have in – built wardrobes for storage.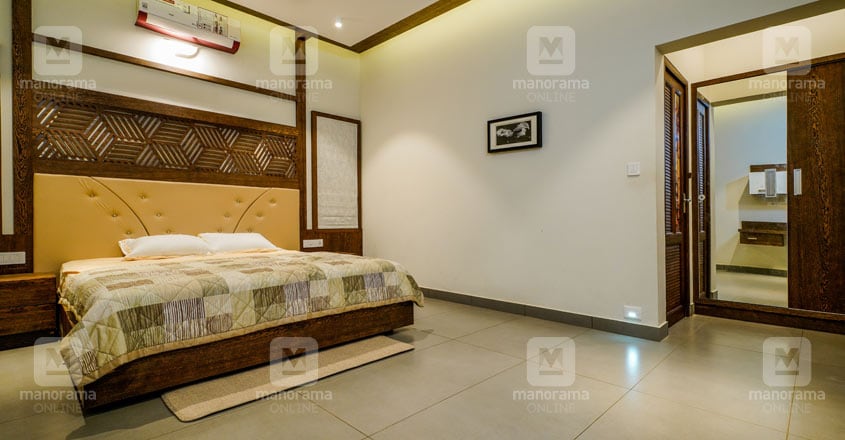 The cupboards in the kitchen are made using marine plywood with glass finish. The counter top has been paved with Korean stone. An adjacent work area completes the kitchen.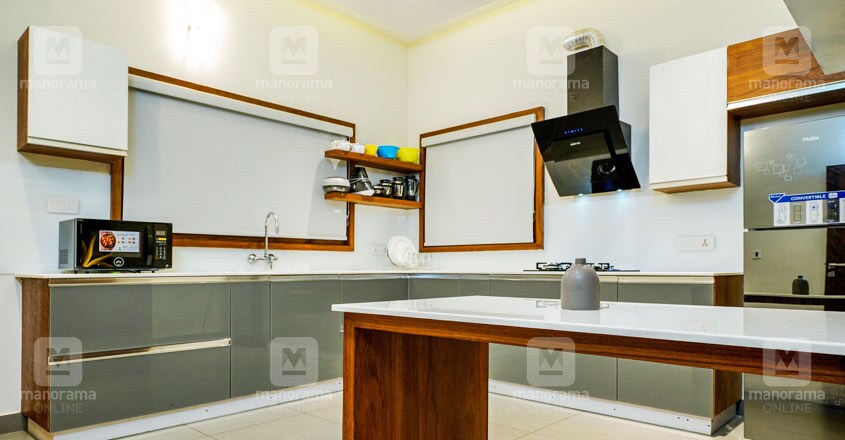 The stunning design of the house is so unique that the family needn't step out to enjoy the mesmerizing beauty of the surrounding nature. The family members vow that they absolutely enjoy being closely connected to nature.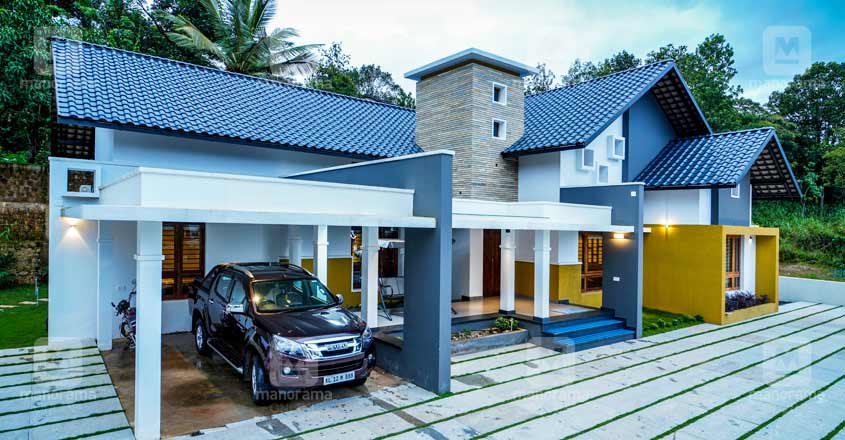 Project Facts
Location – Muttil, Wayanad
Area – 2500 SFT
Plot – 22 cents
Owner – Razak
Designer – Muhammed Muneer
Nufail Muneer Associates
Mob – 98472 49528
Year of completion – August 2019