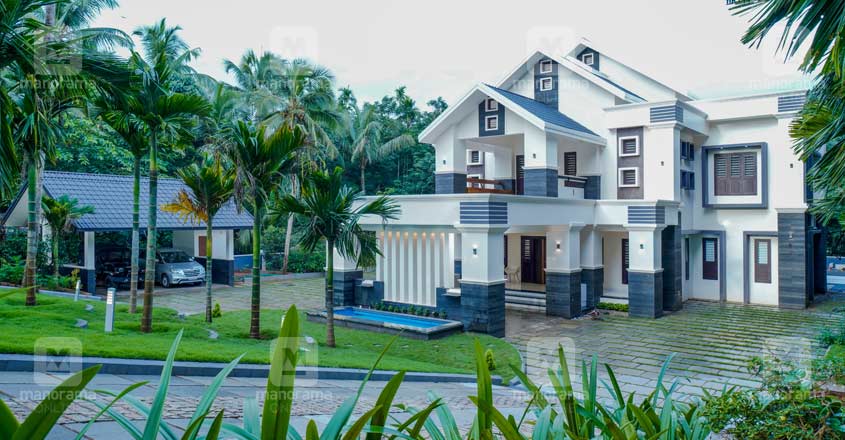 Shareef, an expatriate, is thrilled to talk about his brand new house built in a sprawling 50 cents land at his home town in Karuvarakkund in the Malappuram district in Kerala. The family wanted a beautiful house with spacious interiors that lets in lots of natural light and fresh air. Though the structure was completed, the rest of the construction had delayed due to various reasons. However, now, Shareef and his family are extremely happy that they got a stunning abode exactly the way they have dreamed.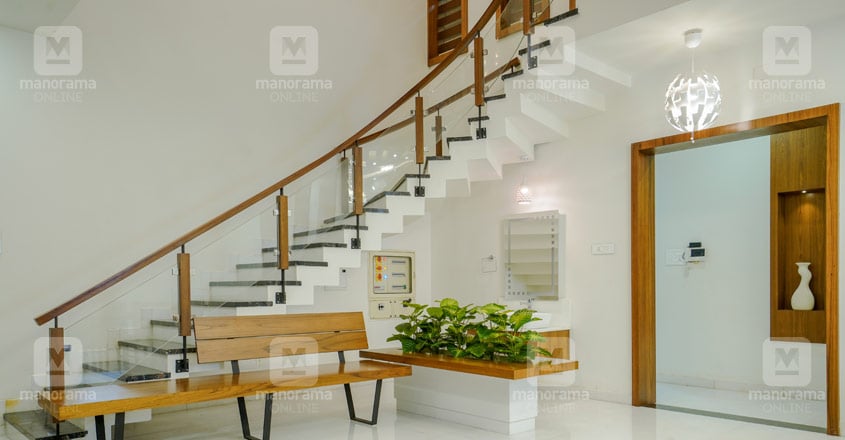 Space in the front yard allots a majestic view of the elegant exteriors and the aesthetically done landscaping adds to the mesmerizing beauty of the house.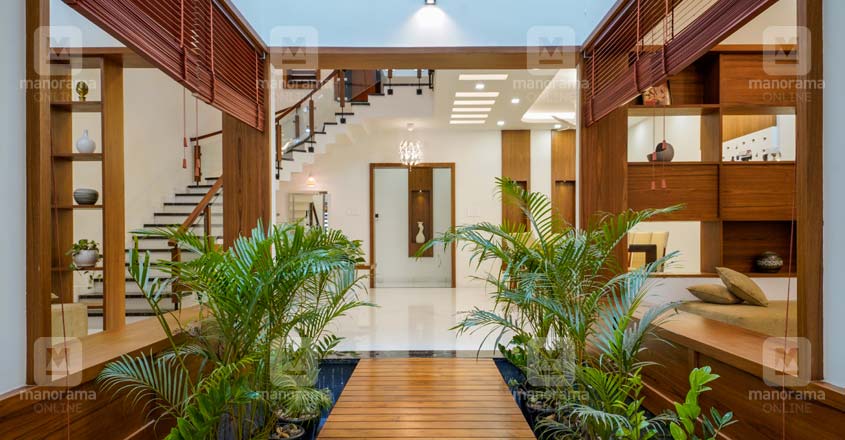 The sloped roof perfectly suits the unique weather conditions in Kerala where sunshine and rains are available aplenty. Roofing tiles are paved on the roof. The interior spaces are arranged in the open style by avoiding unnecessary partitions.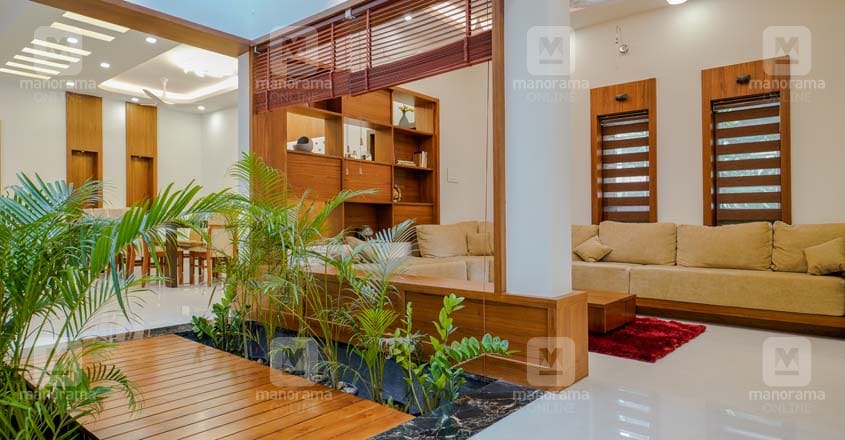 This scintillating house, in 4950 sq ft area, has a car porch, sit-out, formal and family living areas, dining space, courtyard, six bedrooms and kitchen with an adjacent work area. There is also another car porch built separately from the structure.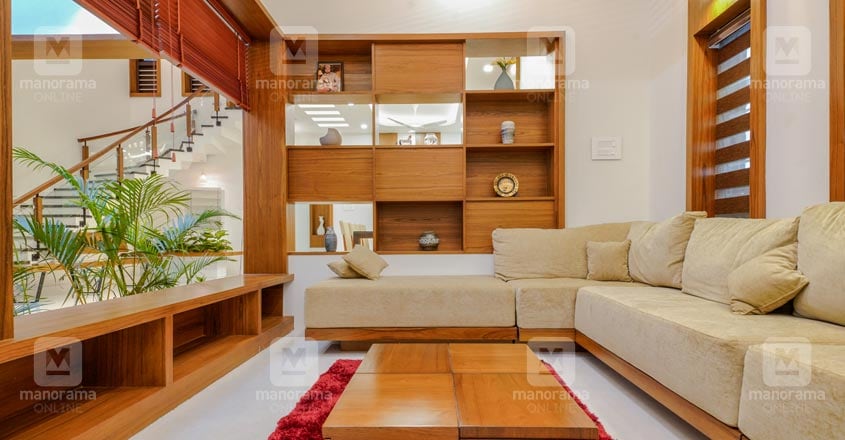 The false ceiling in gypsum – veneer finish is highlighted with warm tone lights that add a pleasant look to the interior spaces. The flooring done using Vietnam white marbles and Indian white marbles enhances the classy look of the interiors. These beautiful marble pieces were exclusively imported from Rajasthan. An elegant combination of wood and toughened glass is featured on the handrails of the stairway. This stairway leads to a spacious upper hall.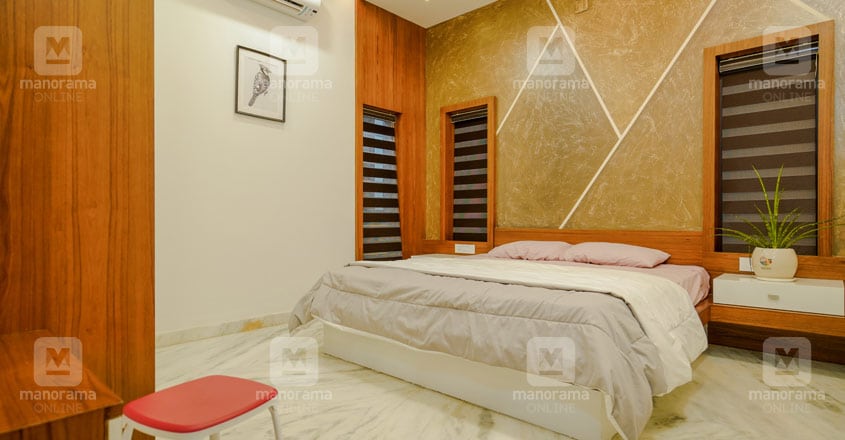 The beautiful courtyard is the highlight of the interiors. The bridge across the courtyard is made by paving wooden sheets over GI pipes. The indoor plants add a hint of greenery here. This area, which is extremely beautiful and amazing, could be called the soul of the house.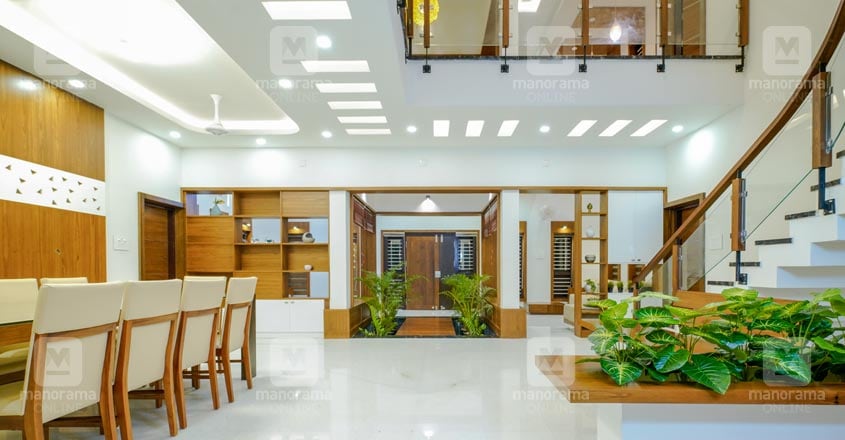 The kitchen is furnished in marine plywood and laminate finish. A small breakfast table and an adjacent work area complete the kitchen.
There are three bedrooms in each floor. The bedrooms are bath attached with in – built wardrobe facilities and separate dressing spaces as well. The panelling on the head boards and the colourful wallpapers in stunning designs make the bedrooms extremely attractive.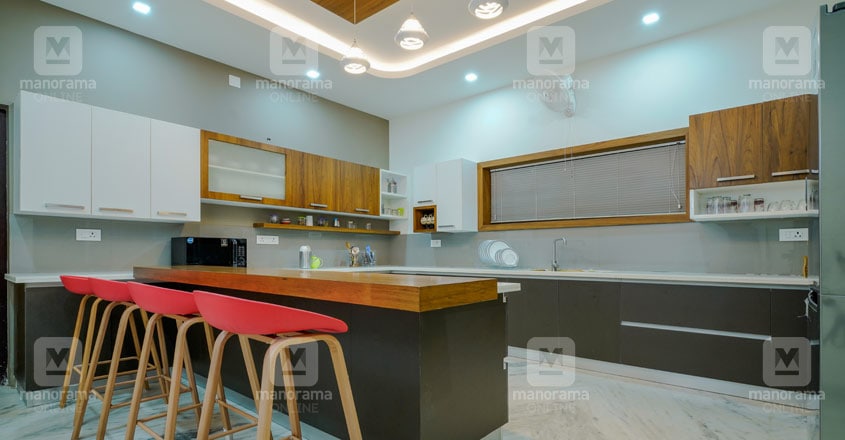 This house which dons many scintillating features exudes positive energy that inspires the family members as well.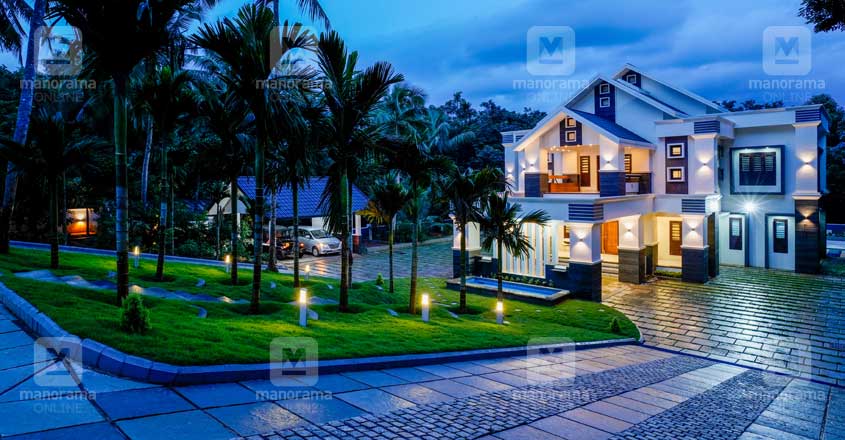 Project Facts
Location – Karuvarakkund, Malappuram
Area – 4900 SFT
Plot – 50 cents
Owner – Shareef
Designer – Rafeek AP
Inigo Designs
Mob – 94466 75839
Year of completion – 2019 March
Photos – Akhil Komachi