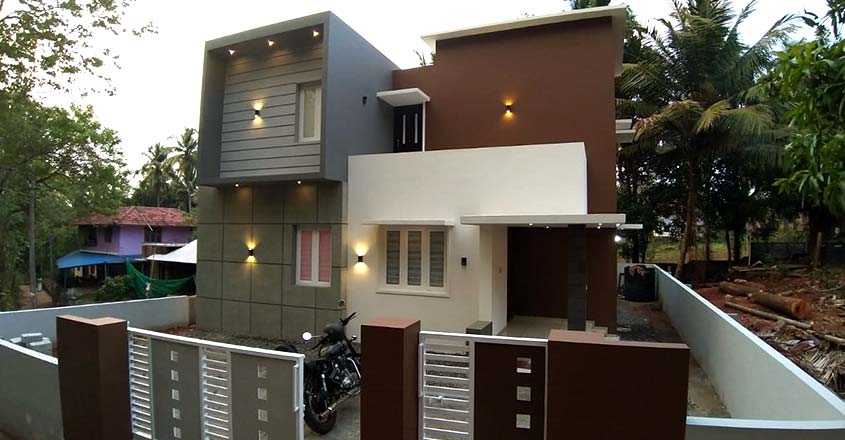 Salim, a native of Cheruthurthy in Thrissur, Kerala, shares his experience of building a chic house, insisting that spatial or financial limitations can never not stop you from realizing your dream of building a comfortable home of your own.
The family's old house was demolished as time had begun taking a toll on the structure. They decided to build a brand new house with all the modern facilities in its place. Salim had approached architect BP Saleem, who is also a relative, to design a quaint and cozy home that could be built well within a modest budget. The owner was adamant that the cost of construction shouldn't exceed the already estimated budget. Now, the family is incredibly proud and happy that the architect has designed the perfect house that suits their likes.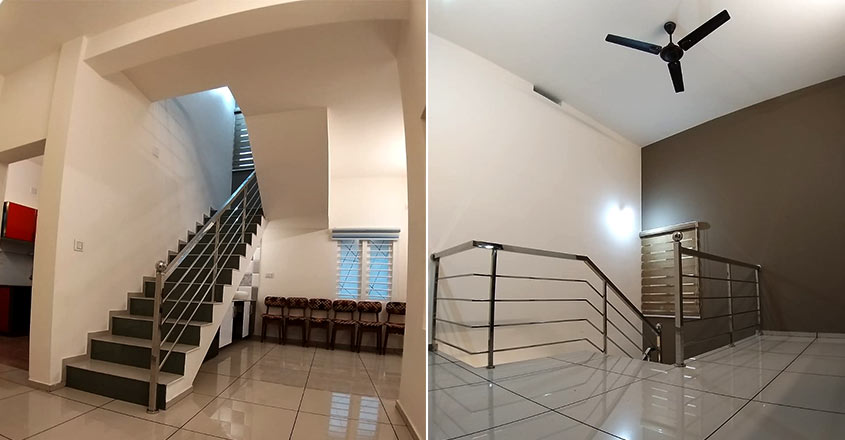 This house has been designed catering to preferences and needs of a small family. The elevation features a box style, with flat roof, to save more space in a small 5 cents plot. A show wall has been installed here as a highlight.
This stunning house, designed in 1217 sq ft, has a sit-out, living and dining areas, kitchen with an adjacent work area, 3 attached bathrooms, stair area and an open balcony. The interiors have been designed in the open style without building unnecessary walls for separation. This helped the spaces look vaster and spacious as well.
Vitrified tiles in matte finish are paved on the floor in the common areas. Meanwhile, tiles in wooden finish are used in the bedrooms and in the kitchen as well. The handrails of the stairway are built in stainless steel. The bedrooms are arranged with just the required facilities. The kitchen cabinets are done using ferro cement slabs.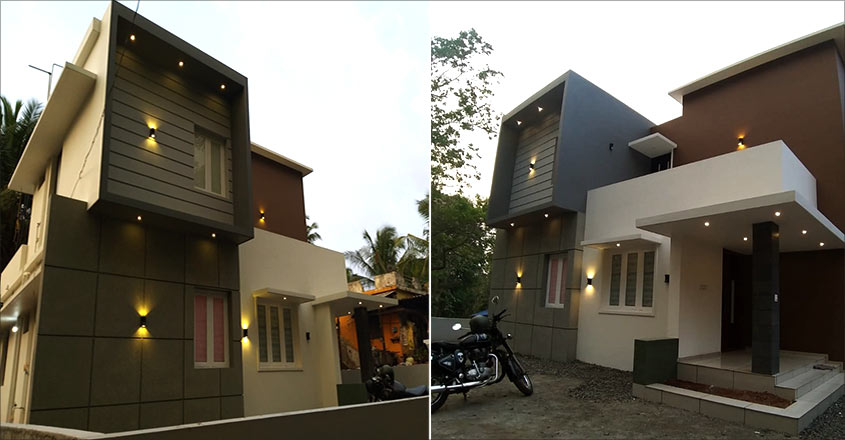 The kitchen dons the classic colour combination of black and red. Ferro cement and aluminium composite panels are used for wardrobes and cabinets.
Many building and furnishing materials that were in good condition, from the old house has been reused in this house as well. The construction of this house, including the structure and furnishing, was completed in just 6 months, on a reasonable budget of Rs 25 lakh.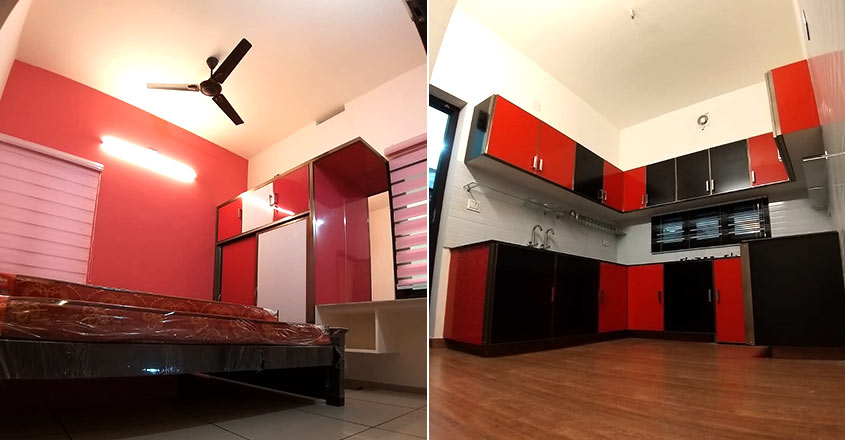 Among the many factors that helped in keeping the expenses in check, limiting the use of wood played a vital role. Ferro cement doors are installed in the interiors. Ferro cement and aluminium composite panels are used for wardrobes and cabinets. Cement, electrical and plumbing materials were all purchased from a whole sale facility in Coimbatore, which helped save a significant amount of money. Light points are directly installed without adding false ceiling. A putty finish has been given for the exterior walls and the walls inside the house as well.
Project Facts
Location – Cheruthuruthy, Thrissur
Area – 1217 SFT
Owner – Salim
Designer – BP Saleem, BeePee Designs, Cheruthuruthy, Thrissur
Mob – 9847155166, 8086667667