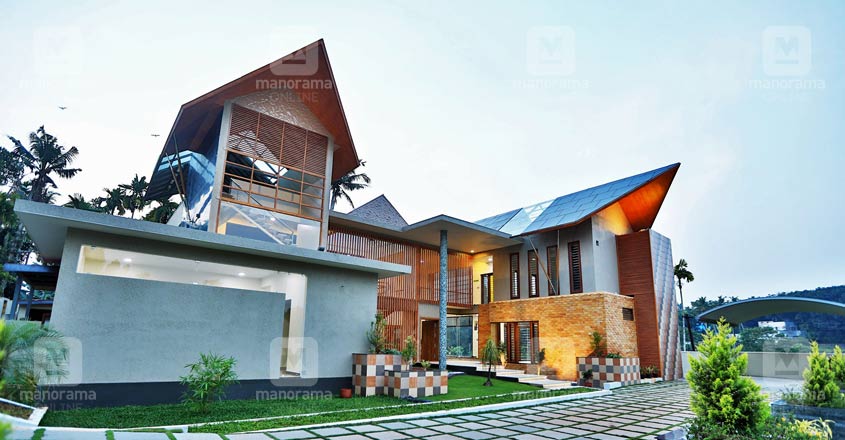 This spectacular house, that stands regally in a sprawling 50 cents of land, in the serene countryside of Pukattupady, has already become the talk of the town. Embellished with unique design features, the exteriors of this house is truly mesmerizing. The lush green paddy fields add the perfect backdrop to this luxurious mansion. A stylish blend of flat and sloped roof, a show wall and designer claddings are some of the features that make the exteriors stand out.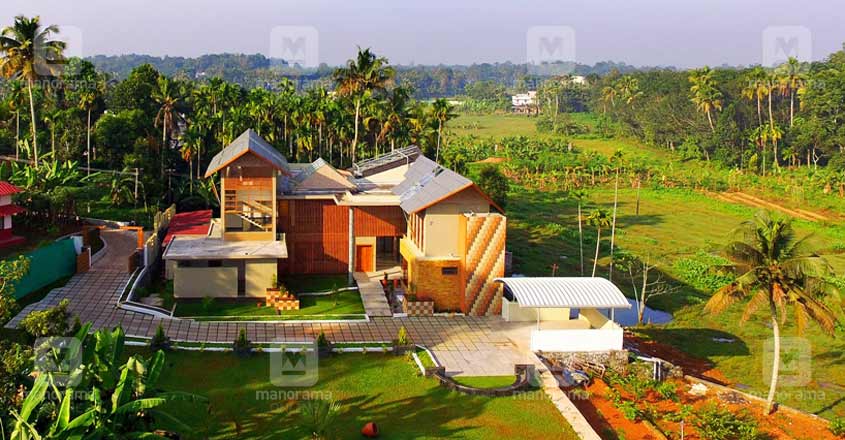 One has to climb a flight of steps from the landscape to reach the long verandah from where one can enter the house. The interiors are vast and spacious with an array of luxurious features and facilities. This amazing house, sprawling in 7300 sq ft area, has formal and family living areas, dining space, kitchen with pantry and work area, five bedrooms, office room, gym, home theatre and a game zone as well.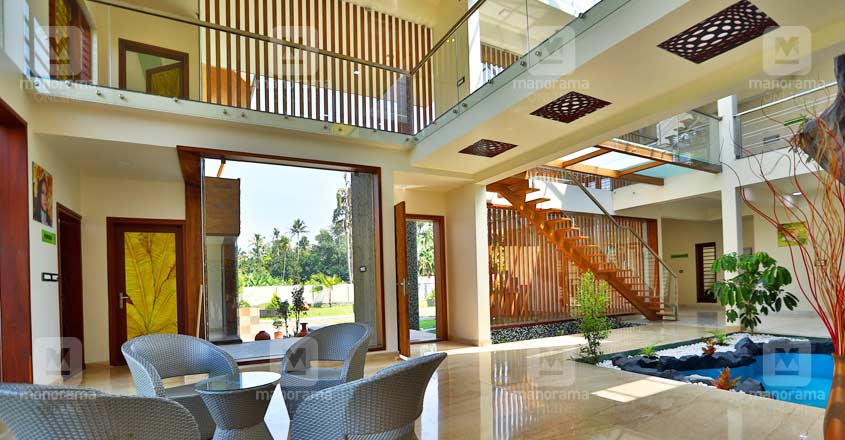 The interiors are designed to welcome the pleasant sun shine, cool breeze and the stunning views of the surrounding greenery too. Unnecessary interior walls have been avoided to make the spaces more open and also to ensure excellent cross ventilation. Besides, the huge glass doors and windows play a vital role in making the interiors pleasant and cozy.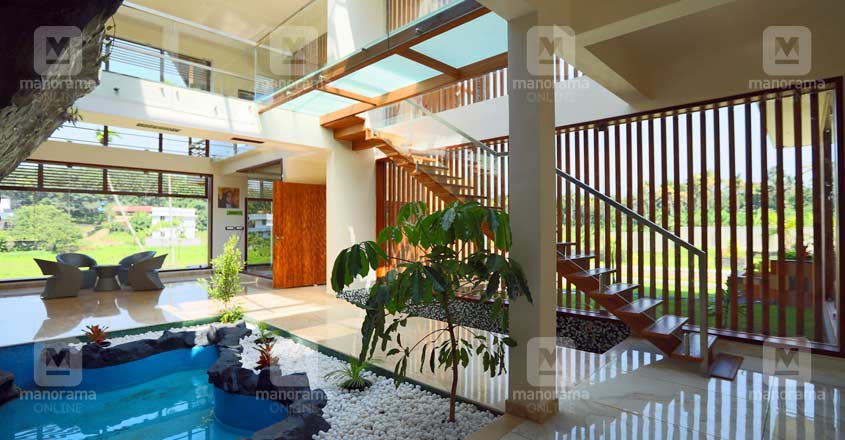 The formal living area is designed in double height. The courtyard in the dining hall is the highlight here. The beautiful water body which has a small stream meandering through the rocks is truly scintillating. Besides ensuring privacy, the louvers on the wall beside the stairway facilitates cross ventilation as well. There is another courtyard just beside the bedroom in the upper storey. This space is decorated with indoor plants that add a hint of greenery to the interiors.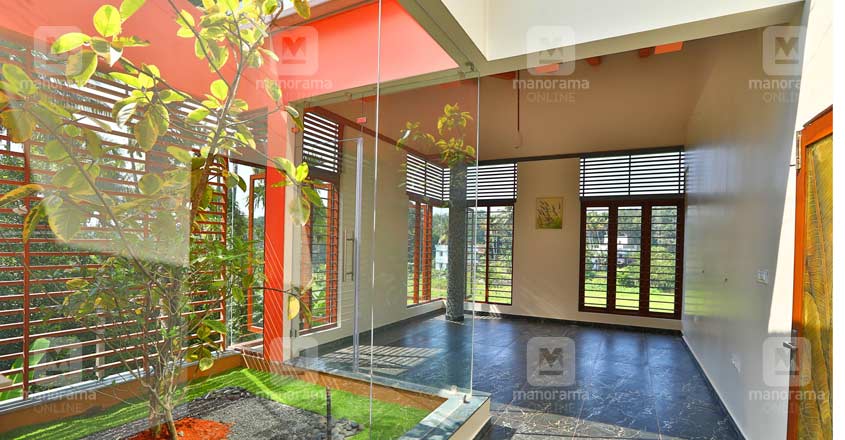 The dining table with a glass top can comfortably accommodate up to 8 people. One can get out into the landscape from the dining area. The dining and the kitchen area are interconnected. Besides a pantry kitchen, there is a working kitchen too.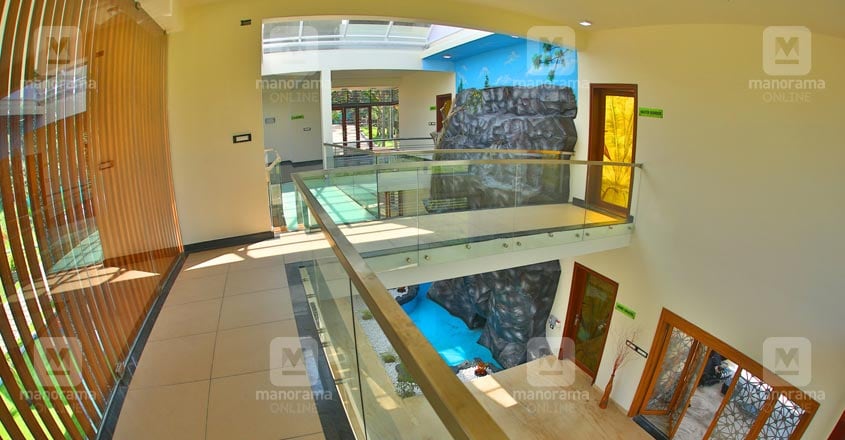 The bedrooms are luxurious, with all the modern facilities. There are balconies in all the bedrooms from where one could enjoy the mesmerizing beauty of the nature outside.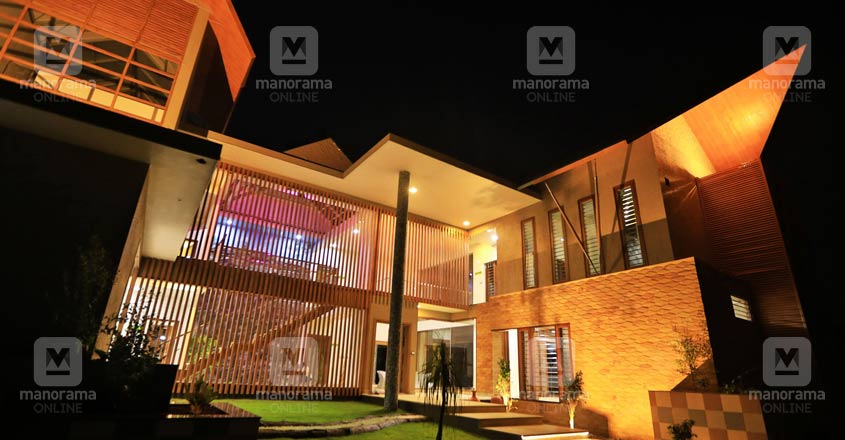 The mood lighting makes the house look dreamy at night. However, there is no need to switch on the lights inside the house during daytime. Similarly, the usage of fan and air conditioner too is limited as the interiors are cool with excellent air circulation. This weekend holiday house is truly a dreamland where one could enjoy some peace of mind, away from the buzzing city.
Project Facts
Location – Pukkattupady
Area – 48 cents
Plot – 7300 sqft
Owner – Salim KB
Architect – Jaydeep Philip, Design Division, Bengaluru
Mob – 9880242629
Year of completion - 2018