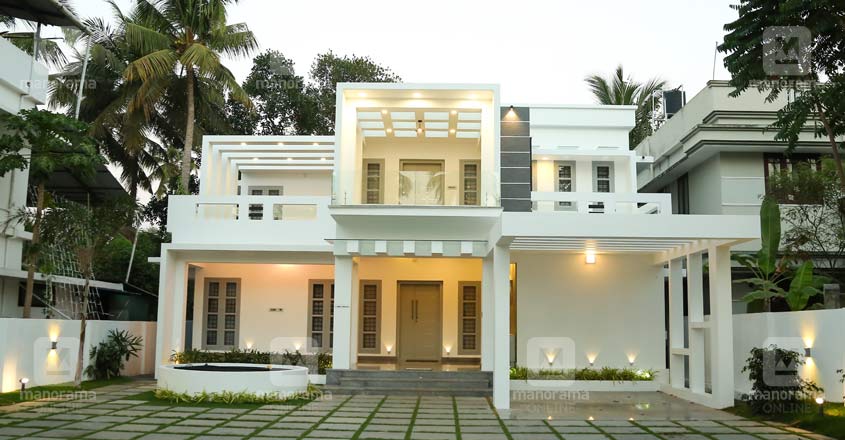 The structure of this majestic house in Olari, Thrissur Kerala has been designed to suit the unique features of the rectangular plot. The house is built by leaving enough space for a front yard that has been beautifully designed. Bangalore stones are interlocked with alternate layers of grass to make the front yard look aesthetically appealing. The box-styled elevation is quite interesting which instantly draws everyone's attention.
This contemporary house, designed in 3769 sq ft, has a sit-out, formal and family living areas, dining space, courtyard, kitchen with an adjacent work area and four bath attached bedrooms as well.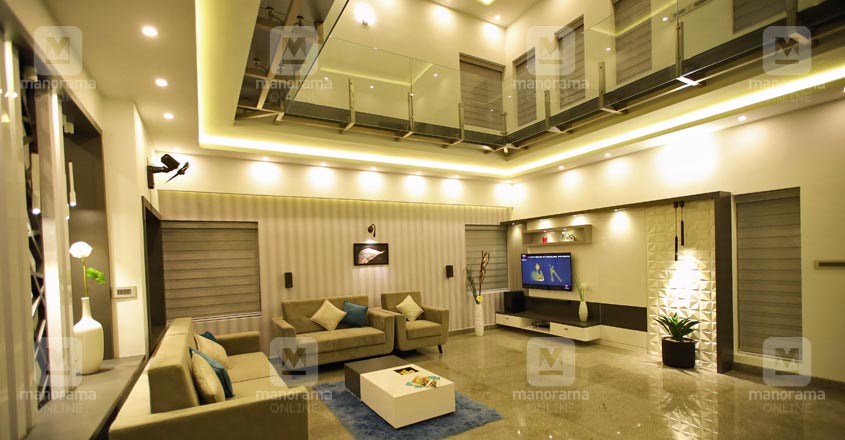 The interiors look incredibly vast as the spaces are designed in the open style. The classic combination of white and grey shades dominates the interior spaces. The spacious dining hall is the highlight of the interiors. The family living area, courtyard, stairway and dining space are all arranged in this spacious area that is designed in double height.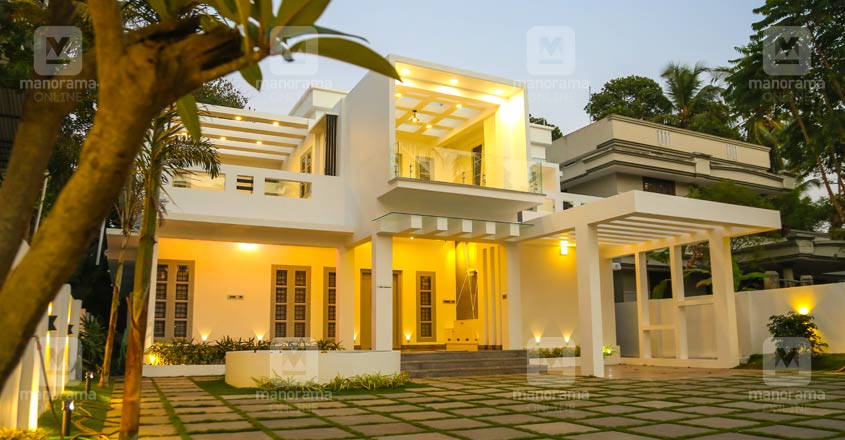 Instead of tiles, granite in glossy finish is used for the flooring works. There is a quaint and cosy sitting space here where one can comfortably sit and enjoy a book or some coffee. Besides, there is a mini library in the upper living space as well. The warm colour tones highlight the gypsum false ceiling done in the white colour theme. These give the interiors a pleasant and comfortable look. The elegant furniture is custom made to match the general theme of the house.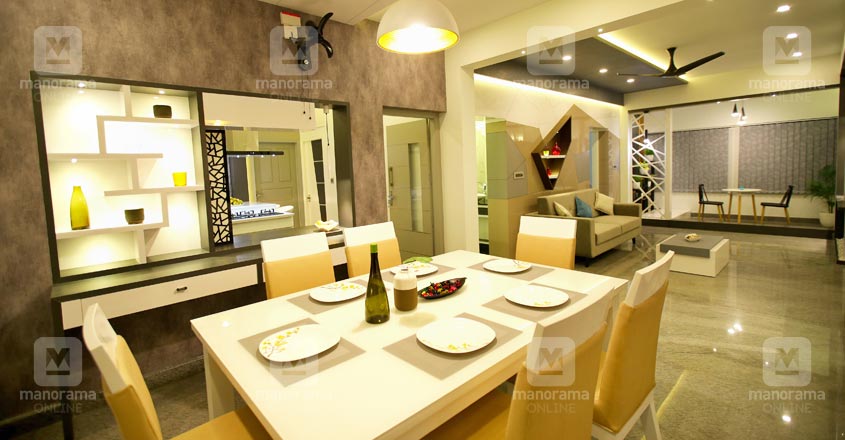 The elegance of toughened glass add a chic look to the stairway. A pantry area has been arranged between the dining space and the kitchen. The island kitchen too dons the white and grey shades. The cabinets here are done in marine plywood with acrylic finish.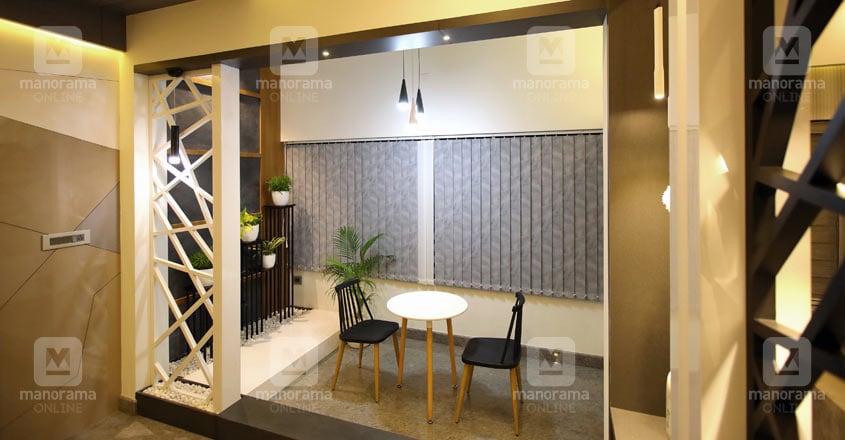 The bedrooms are as classy and luxurious as a five star hotel room. The attractive wall papers and false ceiling add unique charm to the rooms. The sliding wardrobes are made in plywood with glossy lamination finish. Besides separate dressing spaces, these bath attached bedrooms have reading spaces too.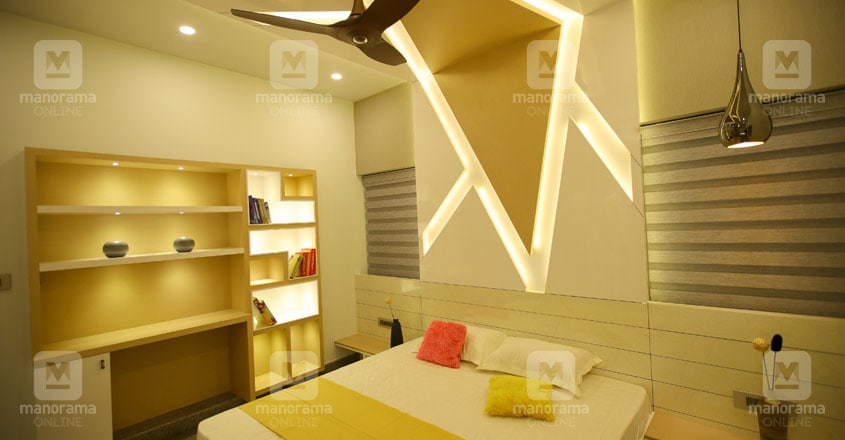 The white and grey theme is continued on the boundary wall as well which elevates the overall look of the house. Each and every corner of this stunning house has been designed with such elegance and perfection that it exudes positive energy that inspires the family members as well.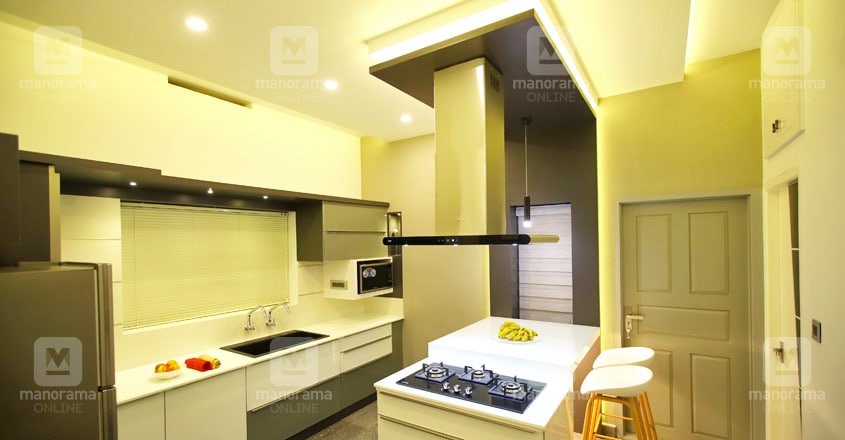 Project Facts
Location – Olari, Thrissur
Area – 3768 SFT
Plot – 15 cents
Owners – Dr Sreejith and Dr Athira
Designers – Hussain, Shaheem, Saleem and Shameer, Livecube Dezingno, Thrissur
Mob – 9562381828
Year of completion - 2018