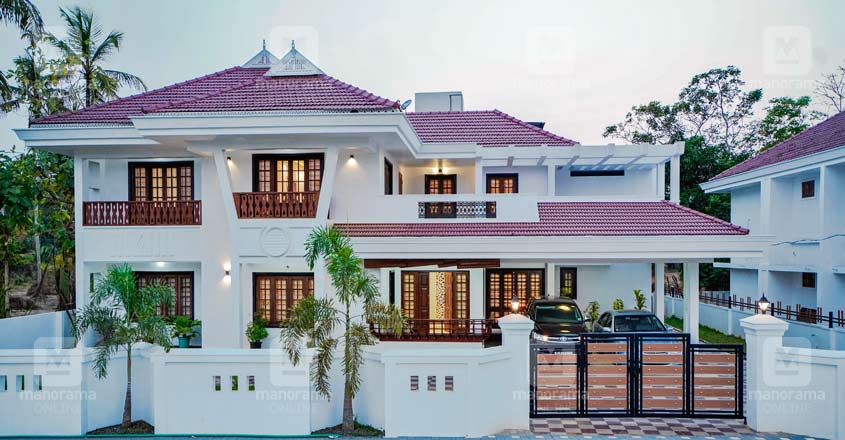 Thomas' brand new house stands regally on a 15 cents plot in his hometown in Angamaly. The family wanted the exteriors to exude the classic elegance of the traditional style while the interiors feature chic and modern facilities. The house, thus, is a beautiful fusion of the traditional and the contemporary styles which makes it stand out in the locality.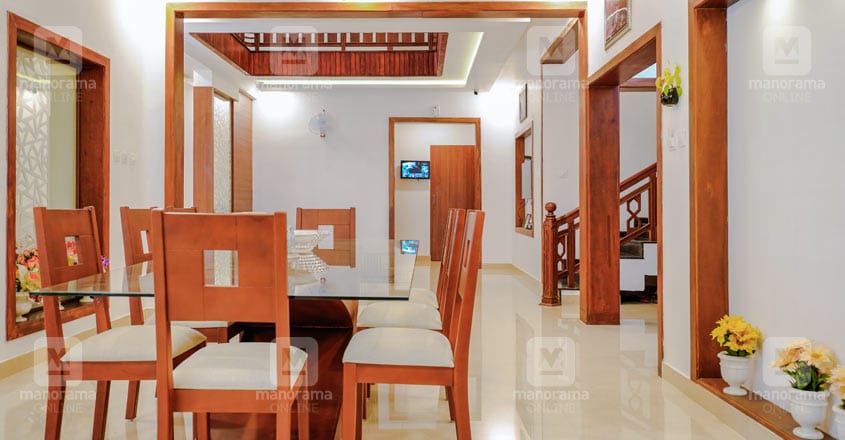 The flat roof has truss work installed over it. Bedsides reducing the heat inside the house, this area can be used as a storage space as well.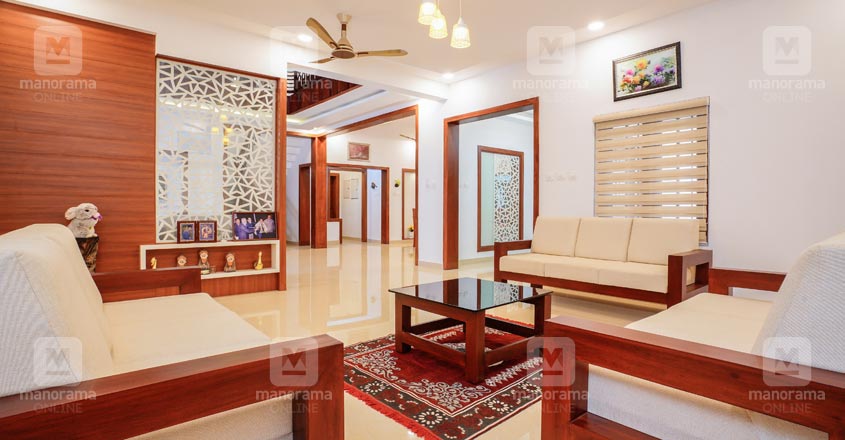 There is a car porch, sit-out, formal and family living areas, dining space, kitchen with work area and four bedrooms arranged in 4526 sq ft area. The interiors are designed in the open style making the spaces look vaster and spacious.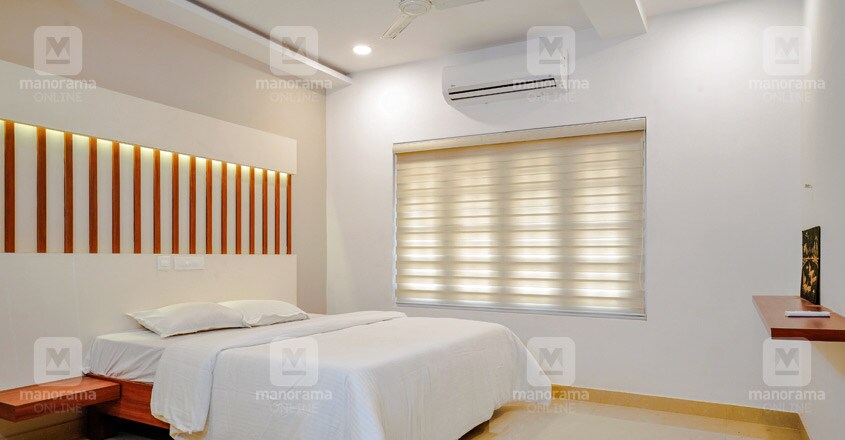 The car porch is spacious enough to park two cars. There is a beautiful terrace garden above it. From the sit-out, one can enter the foyer space which then leads to a spacious hall. The formal and the family living areas and the dining space are arranged in the various parts of this incredibly huge hall.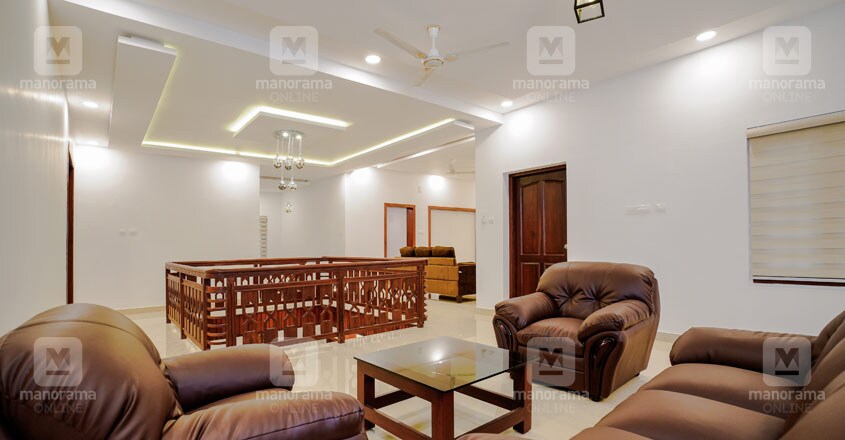 Partitions that feature stunning jail works with veneer – glass finish separate the spaces here.
Vitrified tiles are paved on the floor. Meanwhile, the gypsum false ceiling and the LED light fittings makes the interiors look extremely pleasant and comfortable. The handrails of the stairway are done in classic wooden finish. Malaysian irul wood, which is comparatively less expensive, is used to make the stairway.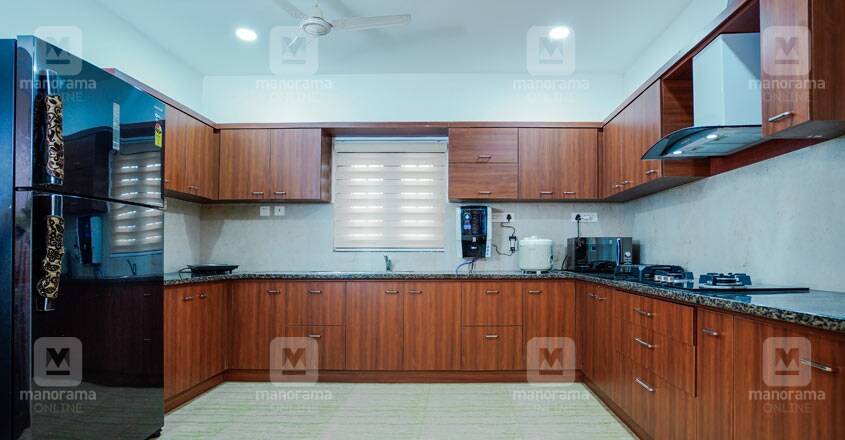 The dining area and the kitchen are designed in the open theme. Up to eight persons can be comfortably accommodated on the dining table. The kitchen designed in U-shape is just beside the dining space. The cabinets here are made in plywood with mica finish. An adjacent work area completes the kitchen space.
The four bedrooms are arranged in unique themes. Veneer strips in different patterns adorn the head boards here.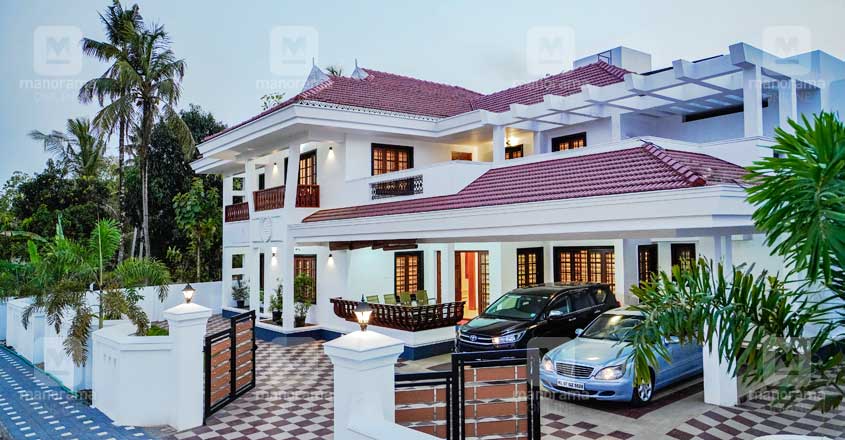 There is a metal stairway from the open terrace that leads to the attic. This house is a perfect example of an exciting fusion home, built without splurging on over-the-top design features or luxuries.
Project Facts
Location – Angamaly
Plot – 15 cents
Area – 4526 SFT
Owner – Thomas KC
Designer – Shanavas Kurupath
Phone – 0495 2722757
Year of completion - 2018