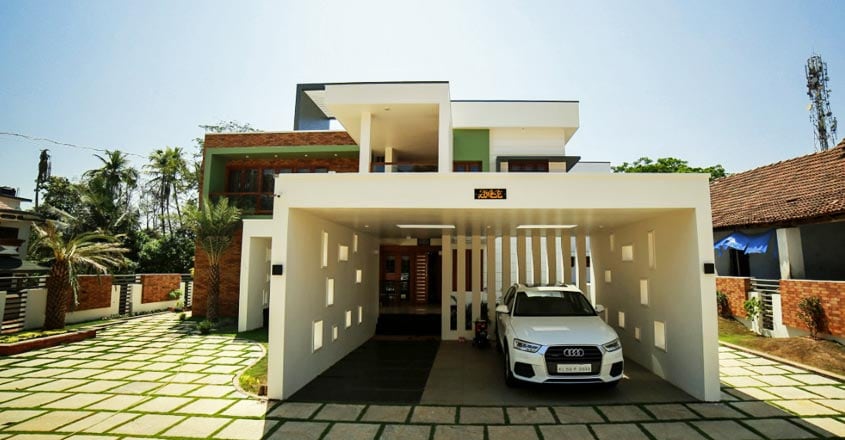 Sadiq's brand new house that stands on a 25 cents plot at Kambil in Kannur, Kerala has become the talk of the town for its unique exteriors. The structure is built by leaving enough space in the front for a stunning landscape that has been paved with alternate layers of natural stones and buffalo grass.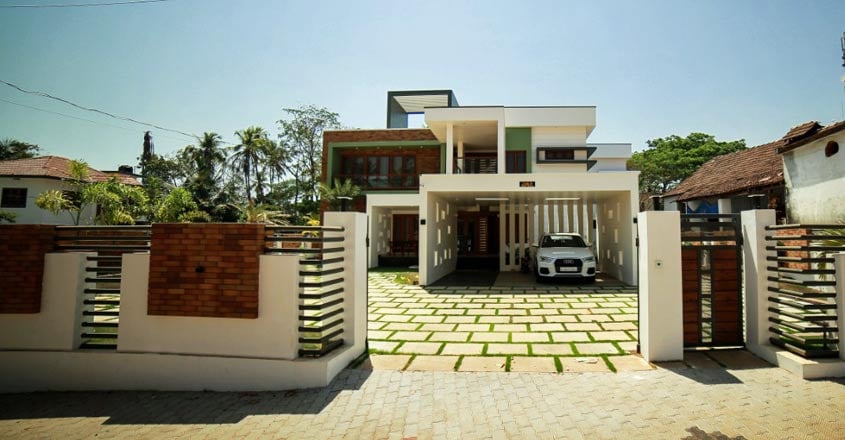 The box-shaped design features in the exteriors are what draw the attention instantly. The metal pergola on the terrace makes the structure look taller. The boundary wall too features a semi-open design that looks like a continuation of the exteriors. Beautiful claddings add the perfect contrast here.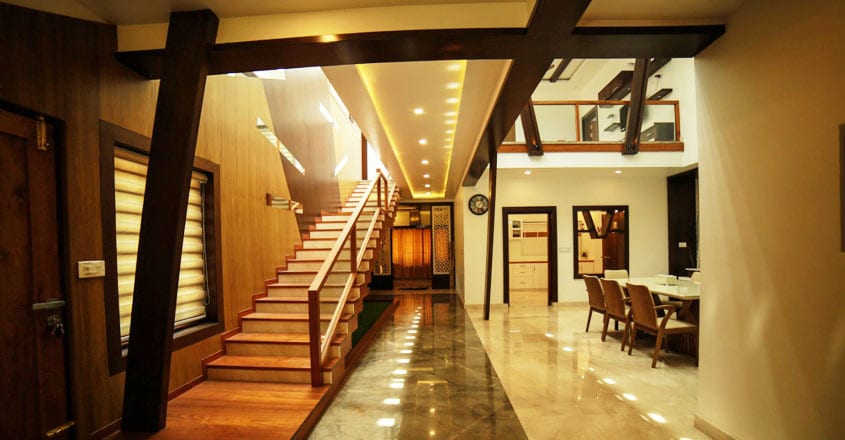 This unique house, designed in 4700 sq ft area, has a sit-out, formal and family living areas, dining hall, kitchen with an adjacent work area and five bedrooms.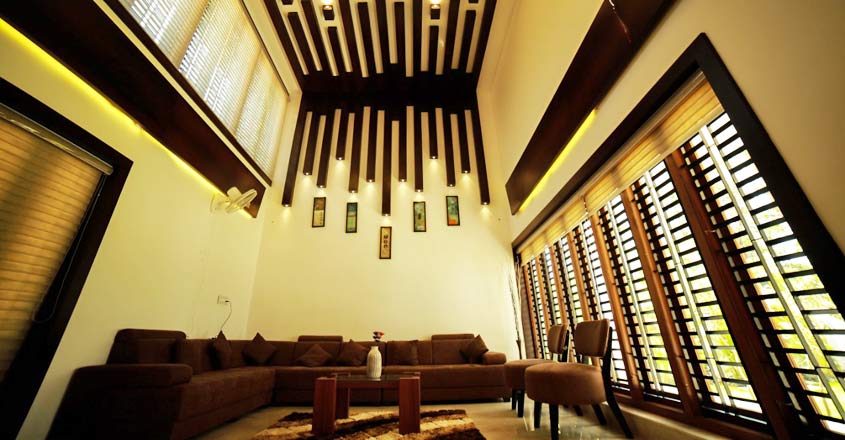 The interiors are in semi-open style with the living and the dining areas designed in double height. The wooden strips that begin from the ceiling and extends to the walls is an eye catching design that stands out in the formal living area. Here, an entire wall is lined with windows which open to the beautiful courtyard.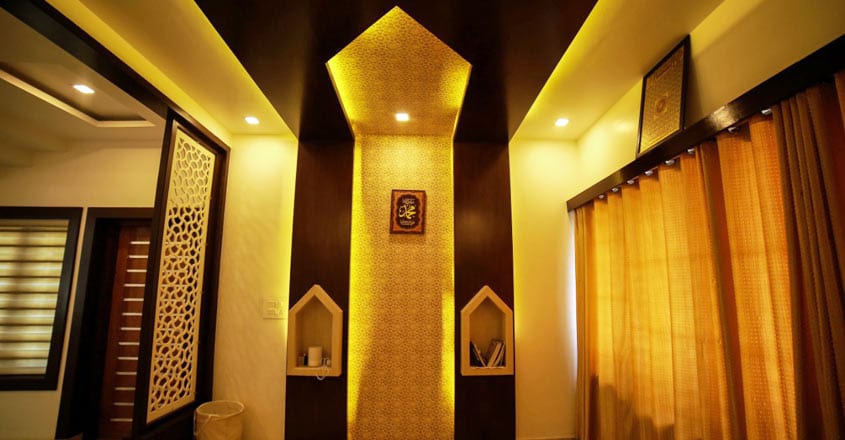 The passage which begins in the foyer leads to the prayer area. A beautiful jail partition ensures enough privacy for this space. Italian marbles in the classic combination of white and black shades are used for flooring that adds regal charm to the interiors.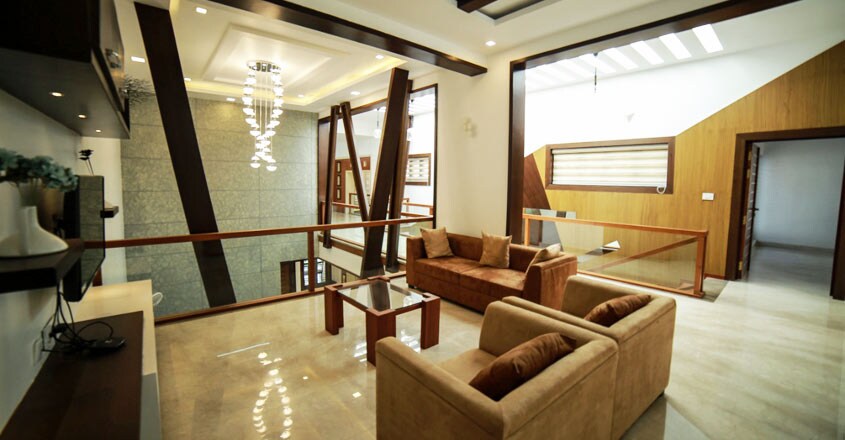 The courtyard, whose stunning view is possible from all corners of the house, is the highlight of the interiors. Planter boxes and shiny pebbles decorate the courtyard which has sitting spaces as well.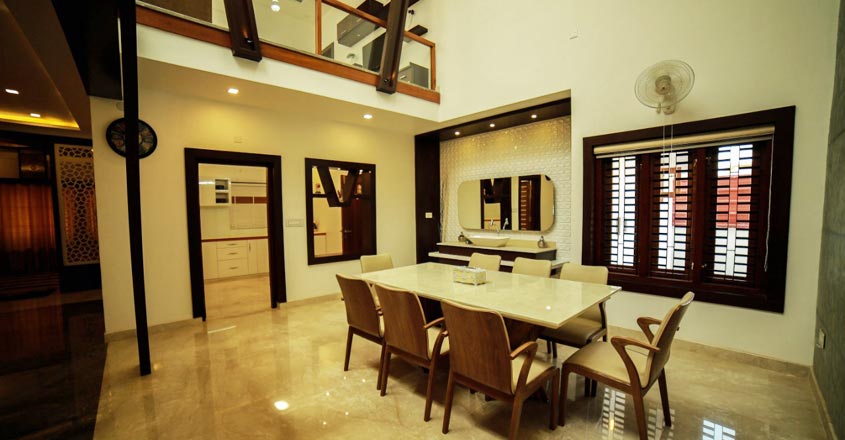 There is a pergola skylight on the double height ceiling above the stair area. The natural sunlight that comes in through this skylight illuminates the entire house. The steps of the stairway are covered in teak wood panels that add to the majestic look of it. The enchanting combination of teak wood and glass is used on the hand railings as well.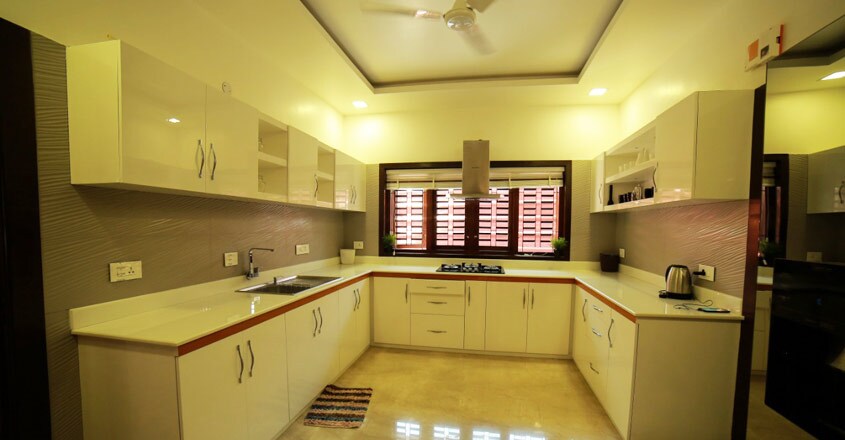 Up to eight guests can be accommodated on the dining table. There is a pantry counter which connects the dining area and the kitchen.
The kitchen cupboards are made in plywood with PU finish. Meanwhile, the counter top has been paved with nano white. Gypsum false ceiling with warm toned lights are installed in the kitchen too.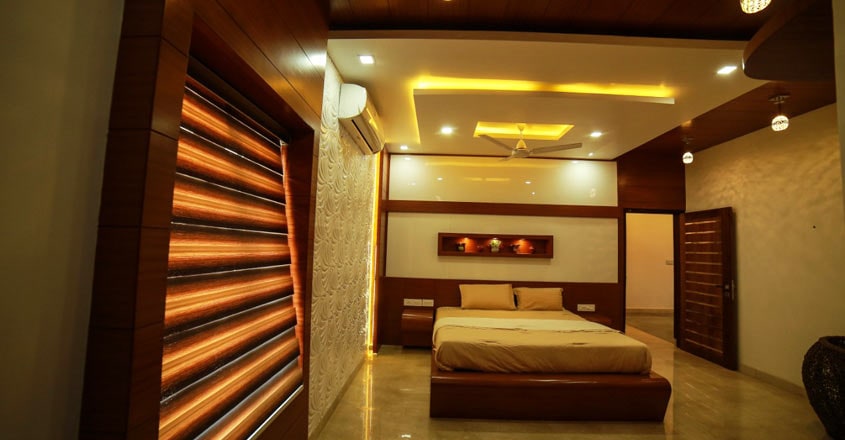 The headboards in all the bedrooms are decorated with beautiful panelling. These bath attached bedrooms have full length wardrobes for storage and separate dressing spaces as well.
It is the interesting designs and the unique features that make this dwelling, which has all the modern facilities, really shine. Besides, the interior spaces that are in sync with the nature exude positive vibes as well.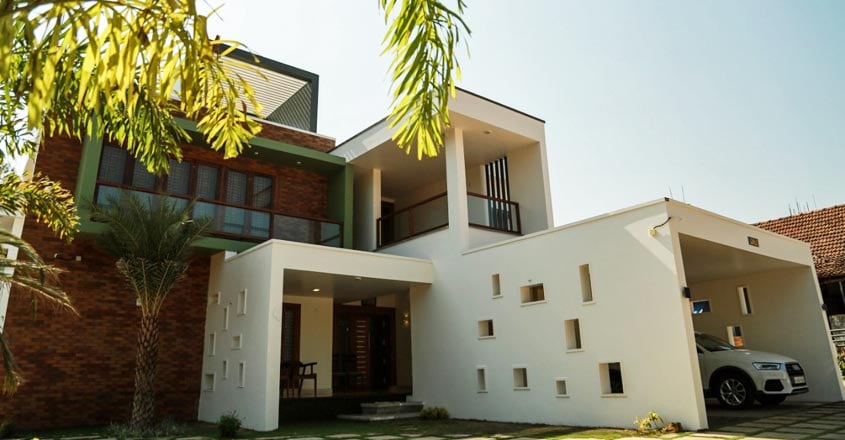 Project Facts
Location – Kambil, Kannur
Plot – 25 cents
Area – 4700 SFT
Owner – Sadiq
Architect – Faiq Muneer, Arcins Design, Kannur
Mob – 9746008877
Designers – Sunil A, Ishaque Mohammed
Year of completion – 2018