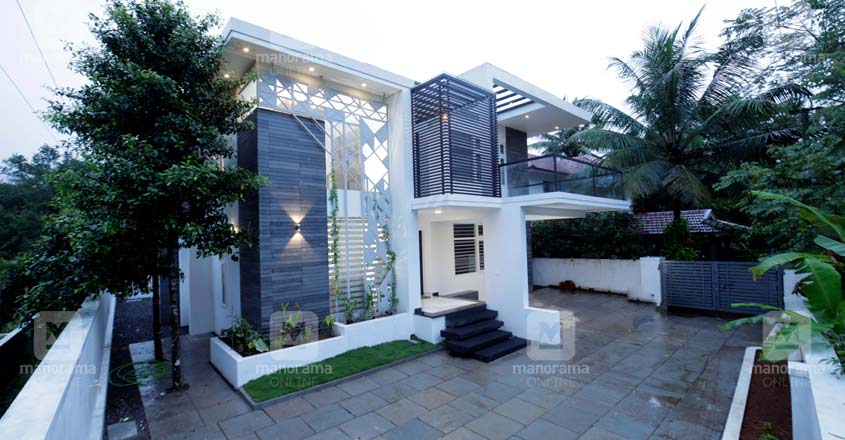 Beena, who works as a village officer and her family began the construction of their brand new house after doing amazing home work. They had bought a 9 cents rectangular plot in Ramanattukara in Kozhikode, Kerala. Though this plot posed quite a few challenges, they were overcome by smart designing and excellent planning. Now, a breath-taking abode that exudes the elegant charm of contemporary architecture proudly stands here.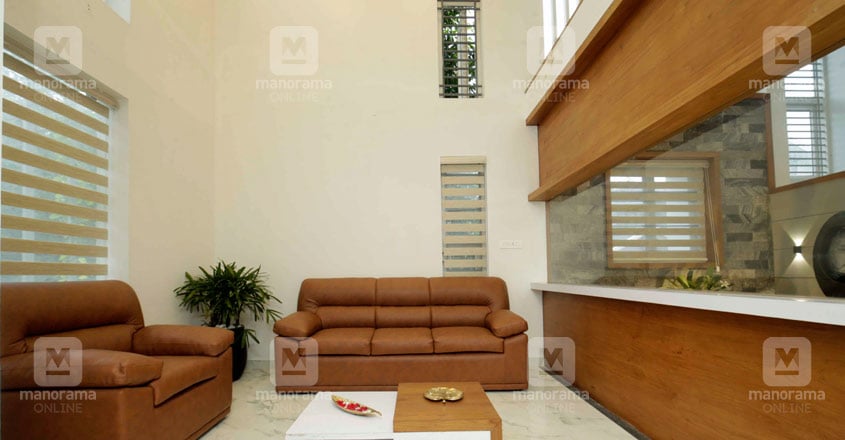 The architect has smartly turned the shortcomings of the plot to their advantage. The box style elevation dons a flat roof. The balcony adorned with louvres in GI grille is an eye-catching feature of the exteriors. The front yard is aesthetically arranged by paving natural stones and green grass. Most of the trees that stood in the plot are retained. Water bodies are built both inside and outside the house, giving cool and pleasant looks to the spaces.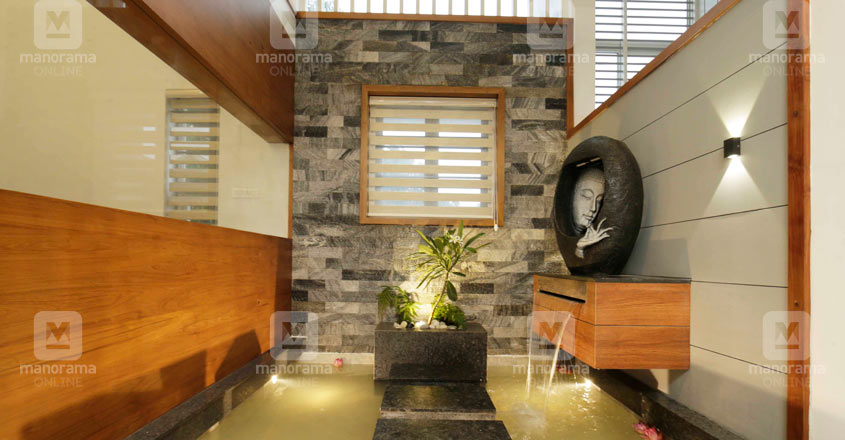 This mesmerizing house, designed in 2750 sqft, has a sit out, formal and family living areas, dining hall, courtyard, kitchen with an adjacent work area and four bedrooms. Unnecessary walls are avoided in the interiors to make the spaces vaster and open. The lighter shades of hue that adorn the walls and the flooring done with vitrified tiles, in white gloss and matte finish, makes the interiors look super chic and spacious as well.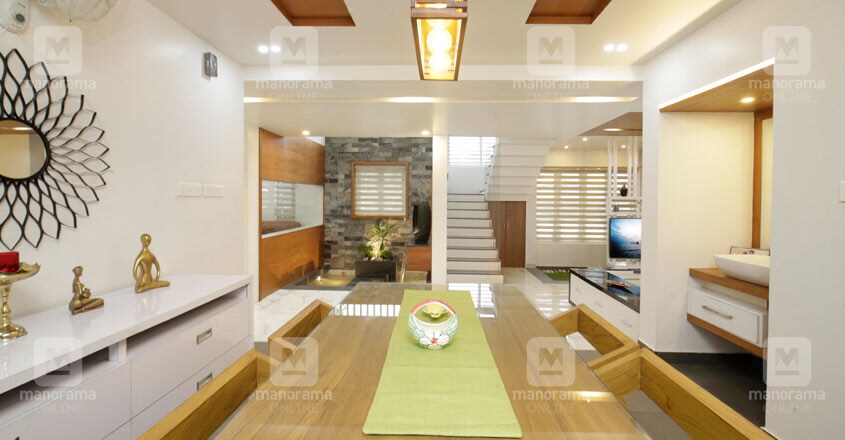 The central hall is designed in double height which makes it appear incredibly vaster. The formal living area too is part of this spacious hall. A glass wall here invites lots of pleasant sun shine which amazingly illuminates the entire house. The huge windows make sure that excellent cross ventilation is possible, making the interiors feel extremely pleasant and comfortable.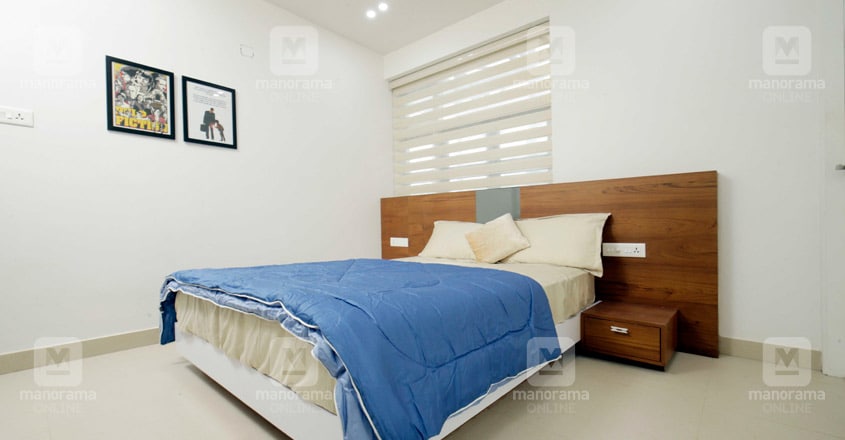 The courtyard which also has a water body is the most serene spot in the interiors. A wall here is highlighted using beautiful claddings. Natural light that comes in through the skylight reflects on the clear water in the water body. The Buddha show piece exudes positive vibes which inspires the family members as well.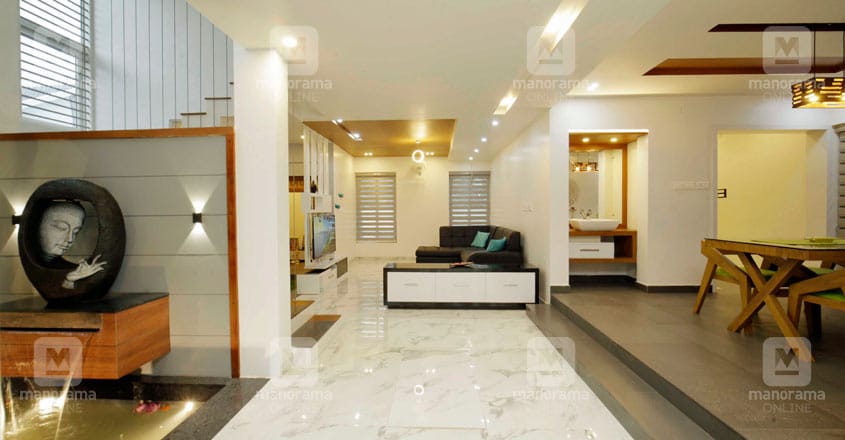 The stairway is compact and has handrails made of stainless steel rods. Storage space has been arranged beneath the stairway.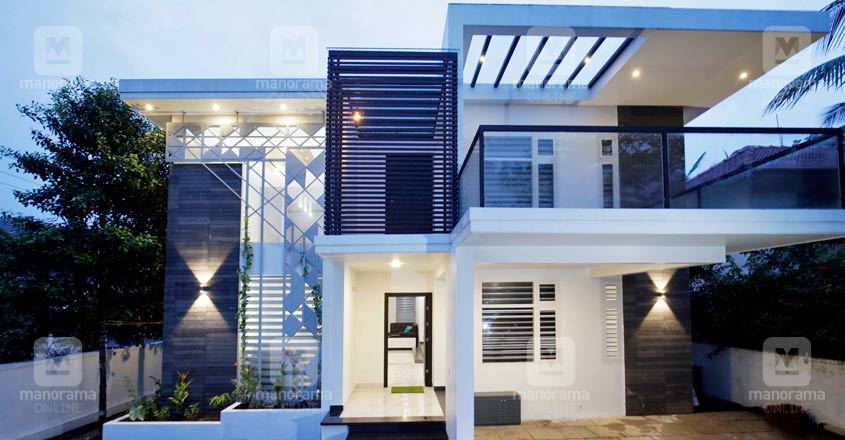 Each bedroom is designed in unique themes and dons lighter shades of colours. The wardrobes in these bath attached bedrooms are made of plywood with PU paint finish.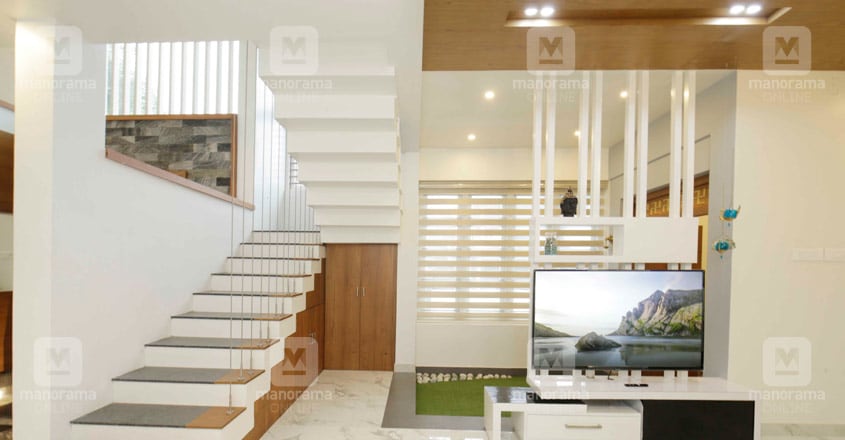 The pantry kitchen is designed in the pleasant colour theme of lemon yellow and white which is very soothing for the eyes. The counter top is paved with nano white. Meanwhile, the cupboards are done in plywood with laminate finish. An adjacent work area completes the kitchen space.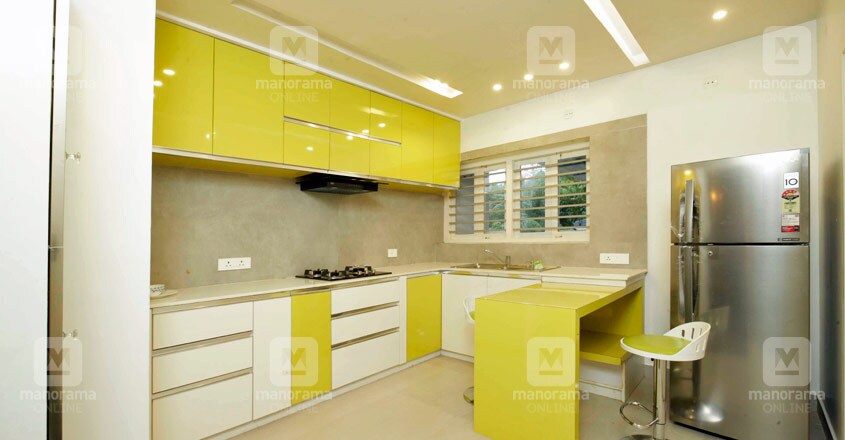 This elegant house with its stunningly decked up spaces and cosy corners awaits the lovely gathering of family and friends. Though the family has waited quite a bit to construct their dream home, now they are overwhelmed that they have finally realized their dream.
Project Facts
Location – Ramanattukara
Area – 2750 SFT
Plot – 9 cents
Owner – Beena and Murali
Architect – Soni Sooraj, Capellin Projects, Kozhikode
Mob – 8089020103
Pictures – Ajeeb Komachy