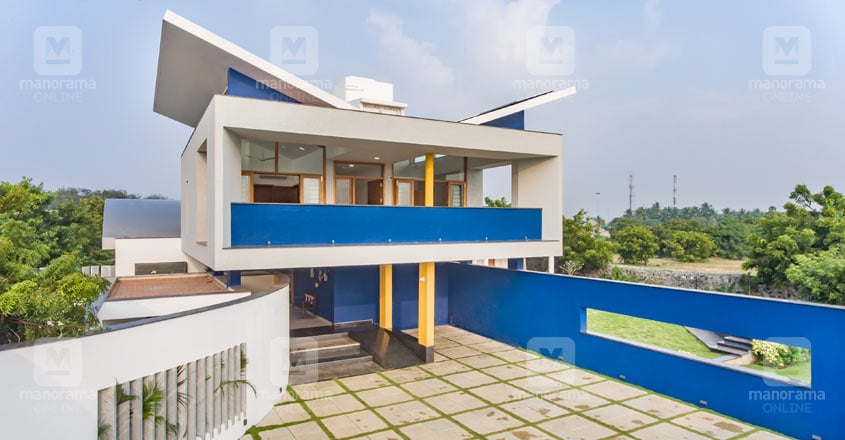 The amazing house that features some unique designs stands gloriously at the Kovalam, East Coast Beach Road in Chennai, Tamil Nadu. It has been designed by considering the extremely humid climate of Chennai and also the sultry winds that blow from the coast.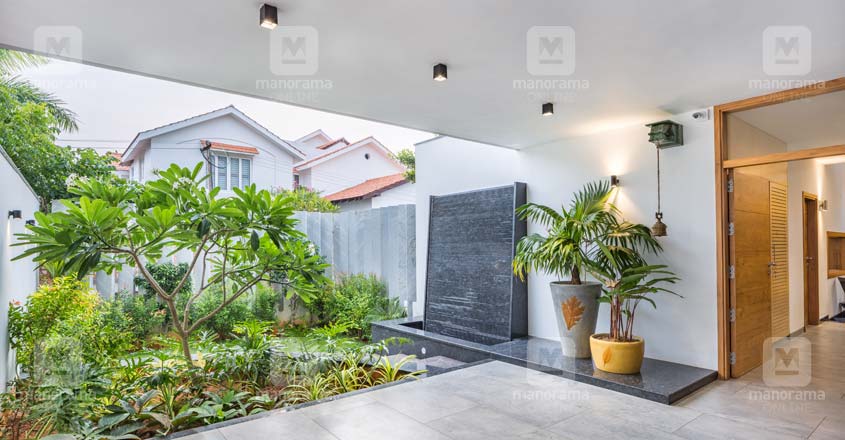 The exteriors of the house are a beautiful compilation of spectacular geometrical patterns and features. The butterfly roof on the one side is complimented by a curved wall and roof on the other. The house, at a glance, looks as if it floats in the air. For its owner Balaji Krishnamurthy, this house named Casa M is the perfect holiday beach house where the family can unwind and relax. They often host guests for hold parties and get together. The landscape has been designed by including a sitting space in the shape of a classic amphitheatre for the purpose.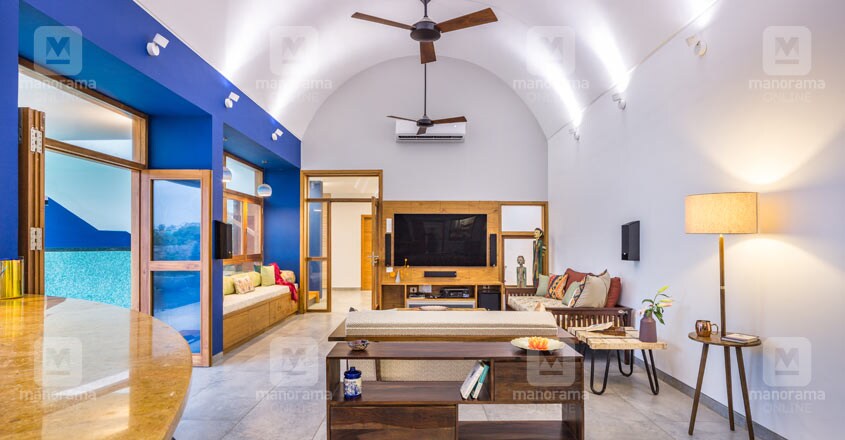 The spacious house is built in three blocks that sprawls across 23 cents. Open and vast spaces are given prominence than closed rooms. This majestic holiday home, designed in 4000 sq ft area, has formal and family living areas, dining hall, courtyard, kitchen, four bedrooms, a swimming pool and an aesthetically designed landscape. Granite and vitrified tiles in cement finish are used for flooring in this luxury abode. The stairway and its hand railings feature the regal charm of teak wood.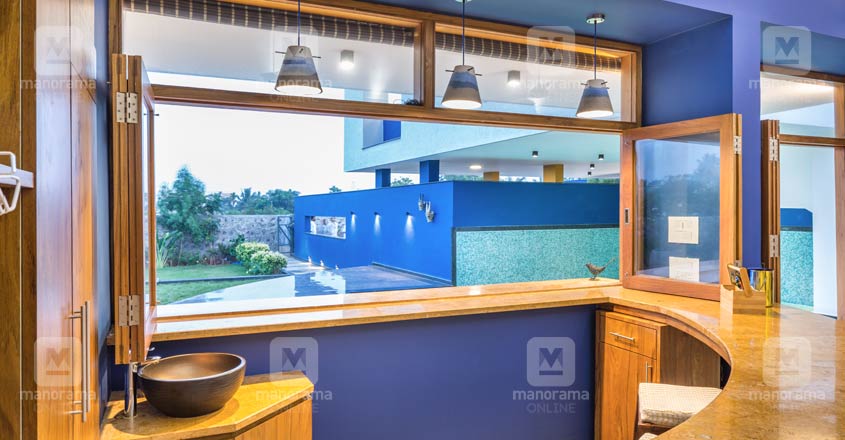 The corridors connect the interior spaces that are designed in the open style. Most of these areas open to the spectacular landscape or the pool area. The entrance door opens to the living – dining area which is vast and spacious. There is an open kitchen just beside this. An adjacent working kitchen completes this area.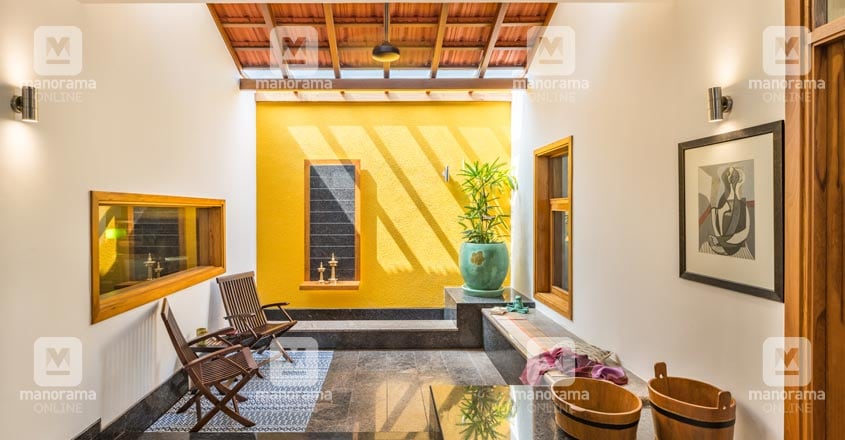 The entry courtyard is the liveliest spot where the family members love to gather. The walls here are highlighted in the stunning golden shade. The skylight illuminates this space with lots of natural sunshine.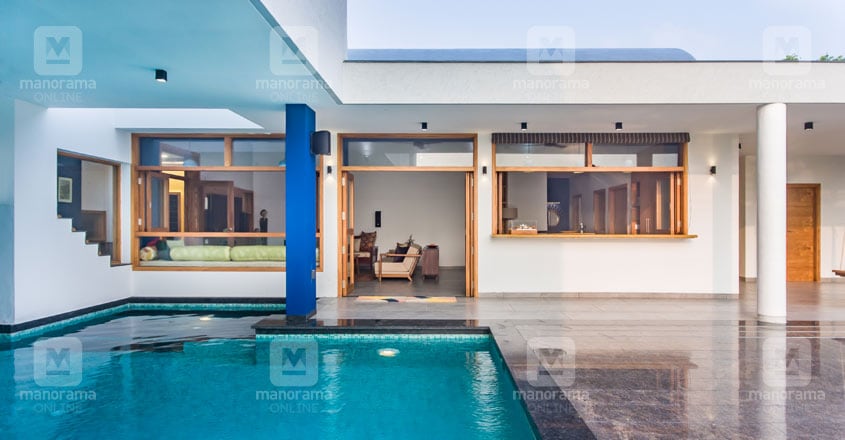 There is an open balcony and terrace adjacent to the rooms in the upper storey. One could enjoy the scintillating views of the mighty ocean from the balcony.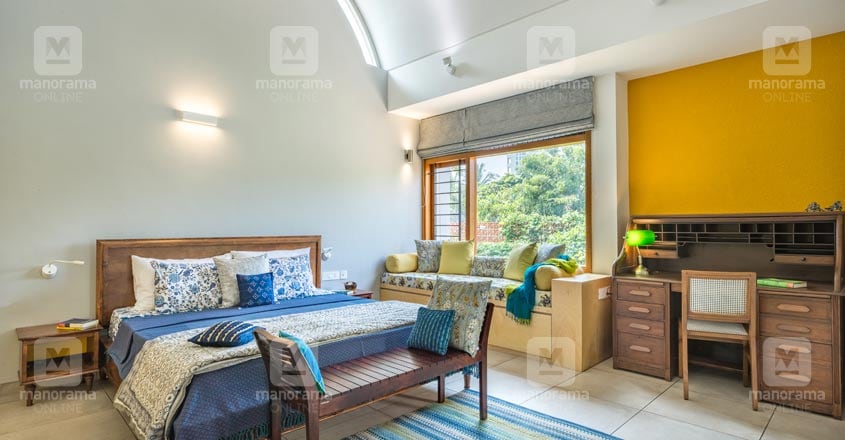 This house is the perfect holiday destination, which doesn't bring in the bustle of the city but only the cool breeze and stunning views of the coast.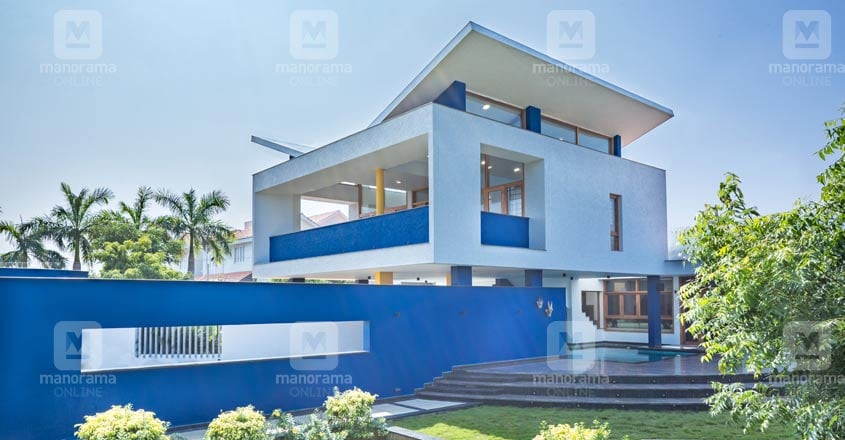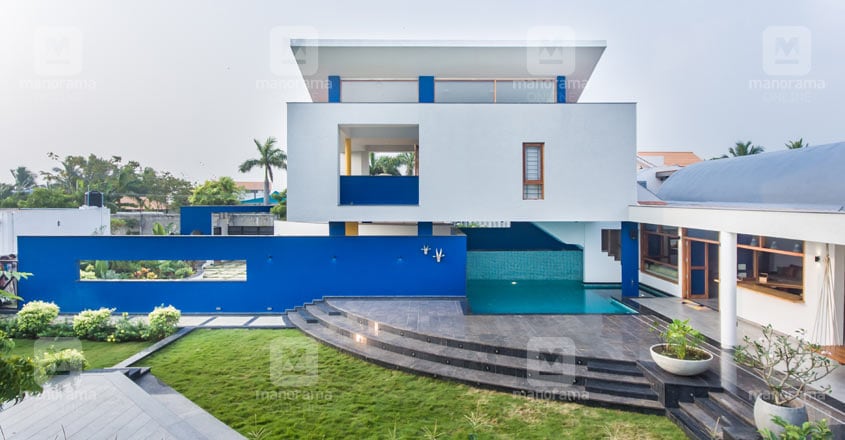 Project Facts
Location – Kovalam, Chennai
Area – 4000 SFT
Plot – 23 cents
Owner – Balaji Krishnamoorthy
Architects – Bhyrav BT and Aathira Zacharias
Mob - 8050506310