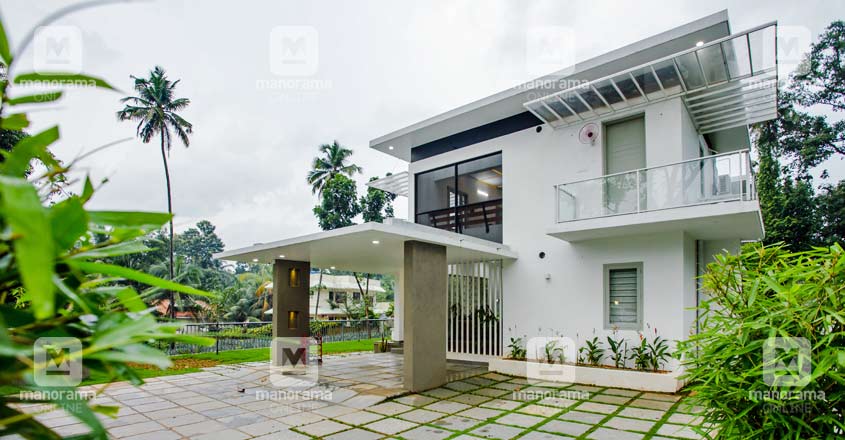 Pradeep's brand new house in Muvattupuzha in Kerala has pristine nature in the backdrop. The unique design of this house makes sure that the stunning beauty of the nature is reflected inside the house as well. The exteriors sport box-style designs that exude the elegant charm of contemporary architecture. The louvers and the glass windows act as amazing design features as well.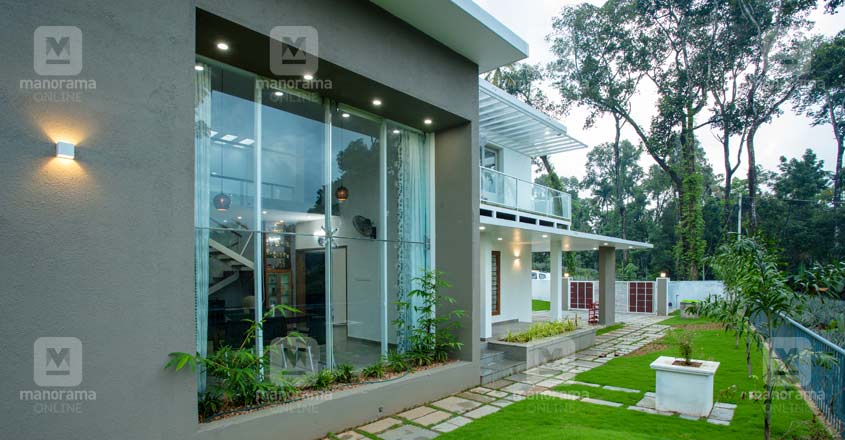 There is a car porch, sit-out, formal and family living areas, dining hall, courtyard, kitchen, four bedrooms, upper living area and a balcony arranged in 2800 sq ft area. The interiors are designed in the semi-open style which makes the spaces easily connected and accessible. The entire house dons the mesmerizing charm of the white hue which makes the interiors looks vaster and spacious.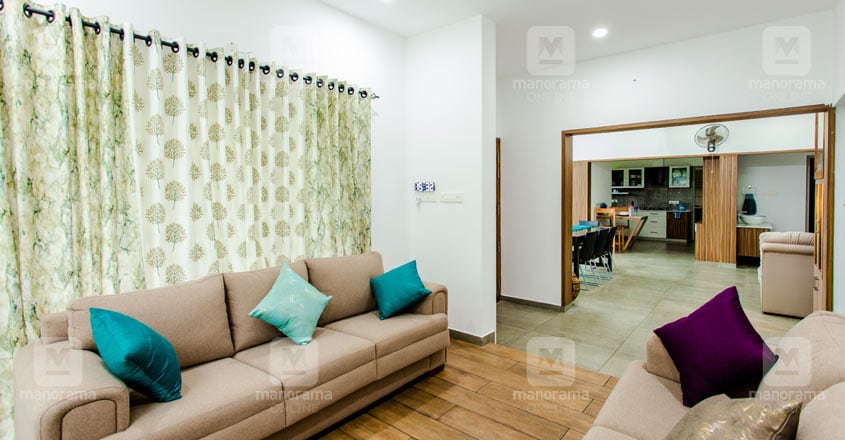 Vitrified tiles in white, wooden and la potra finishes are used for flooring in this house. The formal living area is separated by paving tiles in wooden finish which add a rustic charm to the area. The custom made furniture is classy and compliments the general theme of the house.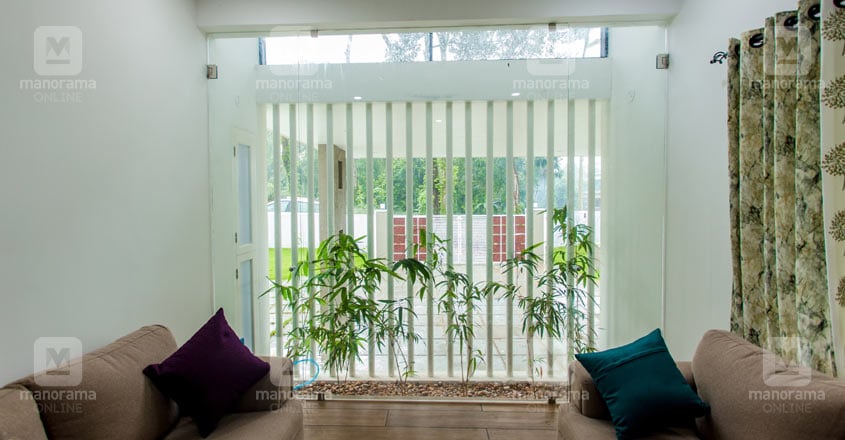 The courtyard is between the car porch and the living area. This area is tastefully decorated by paving shiny pebbles on the floor and with indoor plants as well. Louvers are installed on both the sides with glass panelling. The pergola above lets lots of natural sunshine into the house.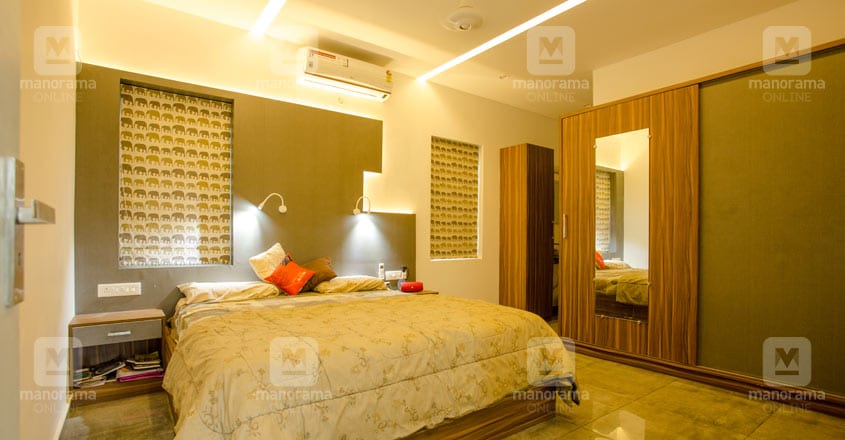 The dining space and the family living area are part of the spacious hall which is the highlight of the interiors. The entire wall beside the dining table is lined with glass windows which illuminates the entire house with sun shine. Besides, one could enjoy the beautiful view of the landscape as well.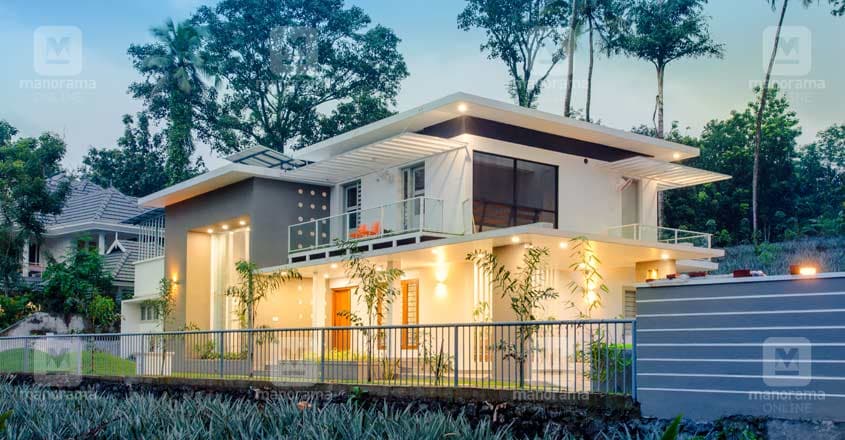 The stairway features the classic combination of wood and toughened glass. The TV unit, meanwhile, is arranged in the upper living area.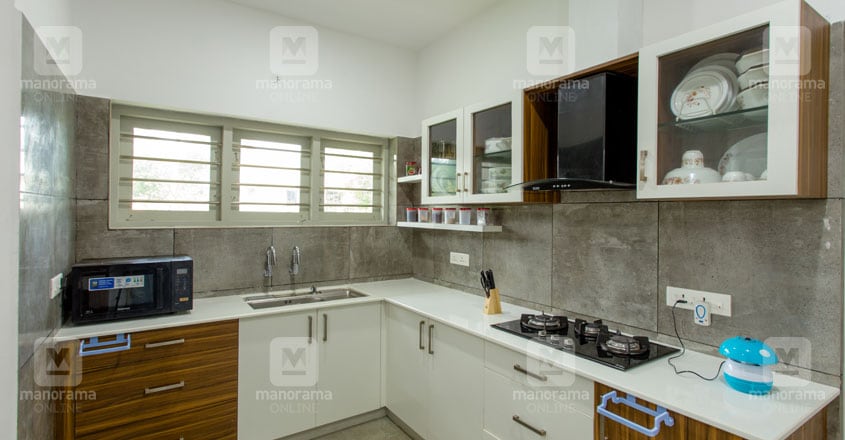 The head board paneling in plywood makes the bedrooms incredibly attractive. The minimal false ceiling actually enhances the charming elegance of the rooms. The bath attached bedrooms have in – built wardrobes for storage and separate dressing spaces as well.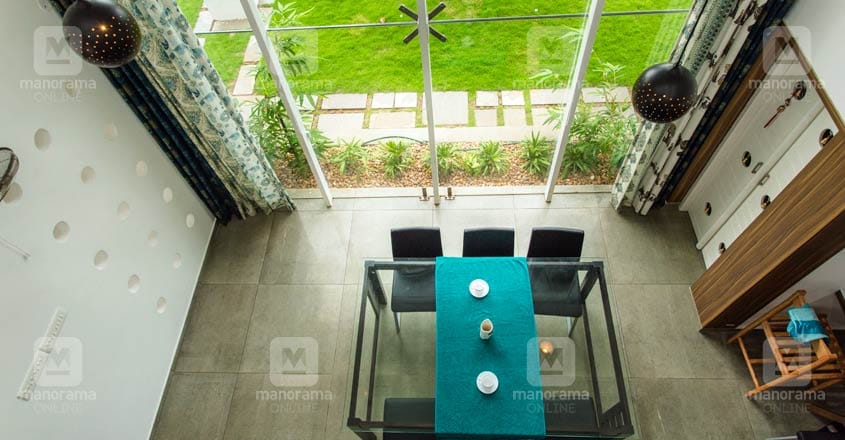 The kitchen dons the white and wooden theme. The cupboards here are done in plywood – mica finish. Nano white is paved on the counter top. An adjacent work area completes the kitchen space.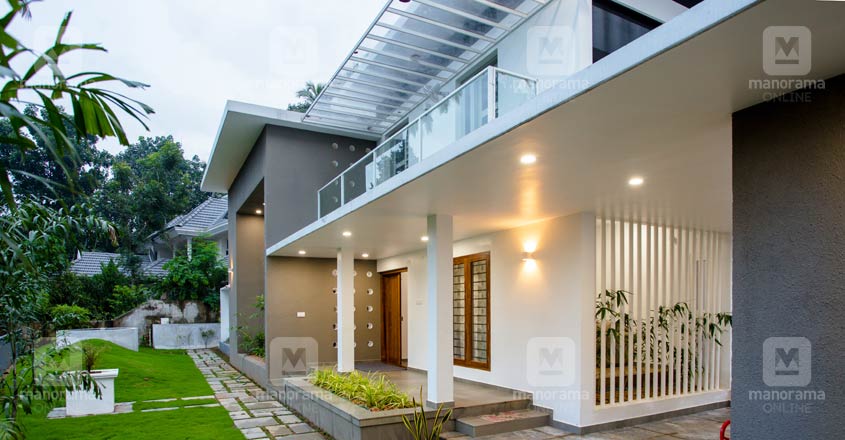 The aesthetically designed landscape plays a vital role in enhancing the overall look of the exteriors. Mexican grass and shabad stones are paved in alternate layers to make the front yard look attractive and neat as well. The windows in the house open to the beautiful view of this landscape and garden. The synthetic glass roof is the highlight of the balcony. Sitting spaces are arranged here from where one can enjoy the spectacular sights outside.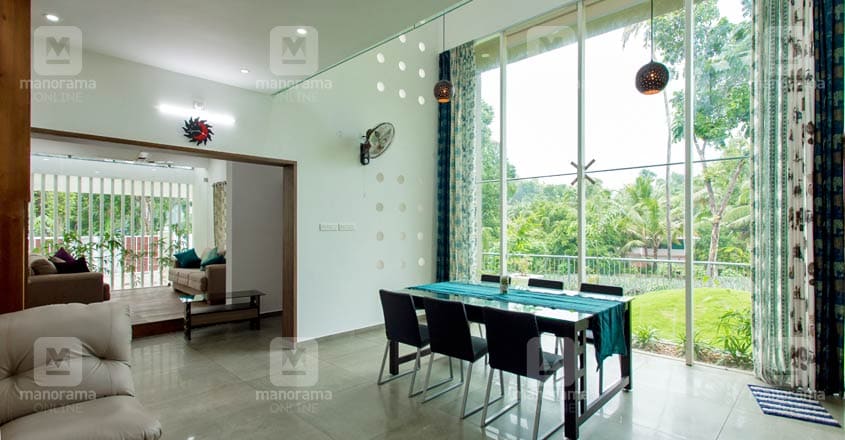 The unique designs and mesmerizing features of this house exude positive vibes that inspire the family members and the guests as well.
Project Facts
Location – Muvattupuzha
Plot – 12.5 cents
Area – 2800 sq ft
Owner – Dileep Balakrishnan
Architect – Rubense Paul
Thaksha Architects, Muvattupuzha
Mob – 9745695978
Year of completion - 2018