Hassan Koya and his family, who are settled in the United Arab Emirates, had some unique ideas and demands when they decided to build their dream home at his home town in Chettipady in Malappuram, Kerala. They didn't want their house to have any regular features or designs that are commonly seen in newly constructed houses. This has been their motto right from the very beginning of the construction of the house.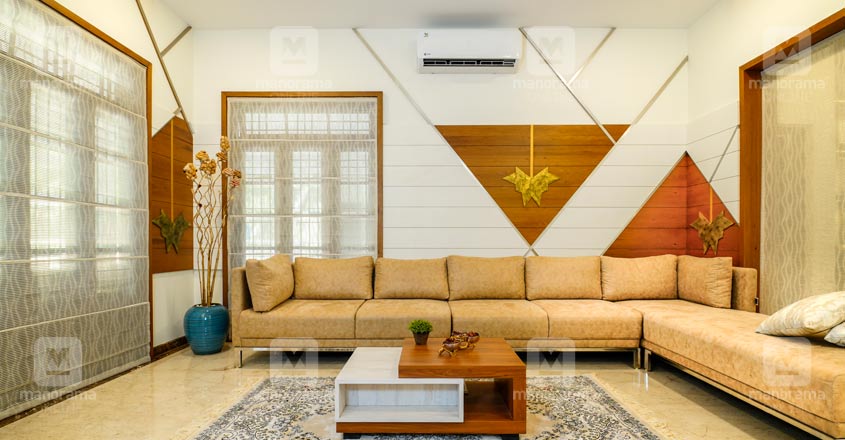 Though the exteriors exude the classic charm of the traditional architectural style, influences from the Arabic patterns and ideas could be spotted in the entire house. It could be seen in the compound wall with sand paper finish, the elevation and the structure as well.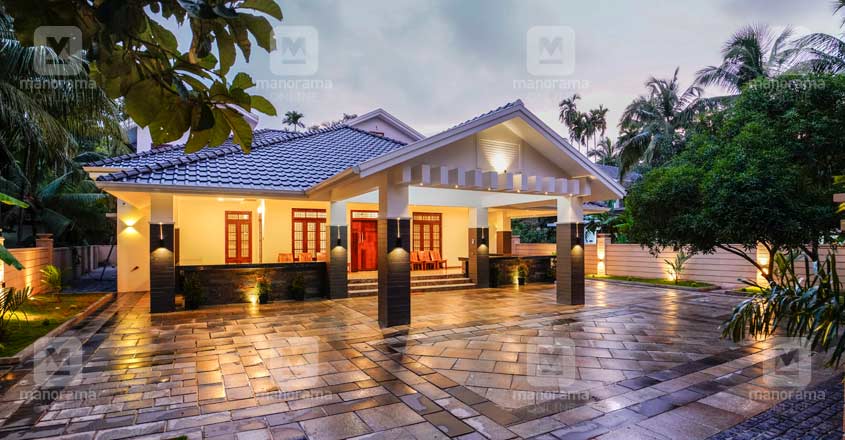 The perfect geometric patterns, stunning artistic works and intricate designs make the interiors look absolutely breathtaking. It is the geometric pattern, right from the living room to the bedrooms that add a stunning grace to the spaces. Beautiful cut works on wood, white laminate and veneer with texture finish have been used on ceiling, walls and partition walls as well.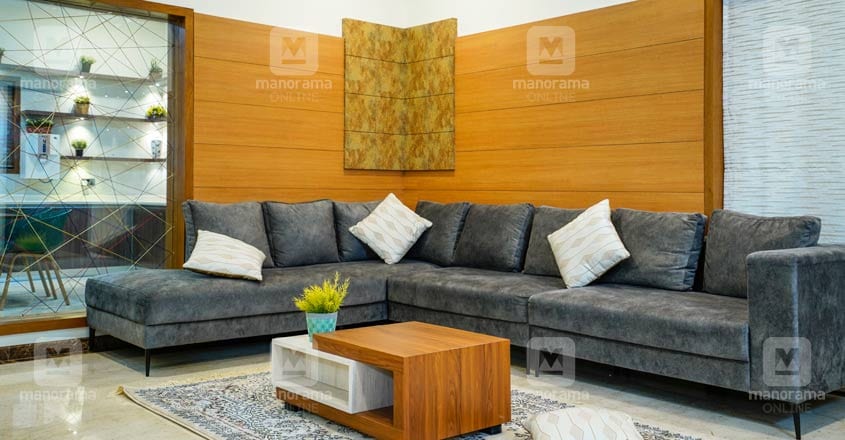 The owner's incredible knowledge in the latest technologies and trends helped him design the house of dreams with all the luxurious facilities and fancy patterns. A separate electrical room has been arranged to make maintenance easier.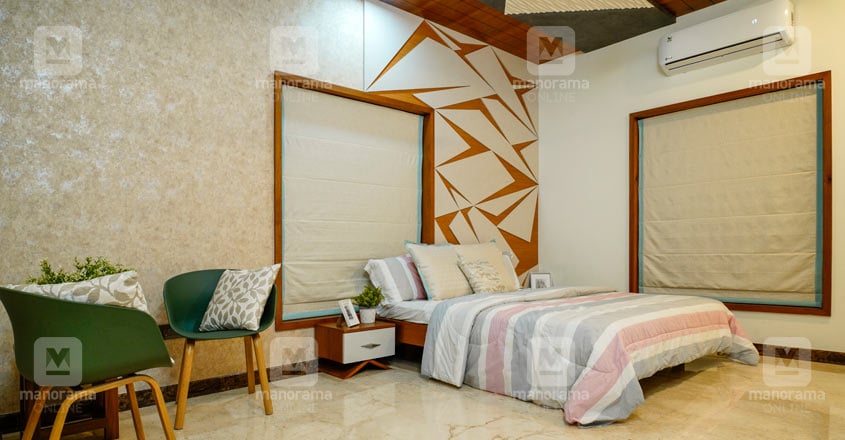 The interiors are designed in the open style which makes the spaces look vaster and spacious. The spaces don neutral shades which grant a soft look to the interiors. The classy elegance of veneer and amazing lighting makes the spaces pleasant and cosy. The regal charm of Italian marbles used for flooring is a luxurious feature here.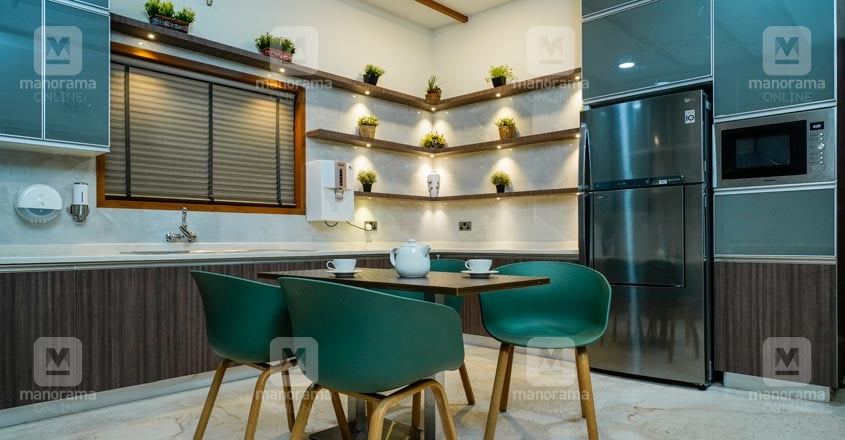 It was initially decided that all the facilities should be limited to the ground floor alone. However, a bed room and an office space too have been arranged in the upper storey.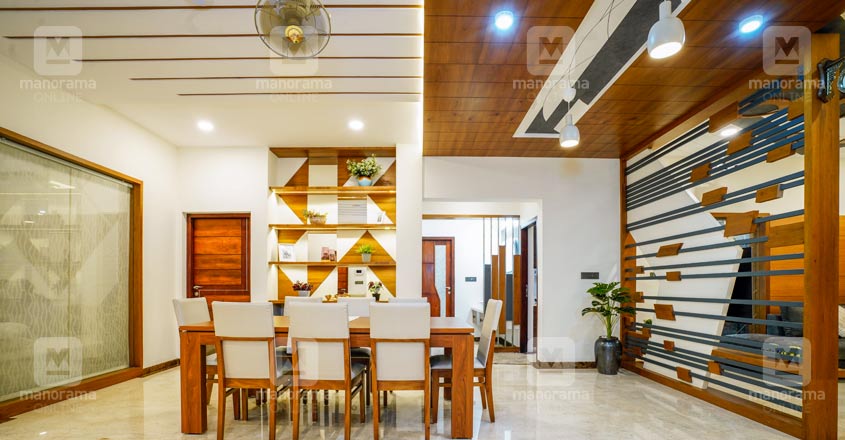 There are four bath-attached bedrooms with all the required facilities. Separate dressing units and built-in wardrobes are arranged in all the bedrooms. The eye-catching geometric patterns, ceiling and designer headrests make these rooms stand out. The partition that separates the living and the dining areas on the ground floor draws attention to its unique design.
Besides a show kitchen, there is a working kitchen as well. The counter top paved with Korean stone and the elegant glass designs make this a high end kitchen.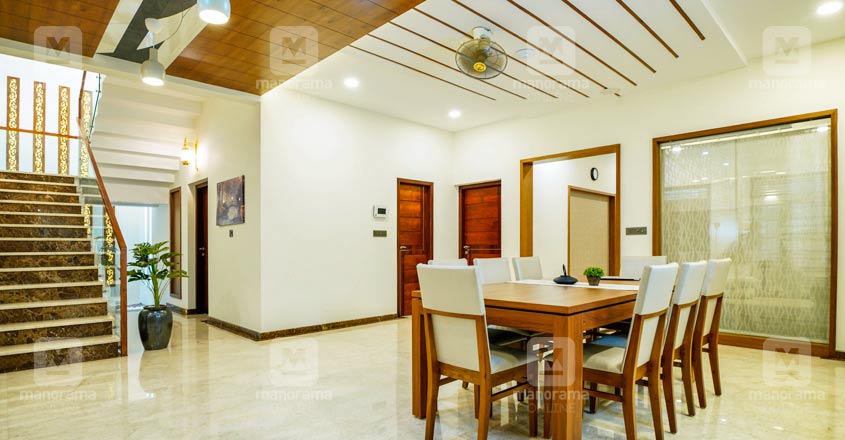 The family has contributed lots of unique ideas and designs that have made this house scintillating. This beautiful house could truly be called a dream abode as every corner of it has a personal touch from the owner.
Project Facts
Location – Malappuram
Area – 3000 SFT
Plot – 25 cents
Owner – Hassan Koya
Design – Muhammad Anees CP, Irfad NK Iyama Designs, Kozhikode
Ph - 9446312919