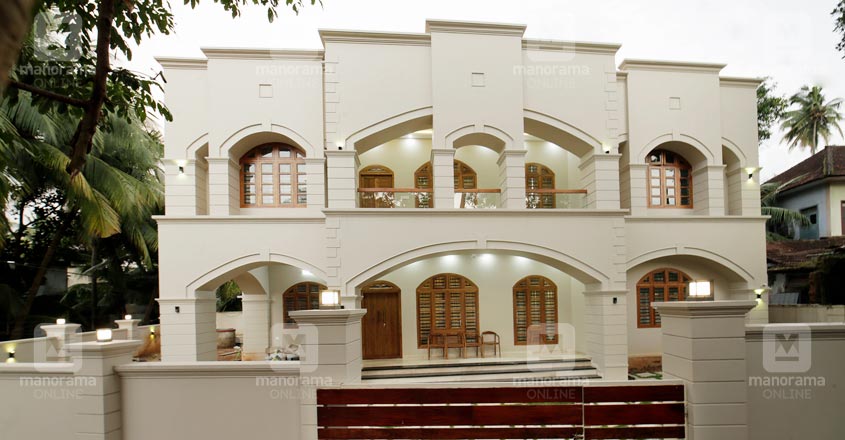 Like all expatriates Hashim too had dreamed of building his perfect dwelling at his home town in Kuttichira in Kozhikode, Kerala. The family wanted their brand new house to feature unique designs that make it stand out. The exteriors designed in the colonial architectural style exude classy elegance and panache.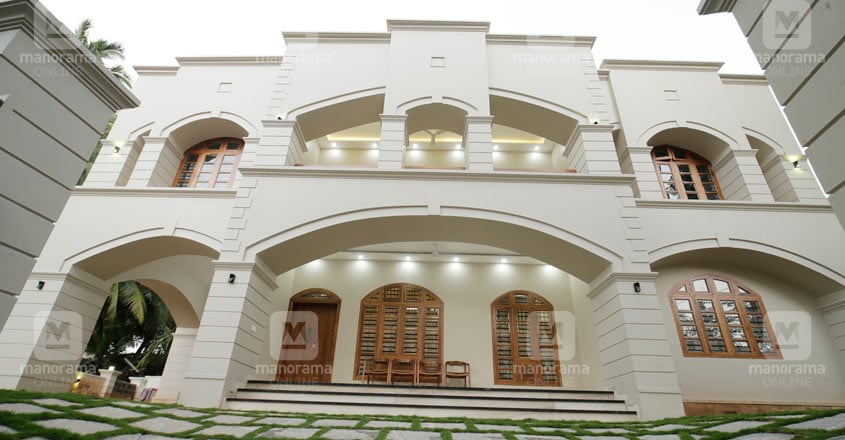 This beautiful mansion stand amazingly on a 22 cents plot that is narrower in the front. The stunning exteriors walls are not over crowded with any claddings or show wall. The plain elevation donning the serene white hue is the highlight here. The upper storey is designed as flat roof. Meanwhile, designer arches in the front give a regal charm to the exteriors.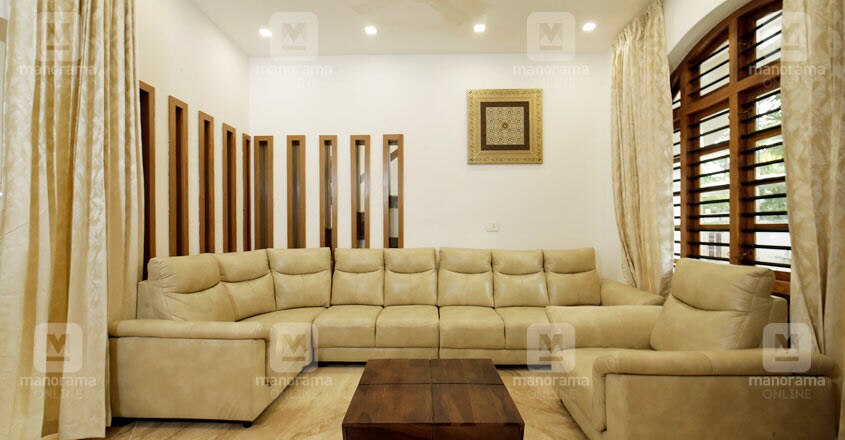 This spectacular house designed in 3400 sq ft has a sit out, formal and family living areas, dining space, kitchen with adjacent work area, four bedrooms, upper living area and an open terrace as well.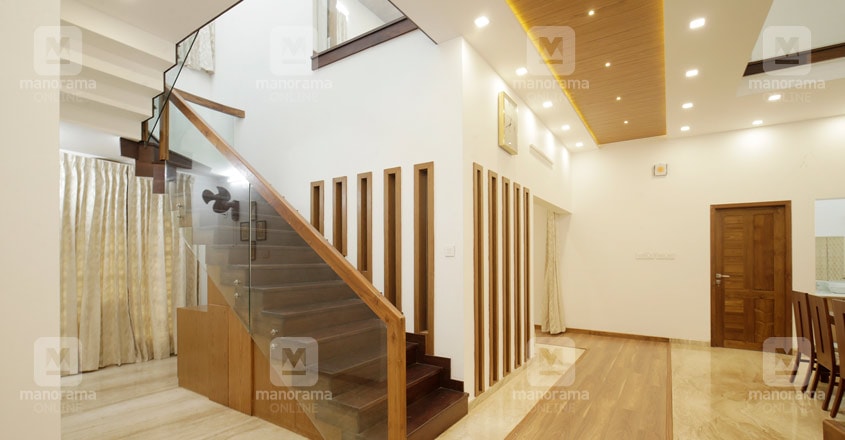 The entrance door opens to the formal living area which is designed by ensuring enough privacy. The custom made furniture compliments the general theme of the house. The dining hall is in the open style with double-heighted roof. A dining table is arranged here. Meanwhile, the formal living area and the stair area too are arranged as part of the spacious hall. All these features make the dining area look vaster and spacious. Besides, a stunning view of this area is possible from the upper storey.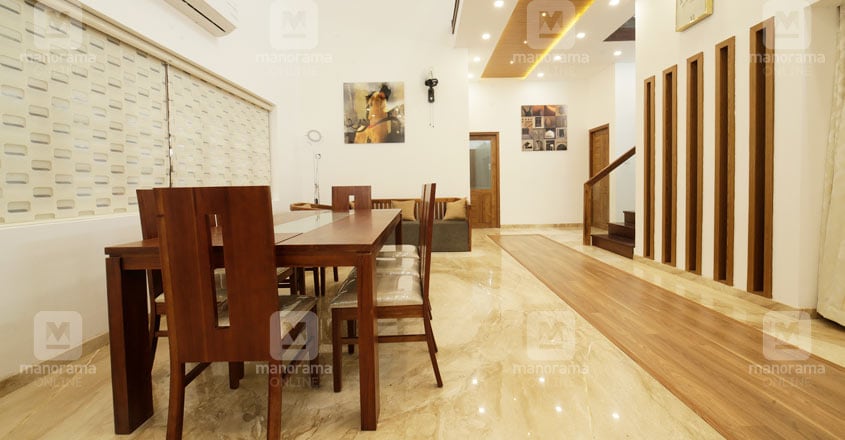 Italian marble in wooden finish is paved on the floor in the ground floor. Meanwhile, vitrified tiles in matte finish are used on the upper storey.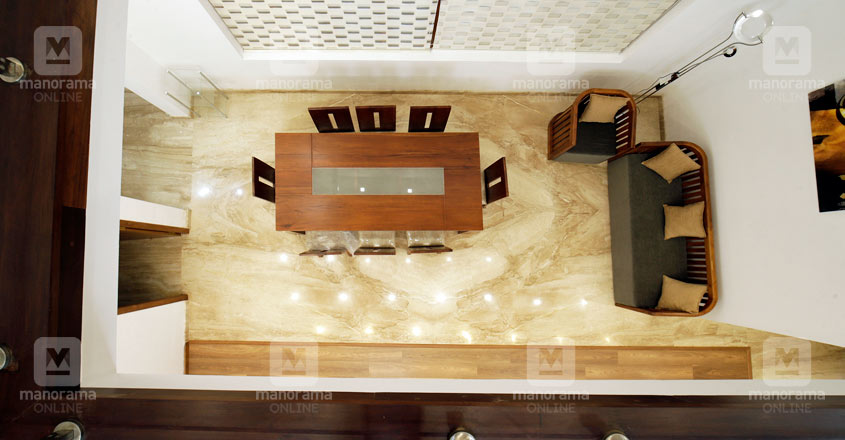 The stairway leads to the upper living area. The pergola ceiling here lets lots of natural sun shine into the interiors.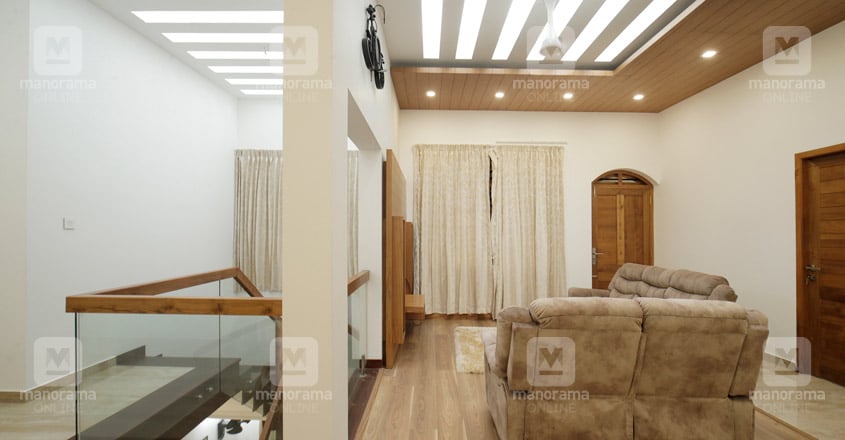 There are two bedrooms in each floor. A beautiful majlis too has been arranged in the upper storey. The bath-attached bedrooms have built-in wardrobes for storage and separate dressing spaces as well.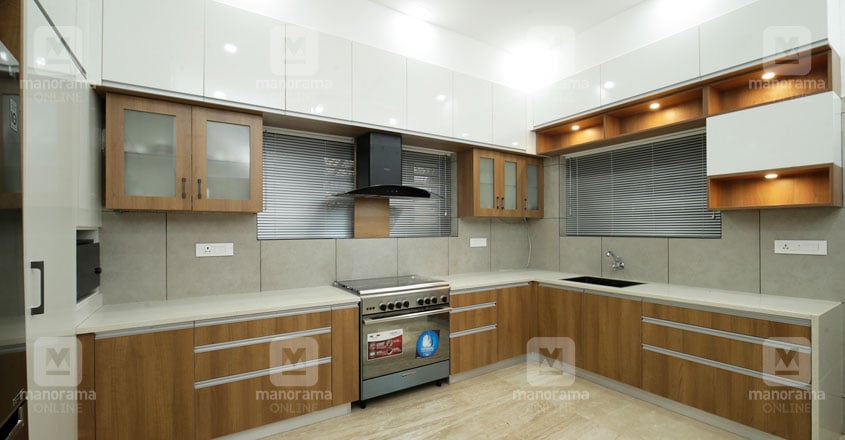 The kitchen cabinets are done in marine plywood finish. Nano white is paved on the counter top. An adjacent work area completes the kitchen area.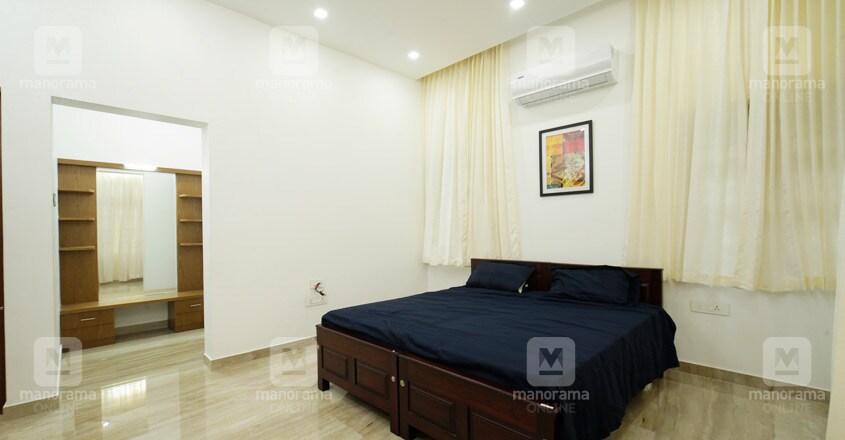 The construction of this elegant house, including the structure and furnishing, was completed on a budget of Rs 65 lakh. This is quite profitable when the current market rates of the construction materials per square feet are considered. The family's dream of building a beautiful house that draws attention has been fulfilled, that too without spending an overwhelming amount of money.
Project Facts
Location – Kuttichira , Kozhikode
Area – 3400 SFT
Plot – 22 cents
Owner – Hashim
Designers – Faseel, Rameez
Ample Space Designers, Kozhikode
Mob – 98462 22628
Year of completion – September 2019