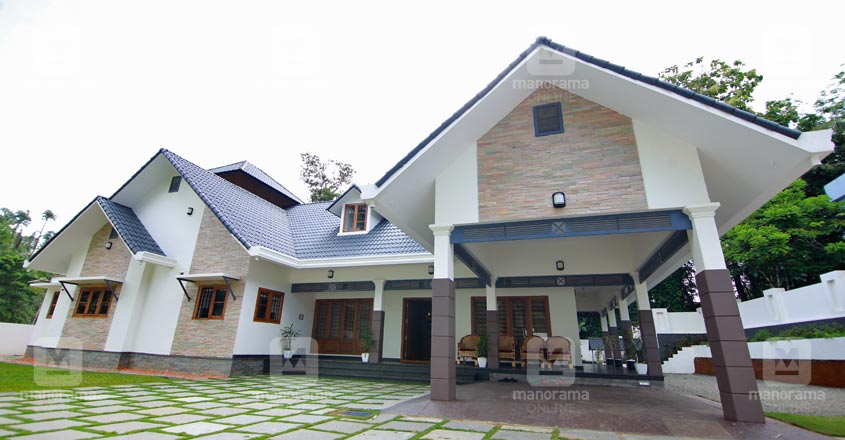 Prince Varghese's brand new house at Thottakad in Kottayam, Kerala is a comfortable abode that has been designed by giving equal importance to looks and facilities. This beautiful house is designed by engineers Sajith and Sajesh who are also brothers, by keeping in mind the likes and demands of the family members.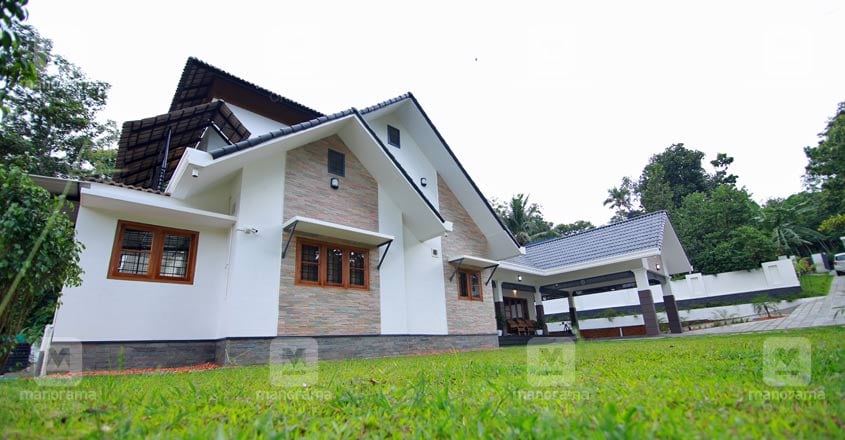 A spectacular landscape, sprawled in the 30 cents lands, lets the rainwater that fall on the roof and on the land easily seep into the earth. Plants and shrubs that require minimal care are planted in the landscape. Natural stone and buffalo grass are paved in alternate layers in the front yard. The red pebble stones that are paved around the structure add the perfect contrast against the mesmerizing greenery of the landscape.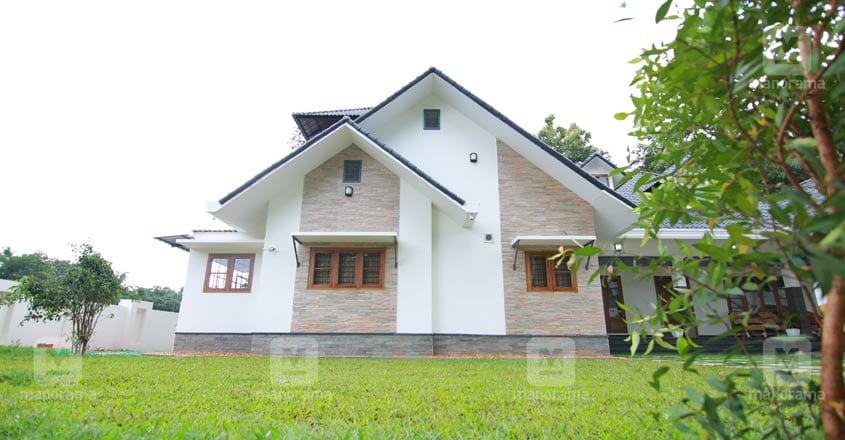 The amazing house designed in 2485 sq ft area has a sit-out, formal and family living areas, dining space, kitchen with an adjacent work area, an upper living space and four bedrooms. The elegance of the lapotra granite used for flooring in the sit-out and the stairway is quite prominent. Vitrified tiles in white hue are paved in the rest of the house. Meanwhile, the floor from the foyer to the formal living area is highlighted using wooden tiles.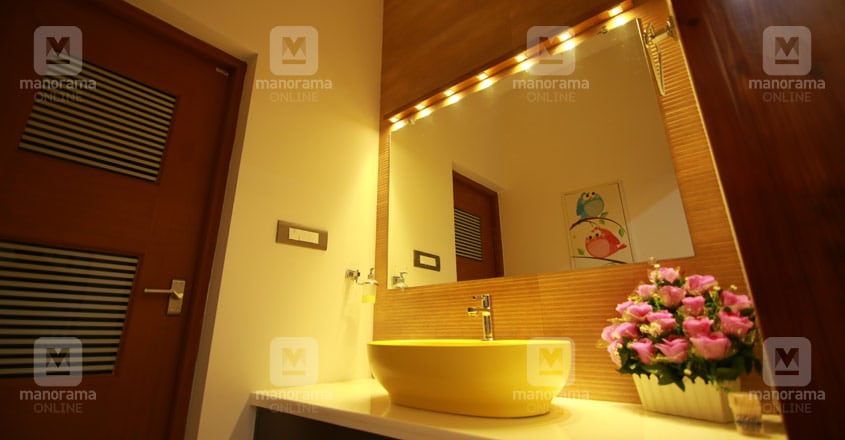 Wooden louvers are used to separate the formal living area and the dining space. This also acts as an interesting design feature. A quaint yet elegant dining table, the family living space and the stairway are all part of the spacious dining area.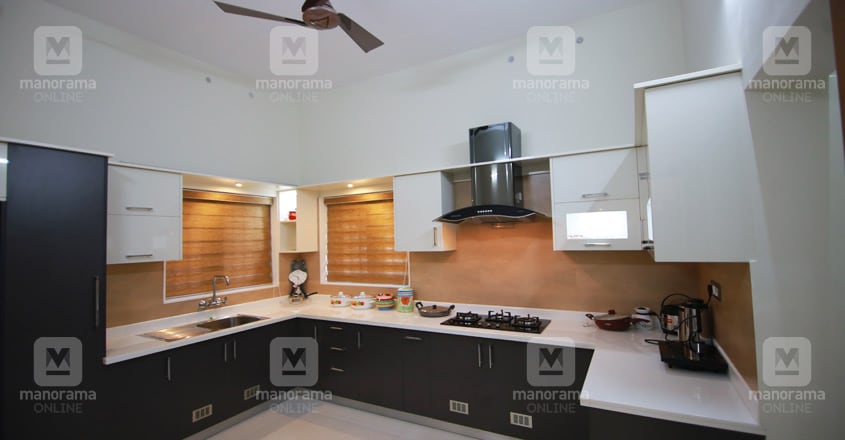 The handrails of the stairway are done using mild steel. The indoor plants near it add a hint of greenery inside the house. Meanwhile, the wall near the landing of the stairway has been turned into a beautiful photo wall where the framed pictures of the family members are arranged in interesting patterns. Truss work is installed above the upper living area which has been turned into a spacious party hall.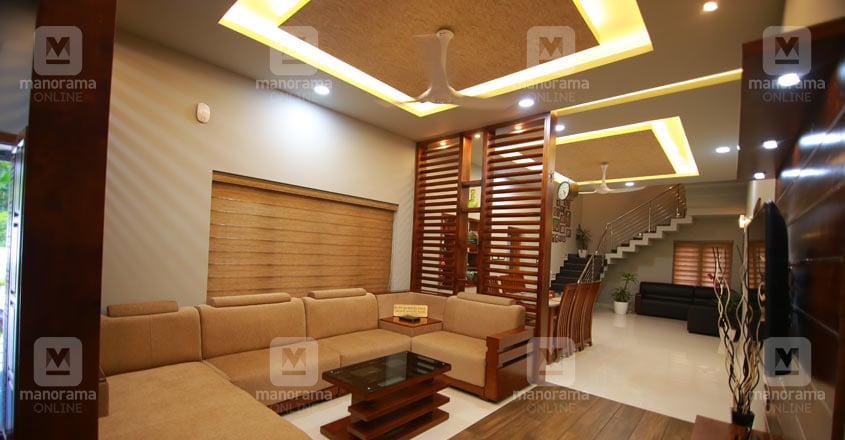 There are two bedrooms each in both the floors. The bath attached bedrooms have in – built wardrobes for storage.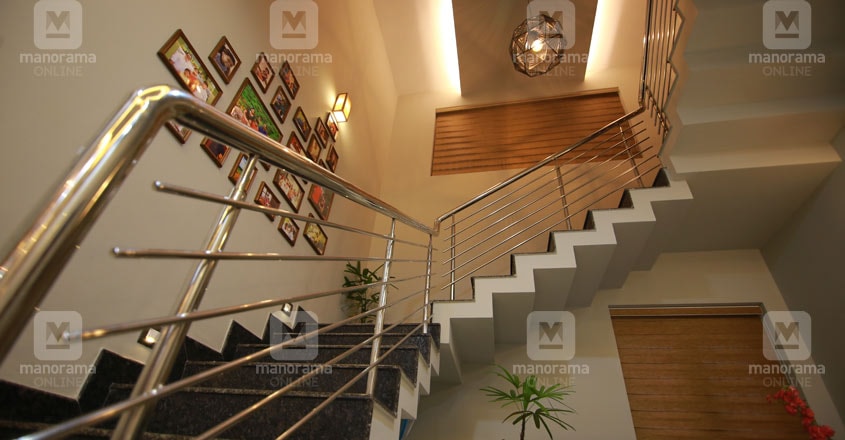 The kitchen cupboards are made using marine plywood with glossy HDF finish. Artificial granite is paved on the counter top.
This spectacular house, which doesn't feature any extravagant design features or luxuries, has all the modern facilities arranged in the most elegant way. The family is absolutely thrilled that the designer duo has made the perfect house of their dreams.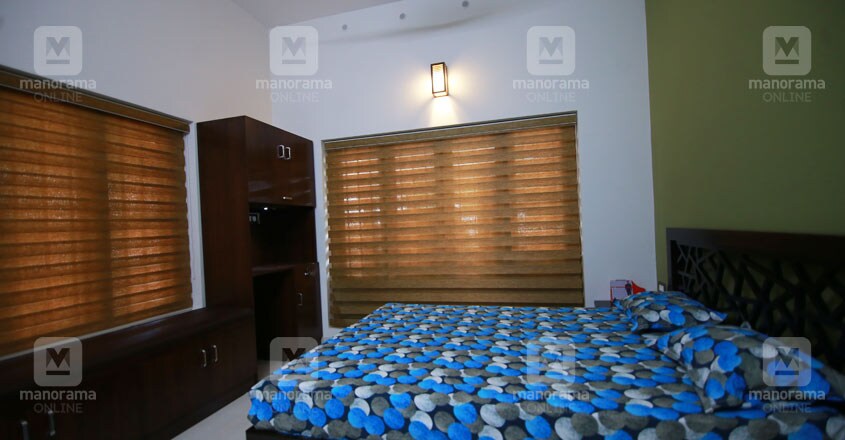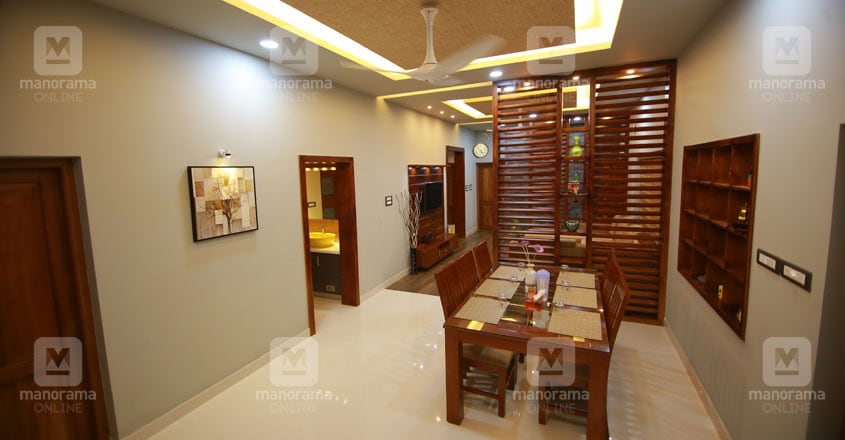 Project Facts
Location – Thottakadu, Kottayam
Plot – 30 cents
Area – 2485 SFT
Owner – Prince Varghese
Engineers – Sajith and Sajesh
Sajith and Sajesh Associates, Mallapally
Mob – 9947778226, 9744751120
Year of completion - 2018