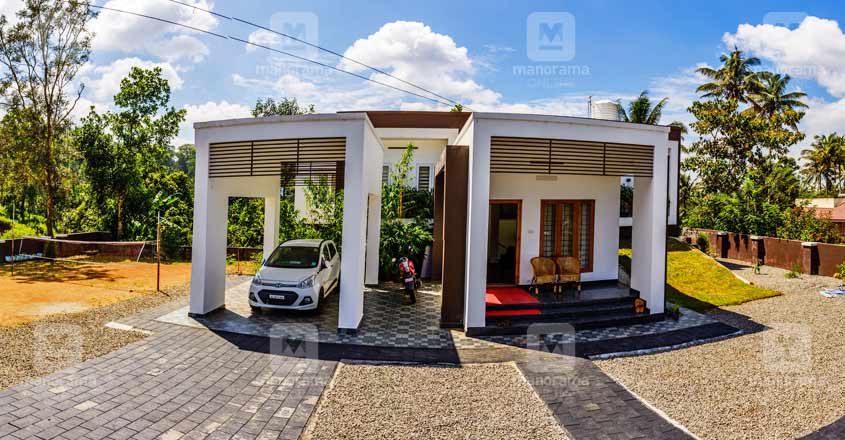 Mareena Cherian's brand new house at Kochuthovala near Kattapana draws attention for its interesting designs. Though the house looks like a single storied structure from the outside, it actually has three floors. Through smart designs and unique features, this beautiful house overcomes the challenges posed by the 50 cents plot that lies in multiple levels.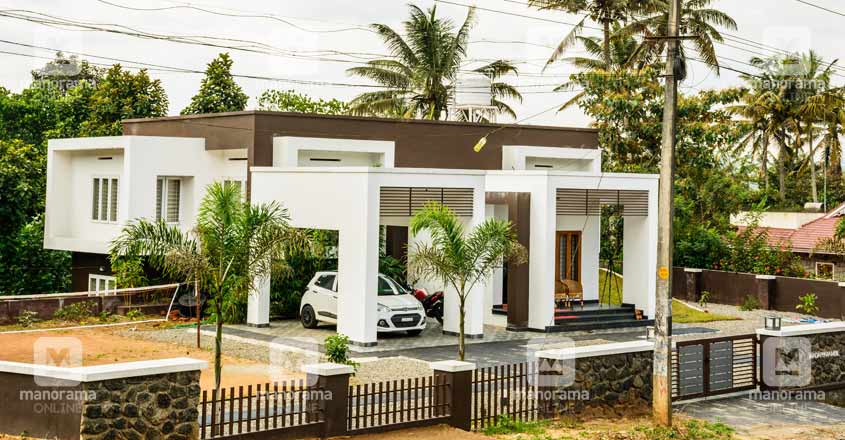 The spaces are arranged in three levels that have a total area of 2077 sq ft. The family living area and two bedrooms are in the basement, while the car porch, sit-out, formal living area and courtyard are arranged in the ground floor. The first floor has the dining space, kitchen with an adjacent work area and two bedrooms.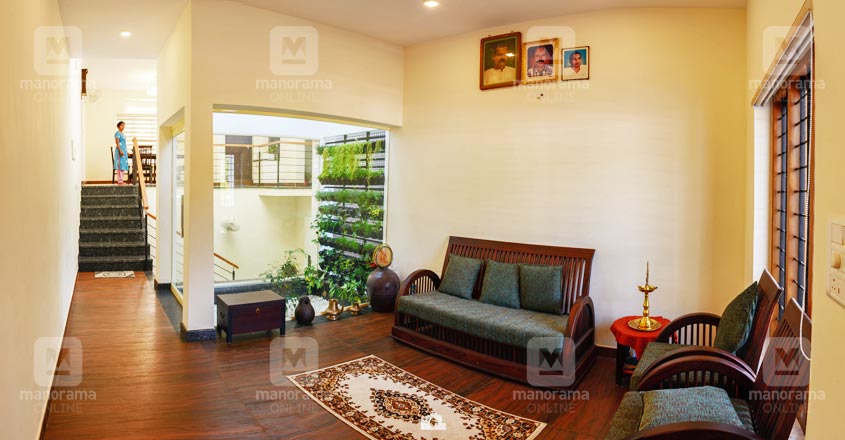 A huge amount of money was spent to build the foundation and to arrange the spaces. However, the furnishing has been done in minimal style. The family has tried to take advantage of all the available opportunities to save money.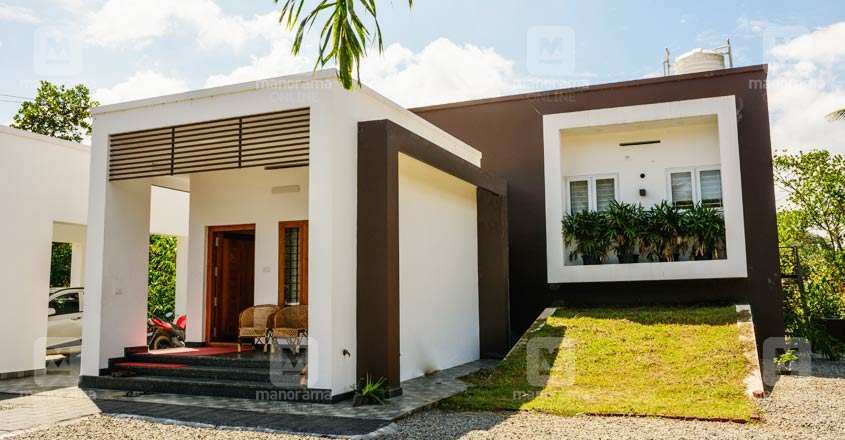 The exteriors that don the classic colour combination of white and coffee brown exude the elegant charm of the contemporary style. The simple landscape goes well with the minimal features of the exteriors. Natural stones are interlocked on the drive way. Plants and shrubs that require minimal maintenance are featured in the landscape. The boundary wall and the gate are shorter than the regular designs.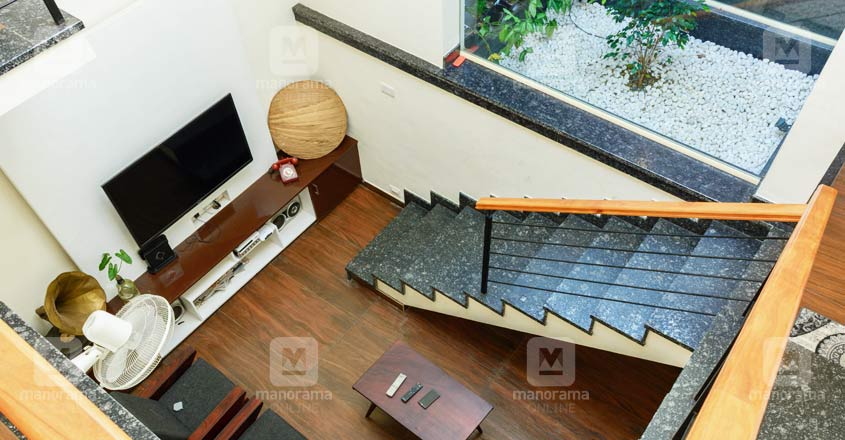 Among the many factors that helped keep a check on the expenses, avoiding the false ceiling played a vital role. Instead, light points are directly installed. The use of timber is limited and the door frames are built in concrete. The doors and windows inside the house are done in UPVC. Moderately priced readymade furniture adorns the interiors. Old pieces of furniture were given a fresh coat of polish to be reused in the family living area.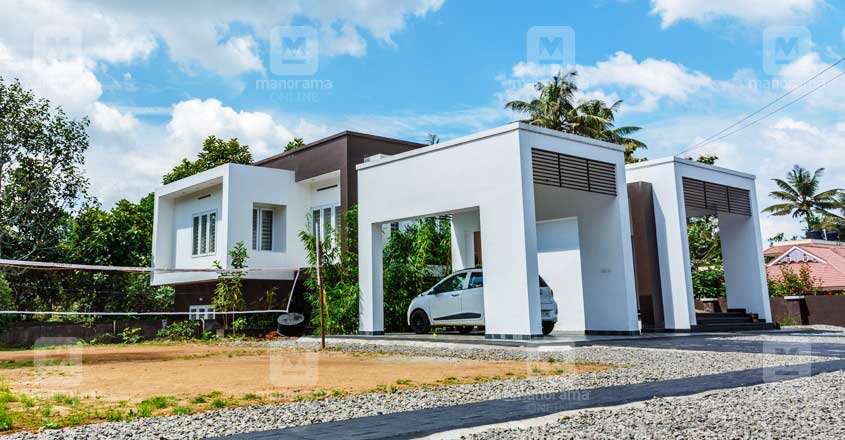 The courtyard beside the formal living area is the highlight of the interiors. The open roof courtyard welcomes the pleasant sunshine, cool breeze and the refreshing rains into the house. Shiny pebbles are paved on the floor in the courtyard. This courtyard plays a pivotal role in ensuring excellent ventilation by pushing out the warm air.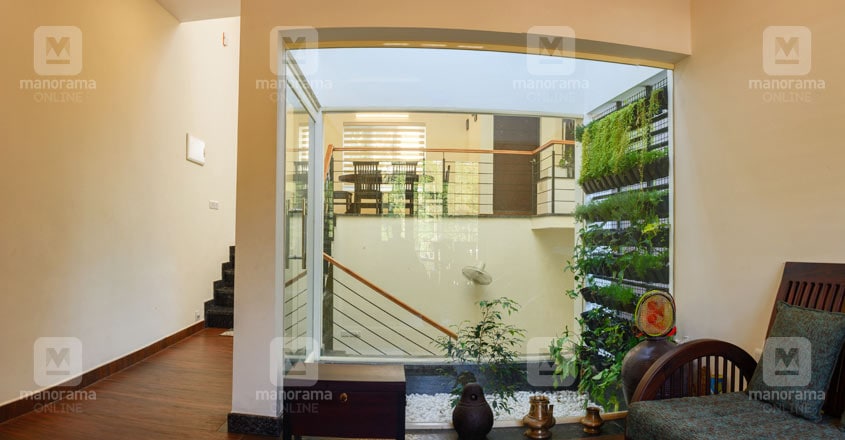 Vitrified tiles in wooden finish are paved on the floor in the common areas. Meanwhile, granite is used in the sit-out and the stairway.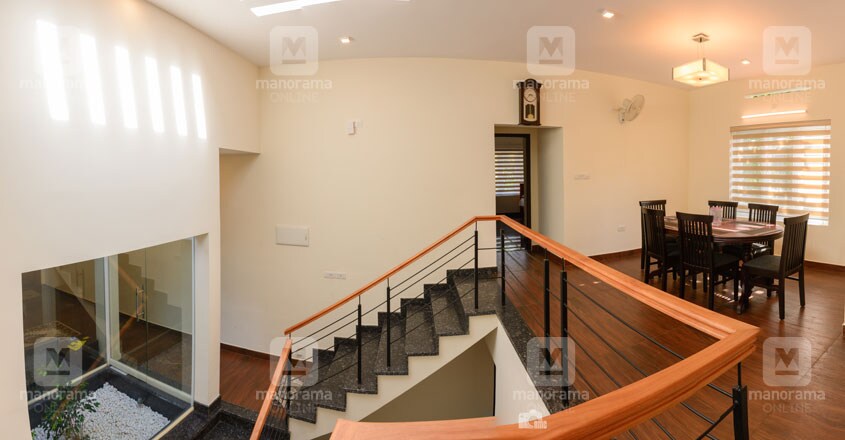 The kitchen cupboards are done in multi-wood with auto paint finish. Granite is paved on the counter top. An adjacent work area completes the kitchen.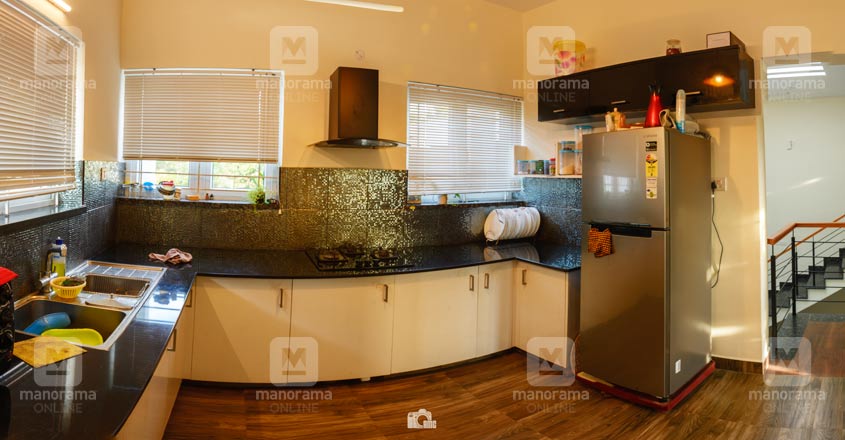 The guests are overwhelmed and surprised by the unexpected features that await them inside the house. This house becomes a perfect example for those who are planning to build a comfortable house with all the facilities on an uneven plot.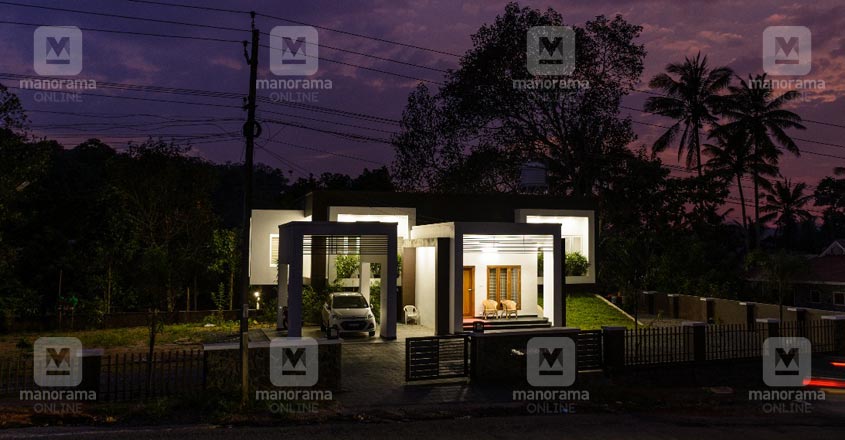 Project Facts
Location – Kochuthovala, Kattapana
Plot – 50 cents
Area – 2077 SFT
Owner – Mareena Cherian
Architect – Deepak Thomas
Concreators Architecture, Kattapana
Mob – 9744253123
Year of completion - 2018