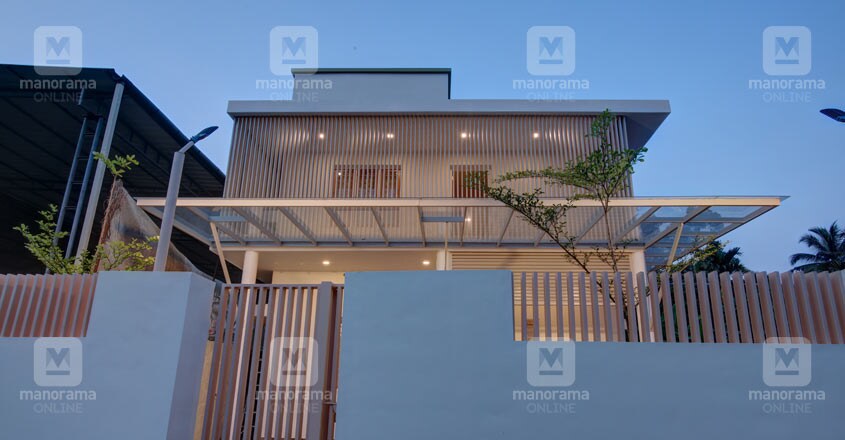 Sharafudeen's brand new house at Perumbavoor is the perfect example of a scintillating house design, with all the modern facilities, built on a smaller plot.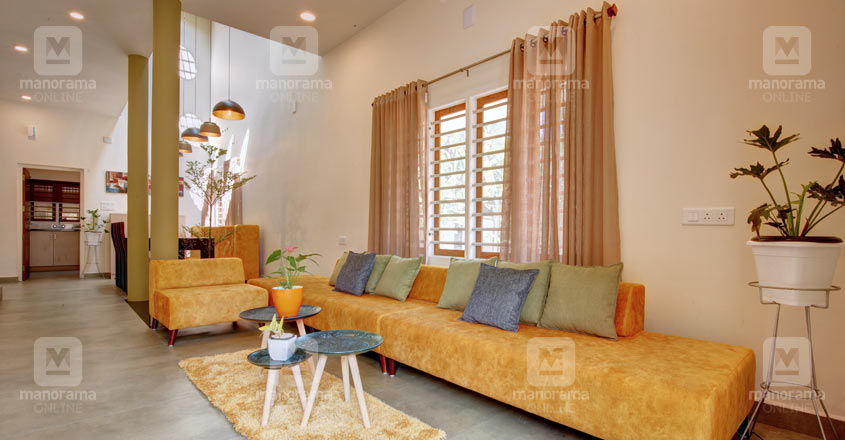 The exteriors feature elegance of contemporary style. As the 8 cents plot is wider, the structure has been built by leaving lots of space for the backyard. The louvres in the elevation draw instant attention and regulate the light and air that get into the house. Besides, they act as an eye-catching design feature and provide additional security too.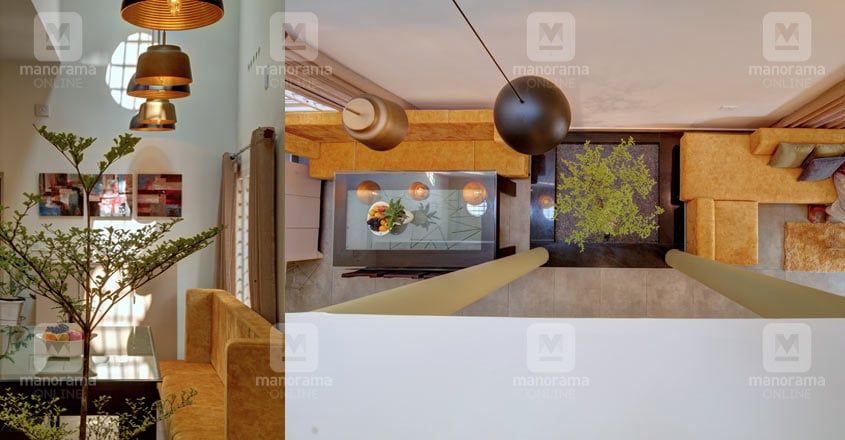 This spectacular house, designed in 2500 sq ft area, has living and dining spaces, 4 bedrooms, study area, upper living area and kitchen. The interiors are designed following the theme of minimalism. These unique designs and arrangements wouldn't lose its charm even after years. Moreover, the most impressive fact is that all these facilities were built on a very reasonable budget.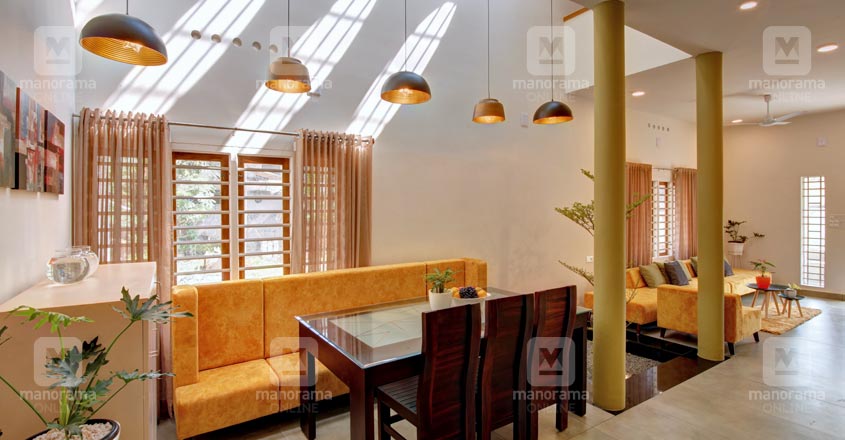 As there isn't enough landscape in the front yard, the family had insisted that the living and the dining space, designed in double height, should be adorned with indoor plants that would add a hint of greenery.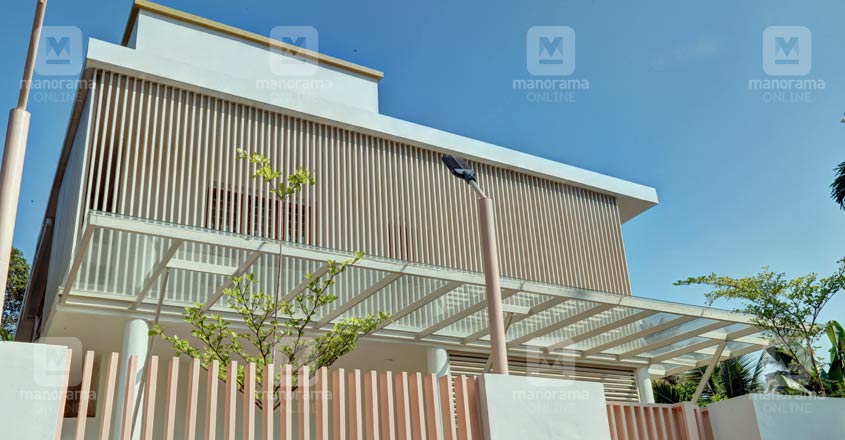 Unnecessary walls have been avoided in the interiors to make the spaces open and vaster. Space is arranged in such a way that the free and easy flow of natural sun shine and fresh air is not blocked.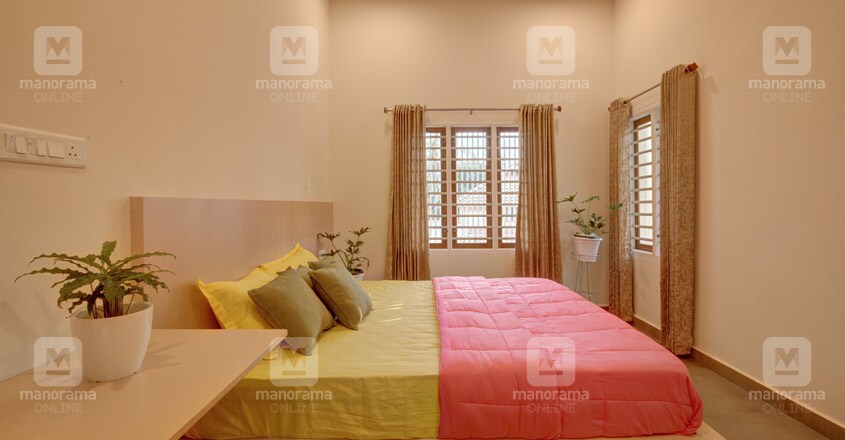 The soothing neutral shades, spotlights, stylish hanging lights, indoor plants and other decor elements make the elongated interiors elegant.
The huge windows, double heighted spaces and the pergolas create the perfect chiaroscuro of light and shadows as the sun changes its position. There is no need to switch on the light or fans during the day time.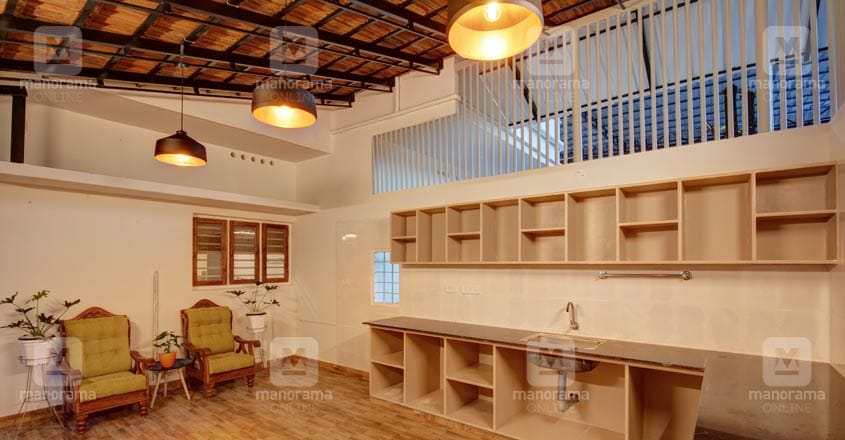 Vitrified tiles in matte finish are used for flooring. The long verandahs lend an old world charm to the interiors while the ramp adds a modern twist. The work area has truss work paved with roofing tiles. The kids' bedroom, upper living area and study space are arranged on the upper floor.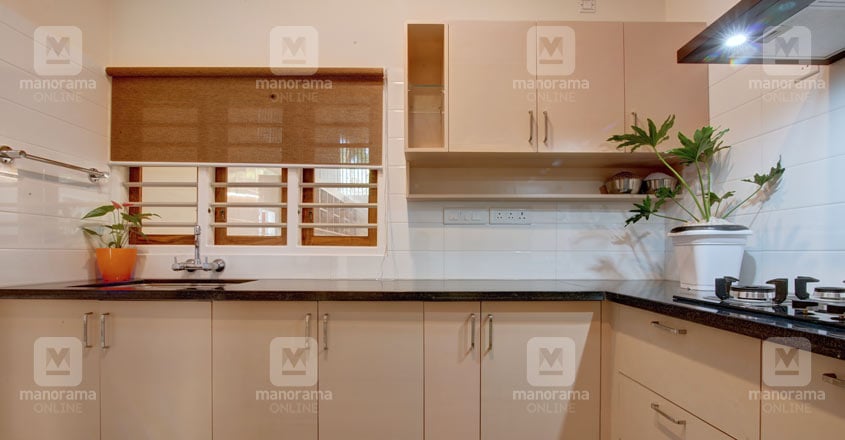 The bedrooms are designed in simple designs by giving prime importance to excellent space management. The construction of this beautiful house, including the structure and furnishing, was completed on a reasonable budget of Rs 32 lakhs.
Project Facts
Location – Perumbavoor
Plot – 8 cents
Area – 2500 SFT
Owner – Sharafudeen
Year of completion – 2019
Designer – Sanas P Hameed
Nora Architects and Interiors, Perumbavoor
Phone – 9961 637227