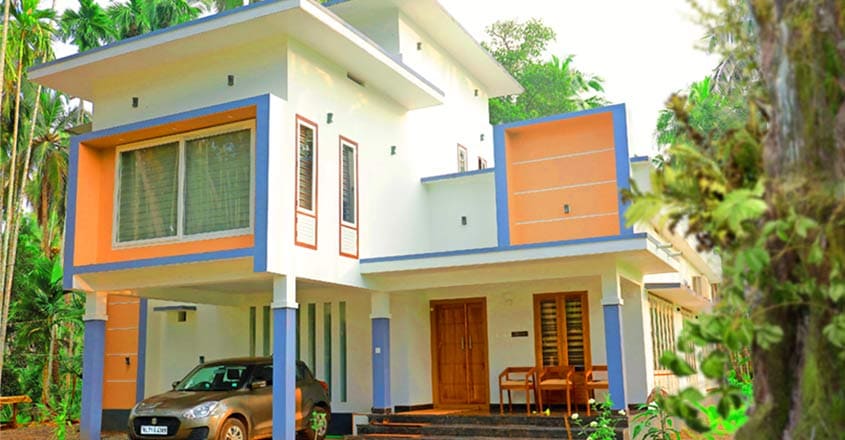 Mridula's brand new house at Palemadu in Malappuram district, Kerala dons the mesmerizing features of the contemporary architectural style. Meanwhile, the interiors, designed in 2130 sq ft area, feature the classic elegance of the traditional architecture. This house, built on a moderate budget, has all the facilities and boasts of high quality building materials and techniques as well.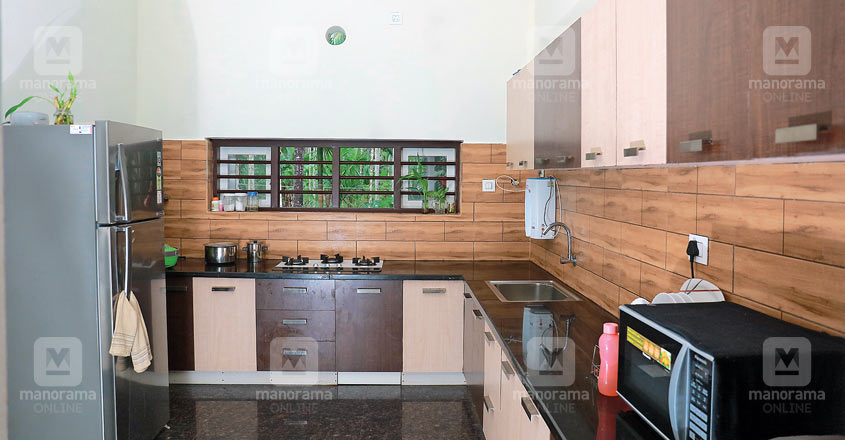 The elevation is designed in the box style. The spaces are arranged by strictly following the rules of the vastusastra. The construction of the house was completed in just 6 months, on a moderate budget of Rs 25 lakh.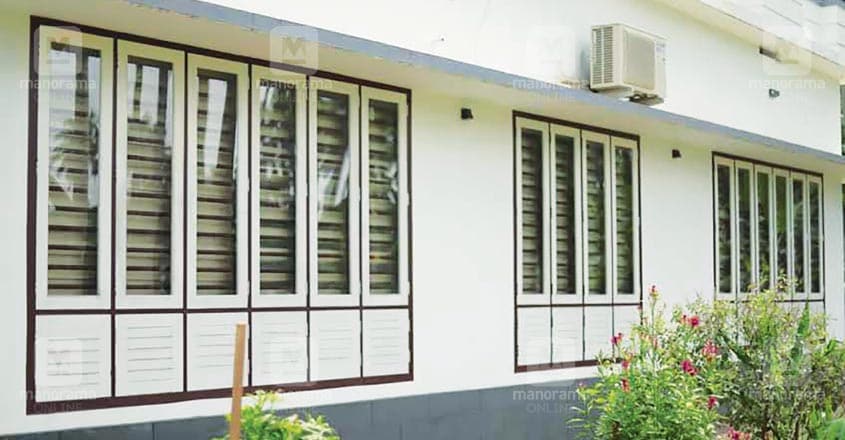 The living, dining, kitchen and the adjacent work area are designed on minimalistic style. The family wanted four bedrooms in the house. One of the bedrooms is at the half landing space of the stairway. This bedroom which is neither on the ground floor nor on the upper storey is in fact the highlight of the interiors.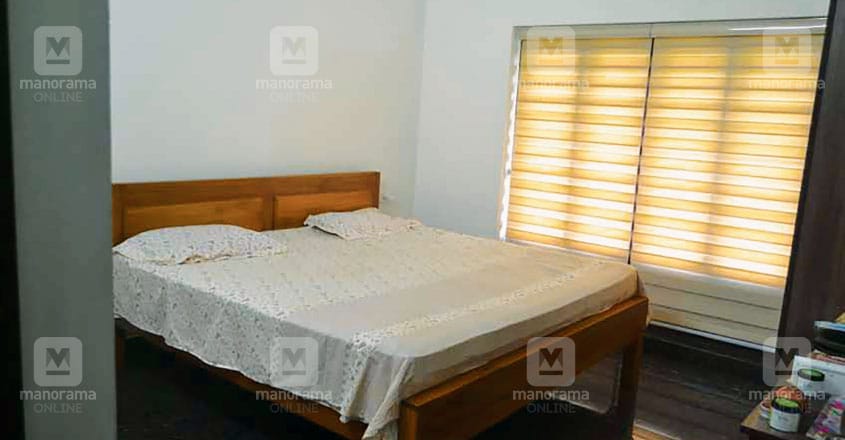 No cheap materials have been used for keeping construction expenses low. The architect says that reducing the area of the house in square feet is the reason why they could complete the house on a pocket friendly budget. Using the half landing space wisely to the advantage of the design is what made a significant impact on the budget.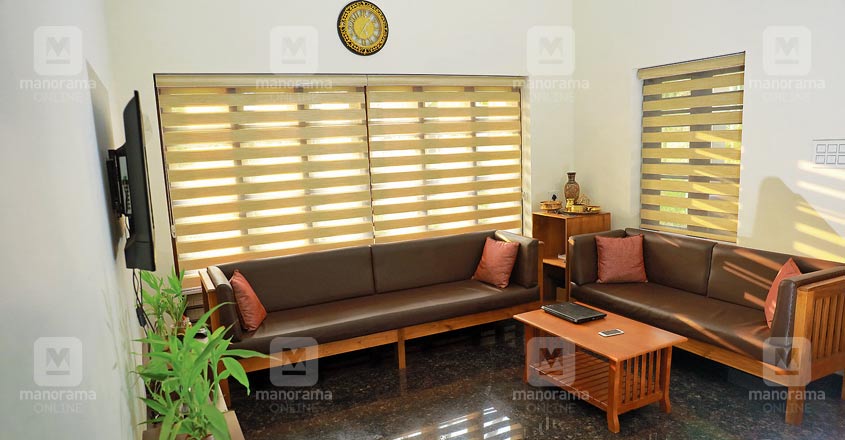 The furniture that has a classic touch to it makes the interiors look scintillating. These elegant pieces perfectly fit into the tiny spaces. Granite is used for flooring in the house. In the kitchen, the cupboards are made of mica with laminate finish. Meanwhile, the counter top is paved with granite as well. Instead of wood, the windows are made of steel. The demand for steel windows is increasing as they wouldn't get rusty or get attacked by termites. Besides, they are cheaper than the wooden windows.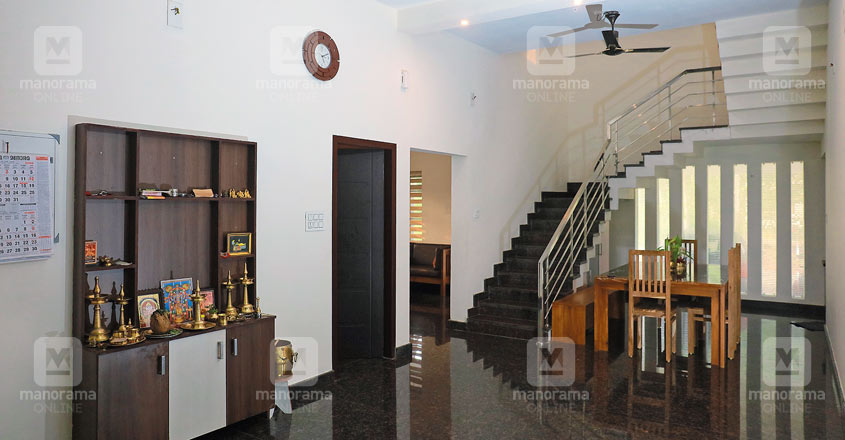 In the interiors, instead of a wall, a vertical pergola with glass finish is added. This brings in lots of natural light to illuminate the spaces. This pergola is actually visible on the elevation. The bedroom in the half landing too has a toughened glass wall instead of a typical window, to ensure the supply of natural light. Besides, this acts as a designer element on the elevation as well. There is an open space in the upper floor beside the service area. This area is spacious enough to construct up to three bedrooms in the future.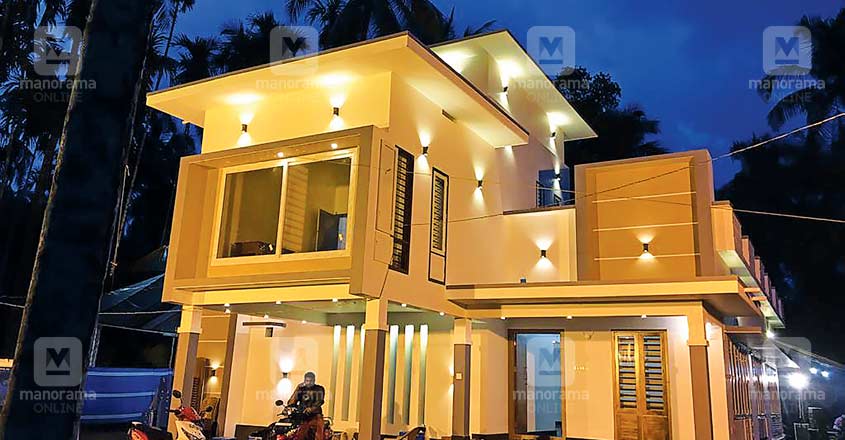 Each space in this house is arranged without compromising on quality and beauty. The architect and the family say that such a spectacular house could be easily built on a low budget with proper planning and execution.
Project Facts
Location – Palemad, Malappuram
Plot – 25 cents
Area – 2130 SFT
Owner – Mridula
Architect – Harish PR
Budget – Rs 25 lakhs
Year of completion - 2019