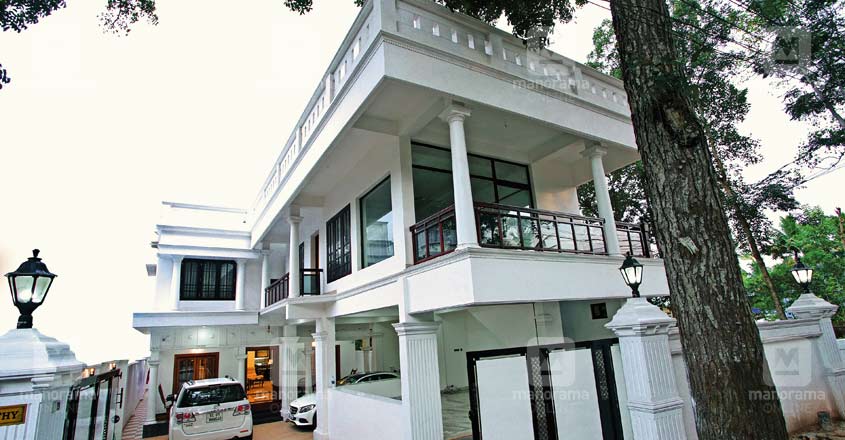 Architect B Arjunan had demolished his old single storied house in front of the Kandala service cooperative bank near Kattakada in Thiruvananthapuram, Kerala and built a brand new house in its place. The new house features the contemporary architectural style with all the modern facilities. This amazing double storied house designed in 2944 sq ft area has a car porch, sit out, verandah, living and dining areas, kitchen and an office space as well. The office room alone has around 1600 sq ft area in area. There are three bedrooms and a home theatre in the upper storey.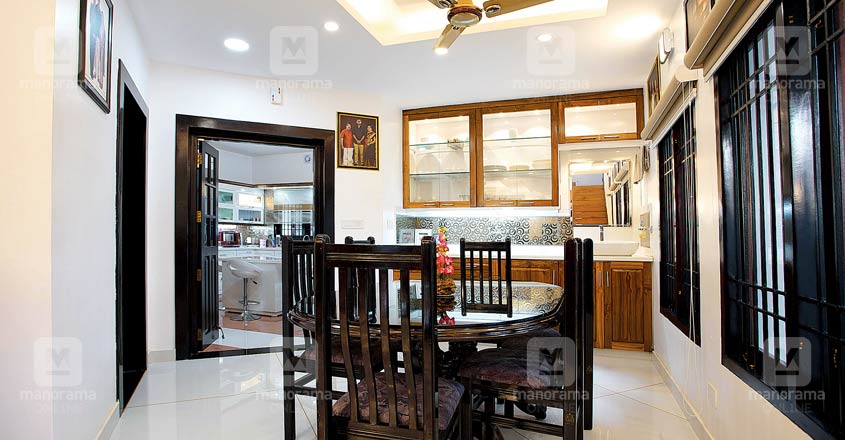 The formal living area is vaster and is enhanced with chic interior arrangements and décor. The false ceiling is highlighted with lead strip lighting. The couches in black and ivory shades and matching coffee tables add elegance to the spaces. Nano white is paved on the floor. A beautiful pooja space carved in rosewood is arranged on the north east corner of the hall. The hall and the dining room are separated using a folding door.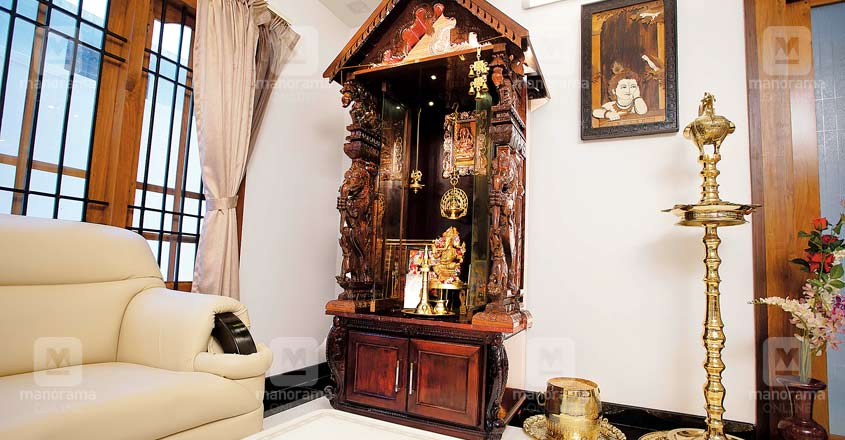 The stairway is closer to the dining area. A cabinet is arranged here for storage and is also used as the ironing space. One could enter the dining hall directly from the drawing hall. A family living space is arranged here as well.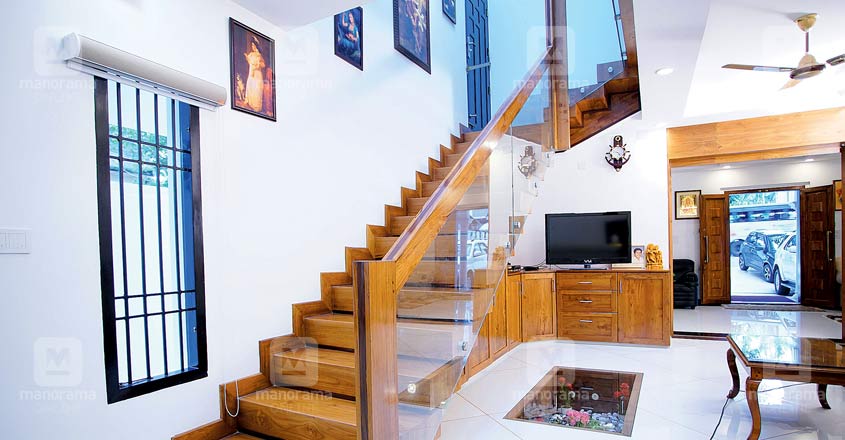 The TV unit is installed beneath the stairway. The stairway, made in unique Nilambur teak wood, also acts as a decorative feature. The dining table can easily accommodate up to six guests. A nearby crockery shelf completes the dining area. Meanwhile, the LED lighting adds oodles of charm to the interior.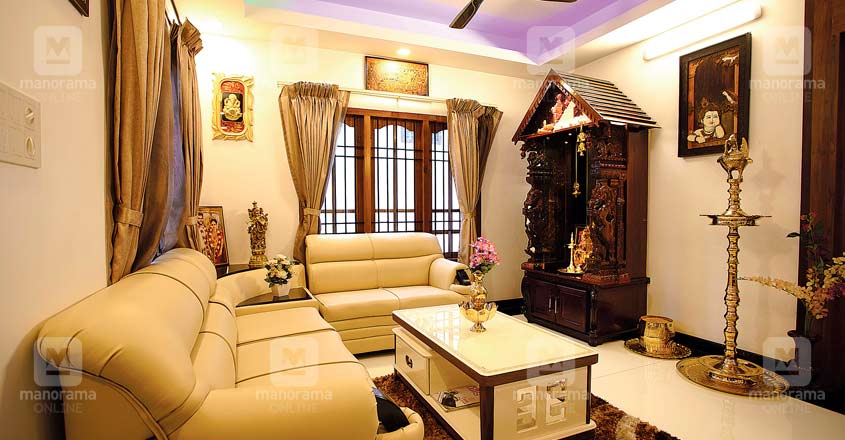 The kitchen is one of most attractive spaces in this house. It in fact is the most functional and expensive area as well. The cabinets made in seasoned mahogany wood are painted with high quality duco paint. The kitchen is designed in the 'U' shape which makes it space efficient. A breakfast table too is arranged here.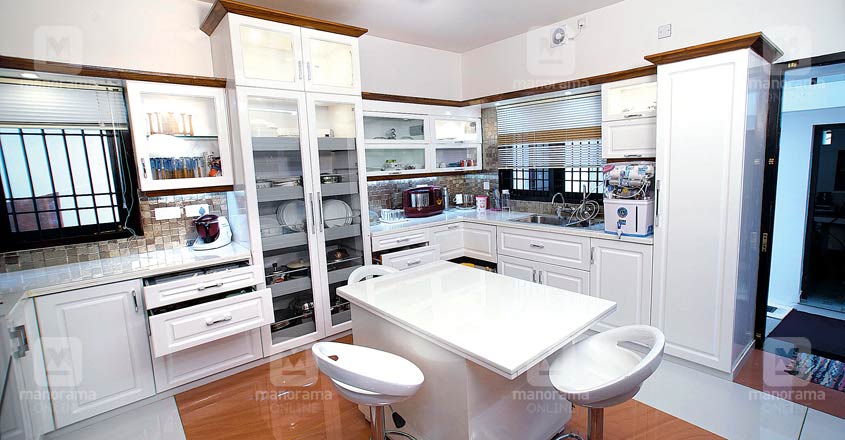 The huge cot is what instantly draws the attention in the master bedroom. A wardrobe made in mahogany with white paint finish and sliding door is arranged for storage here. The spacious bathroom is divided into the dry and wet areas. Half of this bedroom is air conditioned while the other half is not. Reading table too is arranged in this room.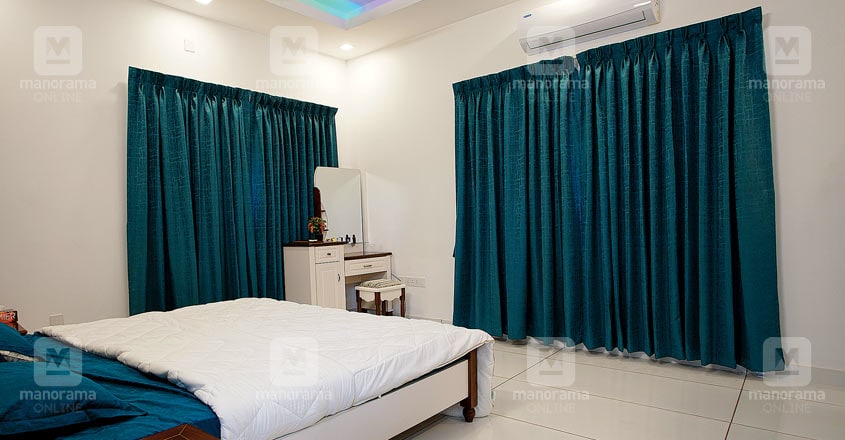 The other bedroom is divided into two sections. One section is a typical bedroom with a cot, attached bathroom and dressing space while the other section has been transformed into home theatre. The exteriors and the interiors of this house are designed in the contemporary style. The flooring and painting don the classic combination of black and white.