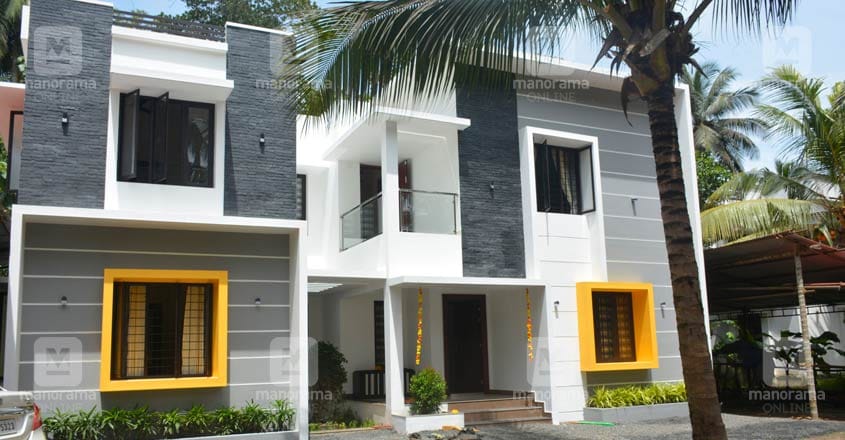 Santhosh Nair and his family are extremely happy and thrilled to show around their brand new house at Guruvayur. The family wanted a cost-effective house to be built on the 13.5 cents land that they owned in the holy city. The elevation features contemporary box style designs that are quite eye-catching. The grey, white and yellow shades highlight these box features on the exteriors.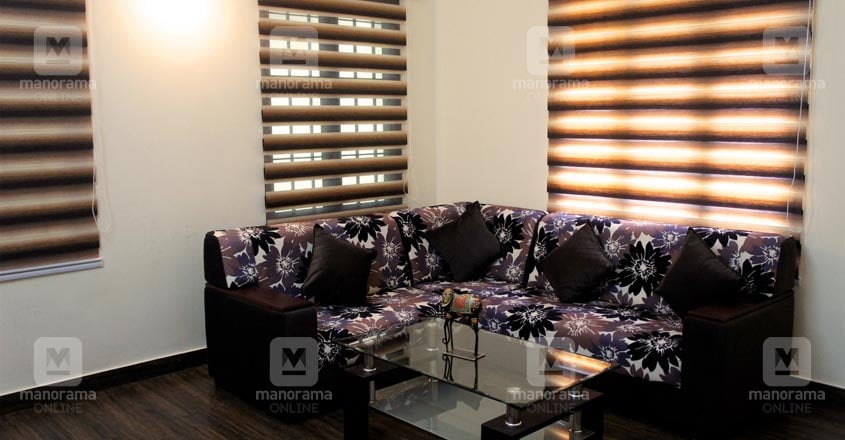 Designed in 2205 sq ft area, this incredibly simple yet beautiful house has a sit-out, formal and family living areas, dining space, courtyard, kitchen with an adjacent work area, four bedrooms, pooja space, balcony and an open terrace as well. Vitrified tiles are paved on the floor. Wooden tiles are paved on the floor in the formal living area to highlight this space.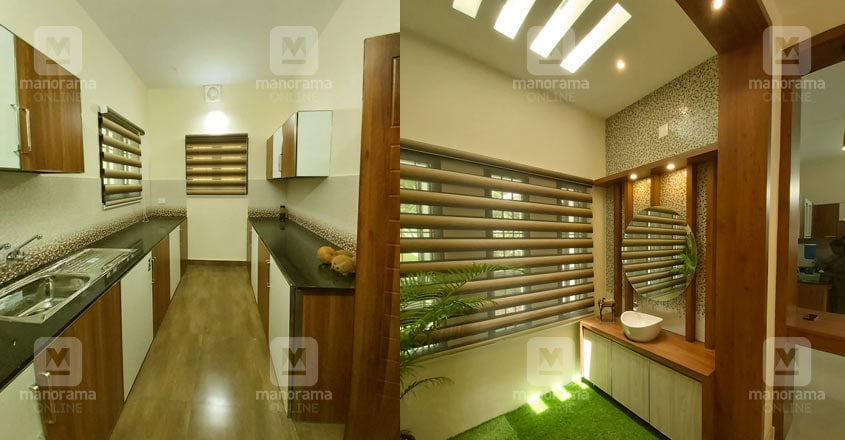 The dining hall is the highlight of the interiors. The spaces are spread in the open style here. The family living area, dining space, courtyard and the stairway are part of this open hall. The dining table can accommodate up to six guests. The skylight above the courtyard brings lots of pleasant sunshine into the interiors. The walls of the courtyard are decorated with wooden panelling. Meanwhile, the handrails of the stairway are done in stainless steel.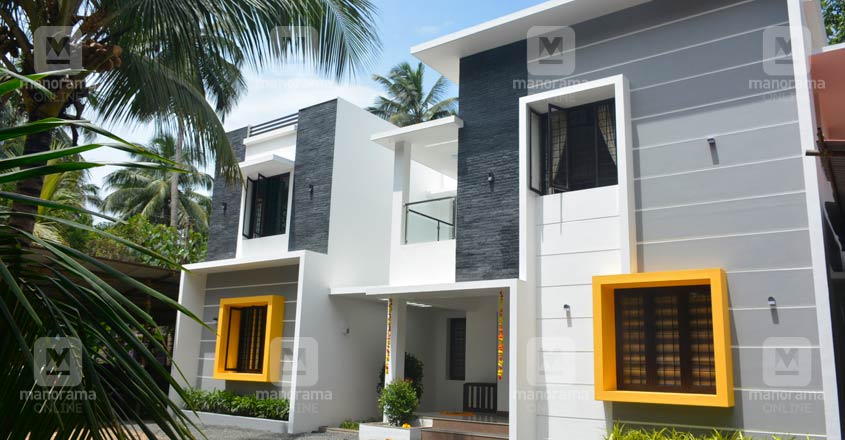 The pantry kitchen is connected to the dining area. An adjacent work area completes the kitchen space. The cupboards meanwhile are made in marine plywood finish. Granite is paved on the counter top.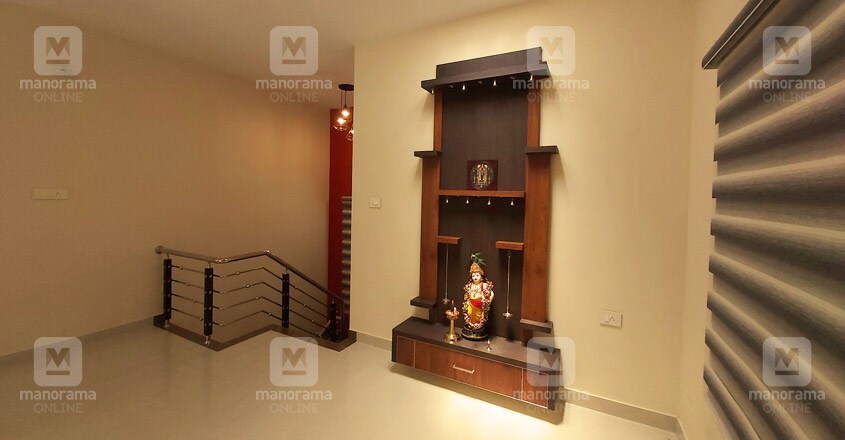 The bedrooms are designed in unique colour themes. The bath-attached bedrooms have in–built wardrobes for storage and separate dressing spaces as well. The headboard walls are highlighted in colours that are pleasant to the eyes. The excellent cross ventilation makes bedrooms extremely pleasant and comfortable.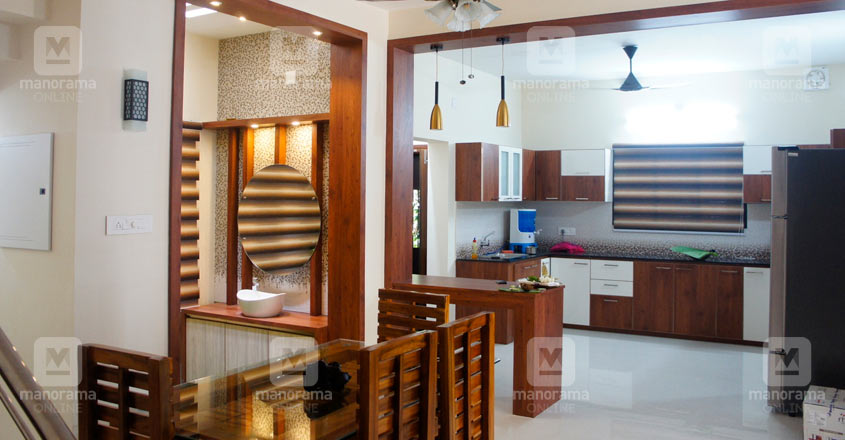 The construction of the structure was completed on a budget of Rs 35 lakhs. An additional Rs 8 lakh was spent for designing the interiors and the landscape as well. So, the entire house was completed on a reasonable budget of Rs 43 lakh. Considering the present rates based on square feet, building a house like this would have at least cost Rs 50 lakh. So, it indeed is incredible that the family could save around Rs 7 lakh and still build a spectacular house with all the modern facilities. This has been made possible by minimal interior designing and a curb on excess use of timber for furnishing.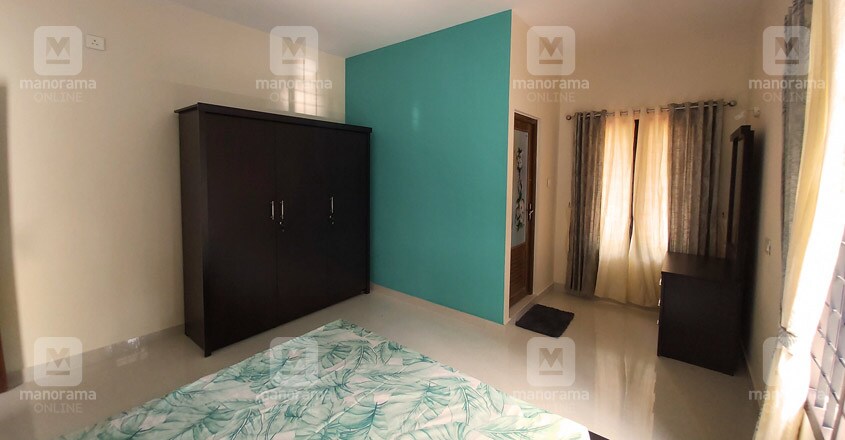 Project Facts
Location – Guruvayur
Plot – 13.5 cents
Area – 2205 SFT
Owner – Santhosh Nair
Designers – Akhil Irakkil and Reshmil Akhil
Anokhi Constructions, Thrissur
Mob – 9633003087
Year of completion – 2019