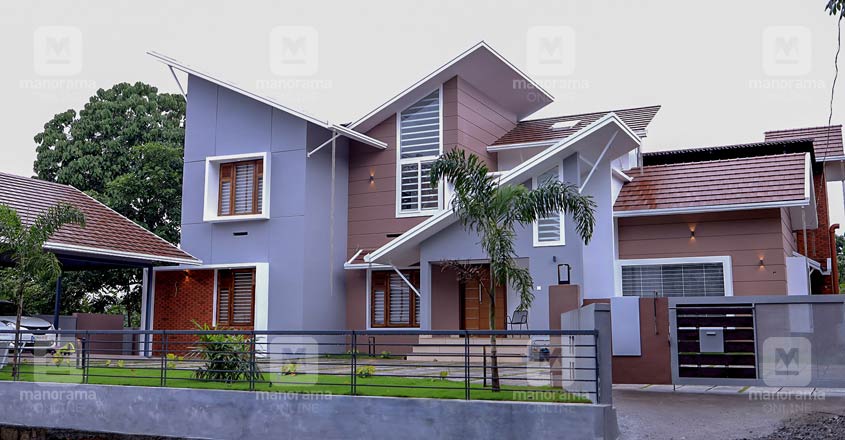 Saneej, who works abroad, shares his experience of building his dream dwelling at his hometown in Edakkara in Nilambur. The family wanted the exteriors to feature a unique structure that is interesting and would always remain trendy.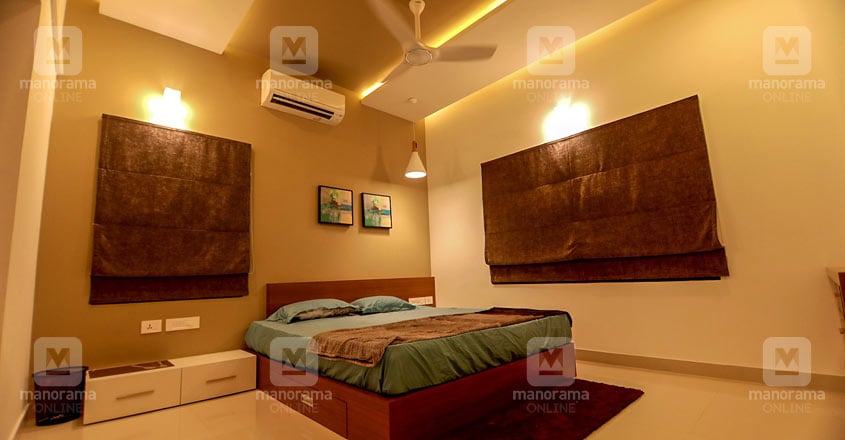 The sloped roof suits the tropical climate of Kerala. The unique design where the two sloped roofs crisscrossed in a 'V' shape is eye-catching. Groves are highlighted with texture paint on the exterior walls. The car porch is arranged separately from the main structure so that the beautiful view of the exteriors isn't disturbed. Roofing tiles are paved on the metal frame to build the car porch.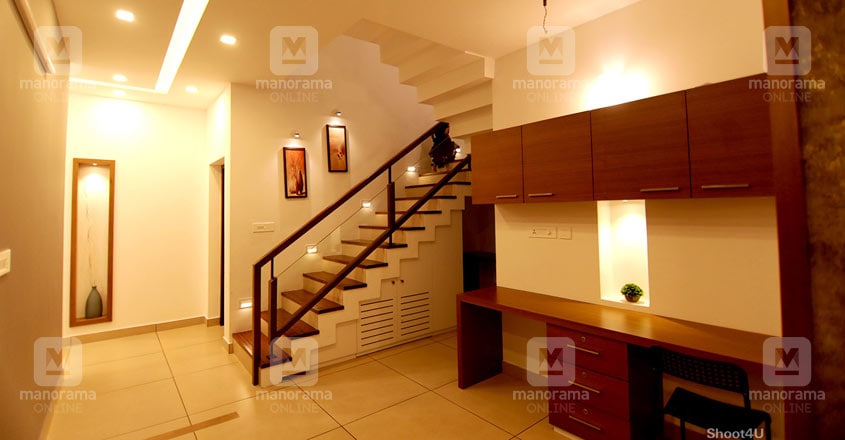 The gate is made of GI and deck wood. Meanwhile, natural stones and grass are paved in alternate layers in the front yard. A car porch, sit-out, formal and family living areas, dining space, kitchen with an adjacent work area and four bedrooms are arranged in this beautiful house that has an area of 2650 sq ft.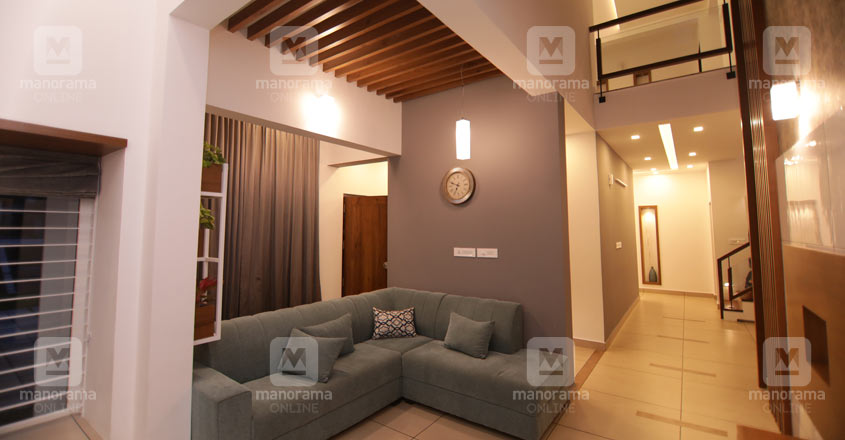 The interiors are designed in the open style to make the spaces vaster. UPVC windows and doors are installed on both the sides to bring lots of natural light and wind into the house. The interiors are mostly furnished using marine ply and veneer finish. Besides, the gypsum false ceiling too adds to the elegant look of the interiors. Vitrified tiles are paved on the floor.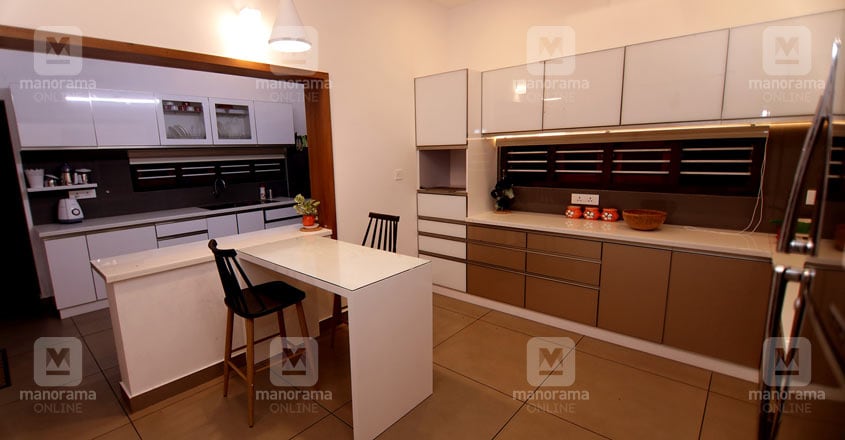 The spacious dining hall is the highlight of the interiors. The family living area where the TV unit is arranged is part of this hall. Bay windows with sitting spaces are on both the sides of the dining space.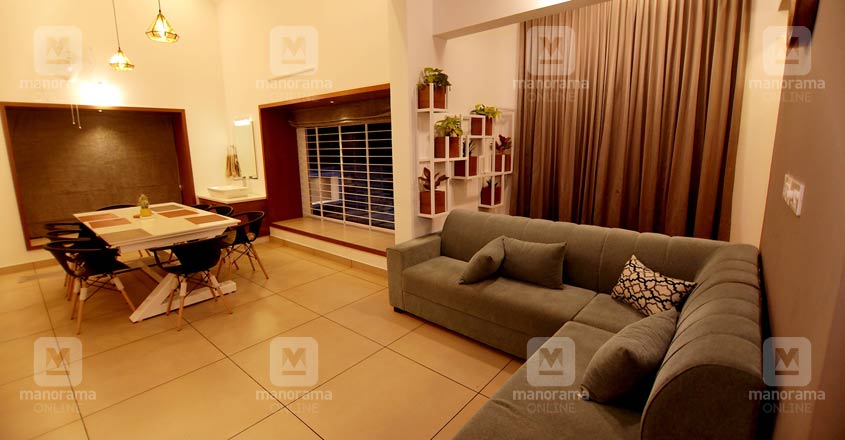 The dining table is made by paving nano white marble on metal frame.
The handrails of the stairway feature the elegant combination of wood and glass finish. There is a storage space below the stairway where the inverter and other objects are kept.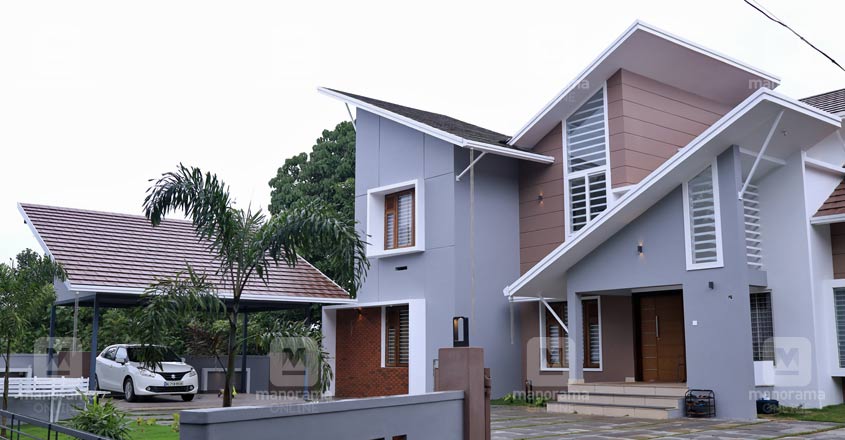 There are three bedrooms in the ground floor and one on the upper floor. All the bedrooms are bath-attached with built-in wardrobes for storage.
The kitchen cabinets are done in multi wood with glass finish. The counter top has been paved with nano white. A small breakfast counter and an adjacent work area complete the kitchen area.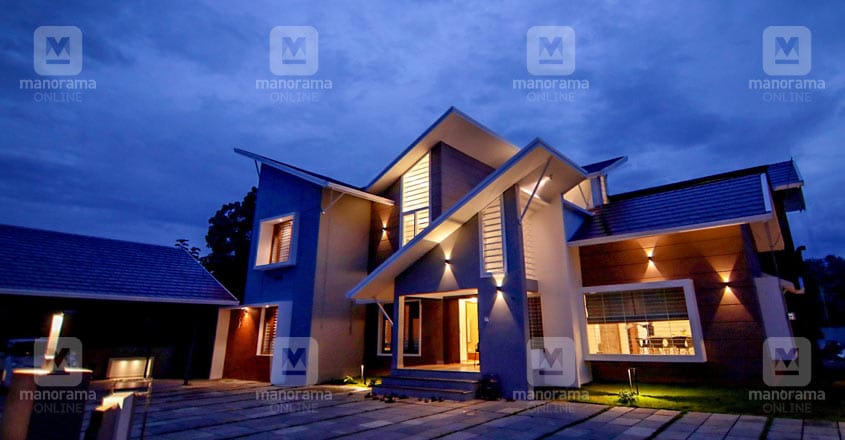 While the interiors get illuminated with natural sunshine during the day, the house shines in the warm toned light settings in the night. The family proudly says that the guests are truly overwhelmed by the unique features and scintillating designs of their perfect abode.
Project Facts
Location – Edakkara, Nilambur
Plot – 20 cents
Area – 2650 SFT
Owner – Saneej
Design – Asar Juman
AJ Designs
Mob – 9633945975
Year of completion – November 2019