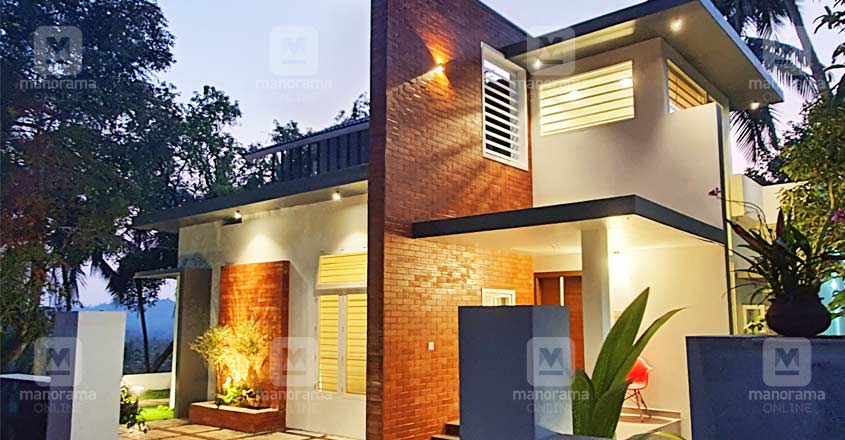 The COVID-19 pandemic has wreaked a havoc on the global economy and the construction sector in Kerala has already started feeling the pinch. As luxury homes on elaborate budget is less likely to happen any time soon small and minimal houses built on smaller plots could be the trend in the post Covid era for a while. Harris, a native of Malappuram Town, shares his experience of building his brand new house on a 6 cents plot.
The family wanted a small house with just two bedrooms. However, they were not ready to compromise on the quality of the furnishing and decor. The structure was designed and built by a contractor named Mashoob. The interiors were designed by noted designer Asar Juman. The family members were really impressed by some of the beautiful houses designed by Juman that they saw on Manorama Online.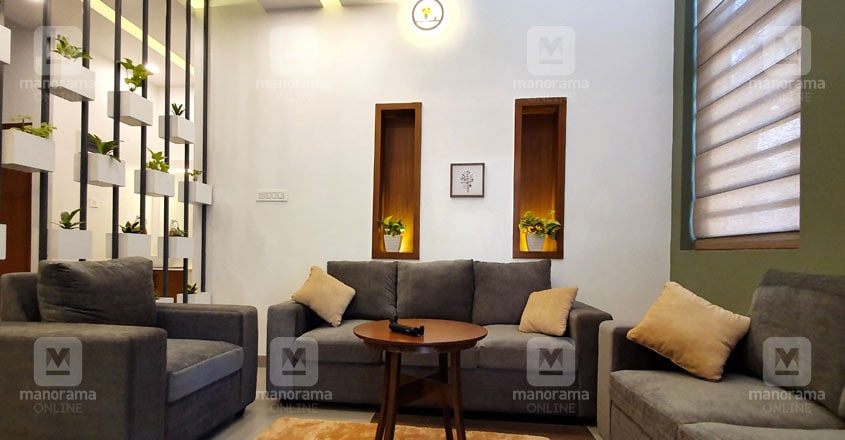 The structure has a flat roof, providing a provision for the family to build an additional floor, if required, in the future. The show wall covered with laterite claddings is the highlight of the interiors. Truss work has been installed and is paved with roofing tiles as well.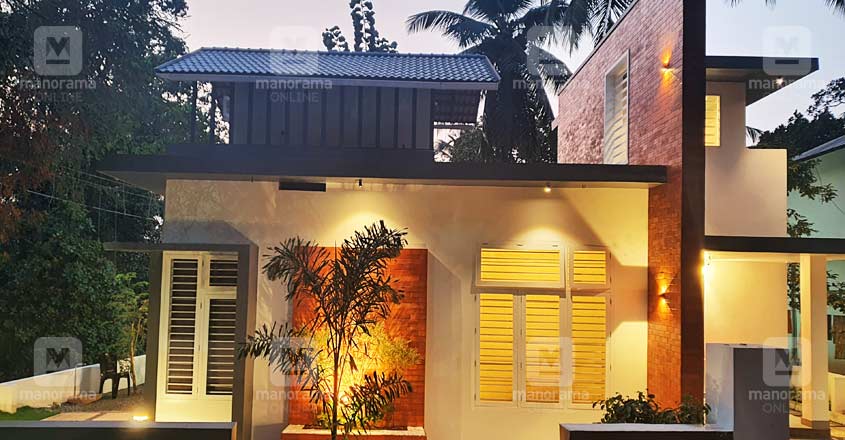 The quaint house, designed in 1000 sq ft, has a sit-out, living area, dining space, kitchen, two bedrooms and a common bathroom. The stylishly designed furnishing looks chic and comfortable. No compromise has been made on the quality of the décor. The custom-made furniture perfectly blends with the minimal theme of the house. The floor is paved with vitrified tiles in matte finish. Gypsum false ceiling and LED light fittings add oodles of charm to the interiors.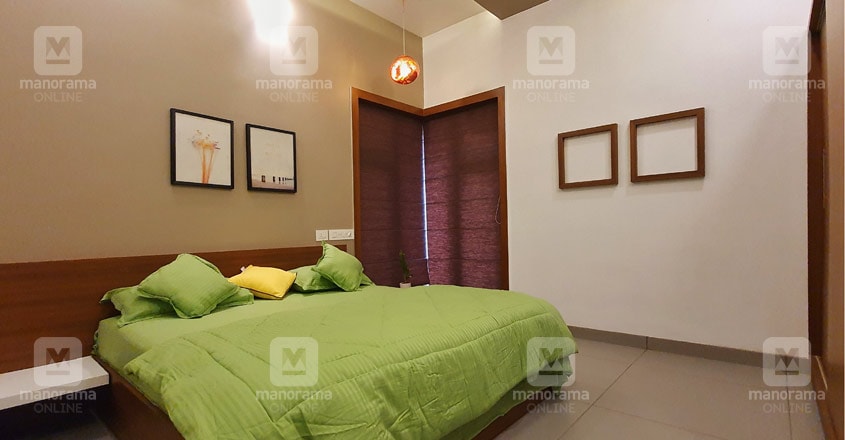 The kitchen cabinets are done in plywood and mica finish. Meanwhile, nano white is paved on the counter top.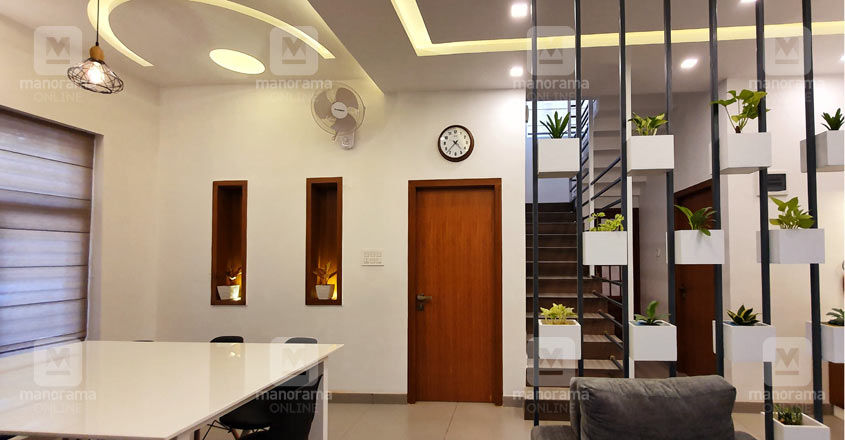 Both the bedrooms are designed in the minimal style with minimum required features. One of the rooms is bath-attached and there is a common bathroom as well.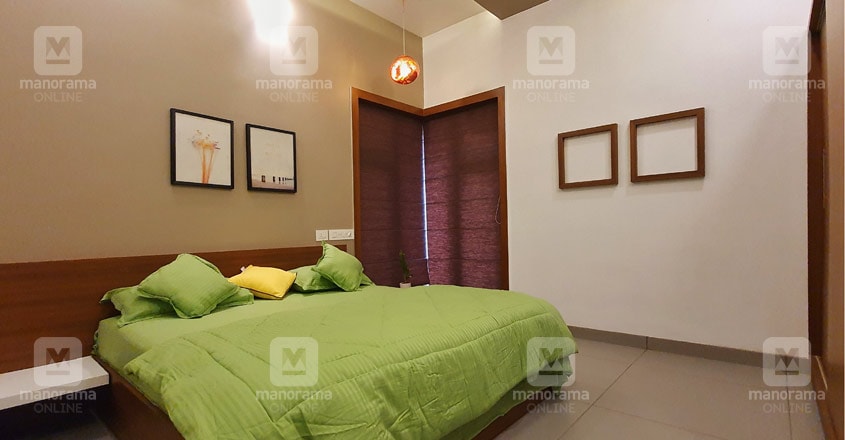 The indoor plants are not just used as beautiful decor items but fill the spaces with freshness as well. The construction of this charming house, including the structure, furnishing and the boundary wall, was completed on a minimal budget of Rs 22 lakh. Harris says he spent a decent amount for building his dream abode. However, he adds that such a simple house with all the required facilities could be easily built for Rs 18 lakh, if you spent less on the furnishing.
Among the many factors that contributed to lowering the expenses, limited use of timber played a vital role. The windows and doors are made of UPVC. The dining table is built by paving a nano white slab on metal frame. Meanwhile, the stairway features GI hand railings.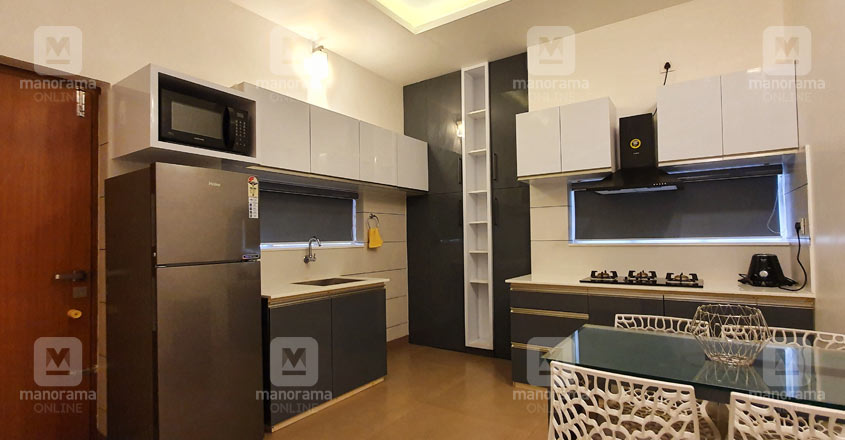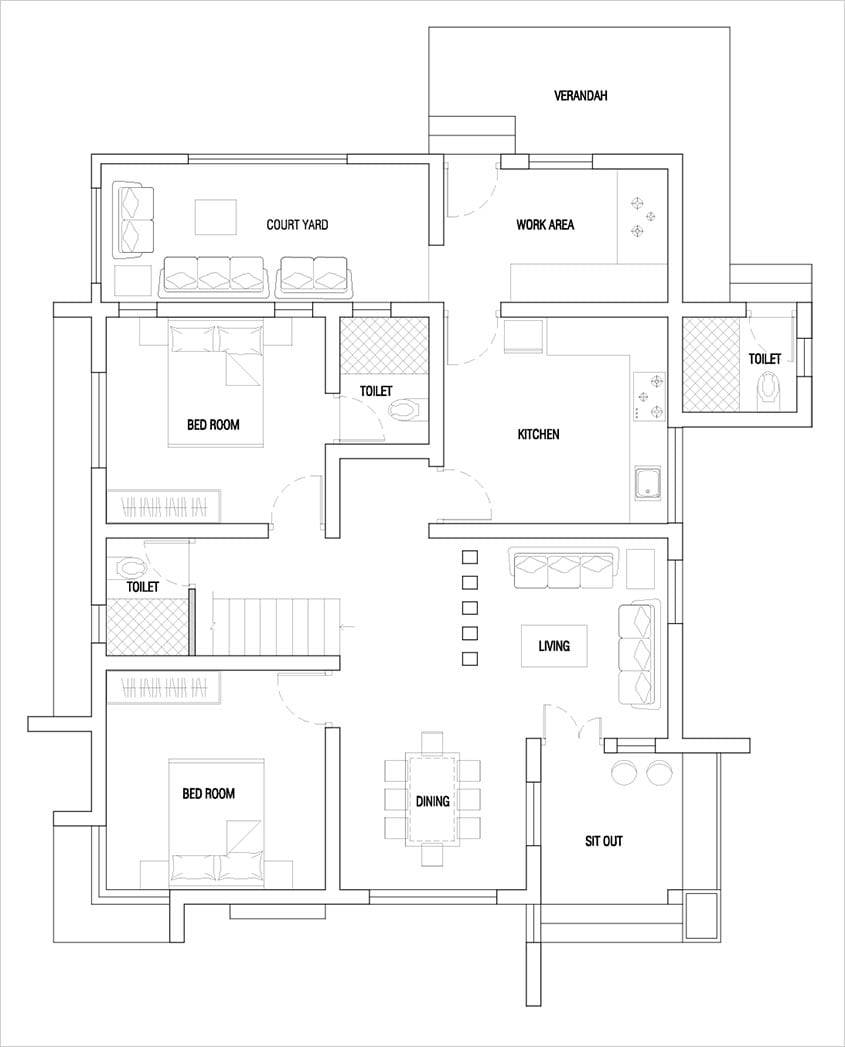 Project Facts
Location – Malappuram Town
Plot – 6 cents
Area – 1000 SFT
Owner – Harris
Structure – Mashoob
Designer – Asar Juman
AJ Designs
Mob – 96339 45975
Budget – Rs 22 lakhs